Column: Warriors roll into L.A. with best record in the West and a mind-set to be special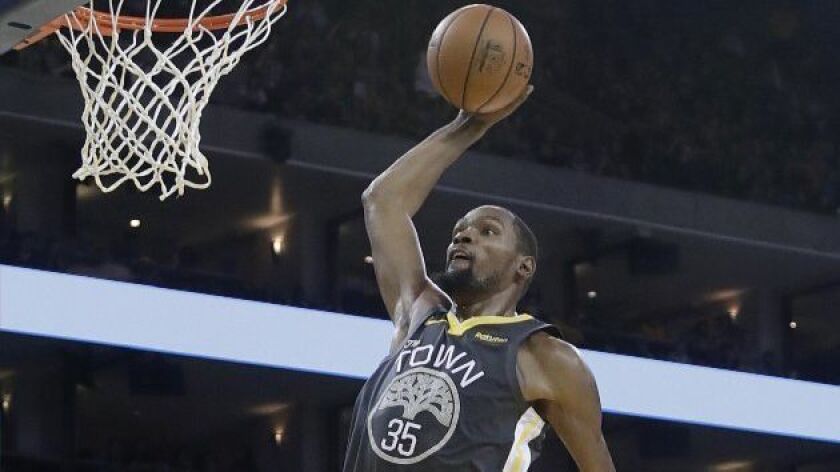 Reporting from OAKLAND —
You can't hide from the truth for long when you're on the Golden State Warriors. You really can't hide from anything.
If there's a record to be set, they know and they'll hunt it. If there's a goal to be met, they'll talk about it. And if there's, say, an actor defending his ex-wife's rendition of the national anthem, they'll go after him too.
But the biggest piece of truth around the league's best team – that this roster might not be together beyond this season – is fairly off limits.
Kevin Durant, the top free agent next summer, very well could leave the Warriors. Maybe he'll end up in New York, where they were putting up billboards to recruit him on Golden State's lone trip to Madison Square Garden. Maybe it'll be to Los Angeles with the Clippers, a team he met with his last serious trip into free agency. Or, maybe he'll stay put. He said his time with the Warriors has been an "amazing experience."
No one in-house is really asking.
"That's business. We don't get into anyone else's business," Durant told the Times in an interview last week. "There's money involved in that stuff. Everything is involved, your life is involved, free agency, a new contract. I don't think guys overstep those boundaries when it comes to that. We don't even play around about that because we're so locked in on the season.
"We're just enjoying every day with each other. No one is really even talking about it. It's more so on the outside."
Durant's teammate, Klay Thompson, said that's not exactly 100 percent true. When the team went to New York and saw Durant's face on the billboard, they didn't ignore it. That's not who the Warriors are. Without getting too deep, the team definitely poked fun at the situation.
"We're not that sensitive of a team and we've got to keep it light," Thompson said. "You've got to be able to joke with each other. You can't be serious all the time."
Take an incident earlier this season, when actor Josh Duhamel criticized Draymond Green in an interview with Kristine Leahy on "Fair Game" on Fox Sports 1. The actor took offense to Green laughing at the rendition of the national anthem performed by Fergie, Duhamel's ex-wife, during last year's All-Stargame.
After the interview aired, the Warriors posted a video of themselves dancing to a remix of Fergie's anthem in the locker room.
"That was hilarious," Thompson said.
The Warriors don't typically run from confrontation – it's been one of their defining characteristics in the last five seasons. When Thompson was dropping in three-pointer after three-pointer against the Bulls in late October, his teammates kept feeding him the ball until he broke the record with his 14th-made three.
Records, critics, whatever – the Warriors look it right in the eye.
"We're used to athletes acting like they don't hear what's going on, the narratives around them or the narratives around their team. A lot of guys just tend to ignore them because it makes them upset. With us, we just don't mind. We just don't mind talking about stuff," Durant said. "We'll talk about certain things, do certain things on the floor because it's just basketball. It's nothing that's life-changing or going to alter anyone's lives when we do things on the court.
"The Fergie thing, guys trying to get a record, guys trying to win defensive player of the year – I think that stuff is cool. Acknowledging what you do, how hard you work without changing the narrative around you – a lot of guys already know what it is. We don't shy away from it."
Durant's free agency, though, is different. It's an issue that's faded to the background.
"For the majority of the time, it's not really a thing. It's just the New Yorks, the L.A.s where people ask me about it," Durant said. "I think it's just been letting everyone know that I'm going to wait until the summertime to even talk about stuff or think about stuff like that. It's not important right now. I'm trying to be the best basketball player I can, trying to help this team win. I can't let anything distract me from that."
Durant said his focus this season is on efficiency. He's shooting a career-best 55.7 percent from the field, as he's gotten to the basket more and favored the midrange to the three-point line.
"I know I'll have a stretch where I don't make a lot of shots, or I'll shoot a lot of threes. Once I start making a lot of my threes, I know, just from me being me, I'm going to rely on that. That'll take my percentages down," he said. "I know the flow of the season. I just try and tell myself every game to take the best shot I can every time down. And, that keeps me in it. It keeps me focused.
"I could easily come down, because I have the green light to shoot whenever, I could shoot a (expletive) up shot just because. It's hard staying focused when you have that green light. I try and stay focused on shooting great shots every shot I shoot throughout this season. That's what my thing is."
It's the Warriors' thing, too. With an eye on the micro details while they chase a third-straight title, they're off to an 11-2 start. They're integrating new role players. Everyone is happy.
"I think we got a really good vibe," Warriors coach Steve Kerr said. "Everybody is excited coming into the building every day. The young guys are giving us a really good infusion of energy. The competition, they are all playing for their careers and playing time. You need that level of competition. It's a nice balance for our returning vets that need more recovery and rest. We have found this really nice balance."
As the Warriors make their first trip into Los Angeles on Monday, they'll remain focused on the big picture by dealing with the small things in front of them.
"We know the big picture," Durant said. "We're trying to play for June."
Until then, they'll find other things to keep them going, to keep them winning. And if they stay hot, and if they creep toward a record-breaking season, they might not be able to help themselves.
In the space of a few seconds, Durant even talked himself into it, a reminder of how quickly plans can change.
"I doubt (we'd go for it). If it happens, it happens but we're not thinking about it all. It's early and anything can happen," he said before a pause "But say we've won 69 games and we're close to getting that record, yeah, why not? Why not and try to finish it?
"Right now, we're not thinking about it. But, who knows what's going to happen, how we'll feel in March. If we're close? Why not?"
Twitter: @DanWoikeSports
---
Get our high school sports newsletter
Prep Rally is devoted to the SoCal high school sports experience, bringing you scores, stories and a behind-the-scenes look at what makes prep sports so popular.
You may occasionally receive promotional content from the Los Angeles Times.