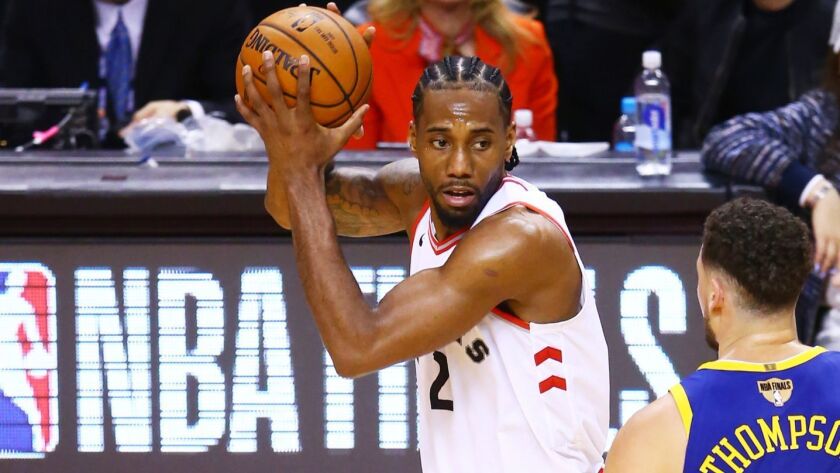 Reporting from Toronto —
The Clippers want to sign Kawhi Leonard. It's so widely known that it doesn't even qualify as a secret. It's so widely agreed upon that it's no longer considered rumor.
It's a fact. The Clippers want to sign Kawhi Leonard.
So when the coach of the Clippers, Doc Rivers, goes on ESPN and says Leonard is the most like Michael Jordan that we've seen, people notice.
Among those people were the higher-ups at the NBA offices who fined the Clippers $50,000 for Rivers' 36-second scouting report of the Toronto Raptors' star.
Here were the comments:
"He is the most like Jordan that we've seen. Like there are a lot of great players. LeBron [James] is phenomenal. [Kevin Durant] is phenomenal. Not that [Leonard] is Jordan or anything like that, but he's the most like him. Big hands. Post game. Can finish. Great leaper. Great defender. In-between game. If you beat him to the spot, bumps you off. And then you add his three-point shooting."
Sign up for our daily sports newsletter »
It's pretty tame. It's not Magic Johnson winking at Jimmy Kimmel. It's not Rob Pelinka speaking with Paul George's representatives while George was under contract. In a vacuum, this is Rivers acting more as a panelist than as a basketball coach, answering a question during an NBA Finals preview show.
But it's not a vacuum.
In the real world of the NBA, the Clippers' interest in Leonard is an everyday reality for the Raptors. They've seen their colleagues from the Clippers' front office in Toronto, sitting courtside while players warm up. They've seen Clippers executives in Milwaukee during the Eastern Conference finals.
They've heard what Rivers said.
The league's $50,000 fine isn't rooted in any hard-and-fast rule that's diligently enforced. The rulebook says, "No person may, directly or indirectly, entice, induce, persuade or attempt to entice, induce or persuade any coach, trainer, general manager or any other person who is under contract to any other member of the association to enter into negotiations for or relating to his services or negotiate or contract for such services or otherwise interfere with any such employer-employee relationship of any other member of the association."
But players tamper all the time. They talk. They text. They recruit. And coaches? Before every game of the NBA season, they're asked to comment about their opposition.
So it's on the NBA to police this when it seems like a team has gone too far, when a statement is more than a statement.
"Doc's been at this a long time," NBA commissioner Adam Silver told reporters Friday. "It's not a fun part of my job ever fining anyone. And I understand the competing interest of the media hearing a coach's view about a current NBA player, but it's something where there's a bright line in this league and you're not allowed to do it. And coaches and team executives in those positions need to say, 'I'm not permitted by the league to respond to that question.' And it's a balance of interests. I get that. But he unfortunately crossed a bright line."
If Dallas coach Rick Carlisle is on the show and says the same thing as Rivers, there's no fine. If it's Portland's Terry Stotts or Indiana's Nate McMillan, no one writes a check.
The Clippers got fined because they want Kawhi Leonard, because they compared him to Michael Jordan — Leonard's admiration for Jordan is detailed in Clippers employee Lee Jenkins' wonderful Sports Illustrated profile from 2016 — and because they're a credible threat to sign him.
If it was New York Knicks coach David Fizdale saying the same thing about Kevin Durant? The league might make a call. Ultimately, active coaches and executives probably shouldn't be put in the position as commentators to avoid this in the future.
Regardless, Leonard's free agency is a huge story in Toronto, even with the team playing in its first NBA Finals. Even with news that Durant is nearing a return but will miss Game 2 and that Andre Iguodala will be good to go Sunday, Leonard's potential exit is a huge deal here.
Restaurants are offering free meals to try to lure Leonard to stay — with Ka'Wine and Dine stickers popping up on the windows of restaurants and bars around town. A luxury condominium realtor has offered Leonard a free luxury penthouse in town if he stays.
The Clippers? They've offered attention and vague praise.
What makes Leonard's free agency so interesting is that the two teams he's expected to choose between have made such strong arguments to land him come July.
If he stays in Toronto, it won't be because of the all-you-can-eat poutine and Tim Horton's and the luxury views. It'll be because the Raptors perfectly handled his health over the season, because they won a lot of games, because changing teams for the second time in two seasons is a lot and because he's had career-defining moments like his series-winning shot against the Philadelphia 76ers and his dominance against the Bucks.
If he goes, it'll be because the Clippers are in Southern California near his home. It'll be because they've built an incredible culture in a short time since Steve Ballmer bought the team. It'll be because Rivers reminded everyone what a good coach he can be over the last two seasons. It'll be because their front office is full of bright thinkers including Jerry West. It'll be because the Clippers can build a championship roster around Leonard either through trades or free agency.
It probably won't be because of something Rivers said before the NBA Finals.
But if it matters? That $50,000 will be more than worth it.
Twitter: @DanWoikeSports
---