Column: Steve Clifford helping Magic turn their defensive vision into reality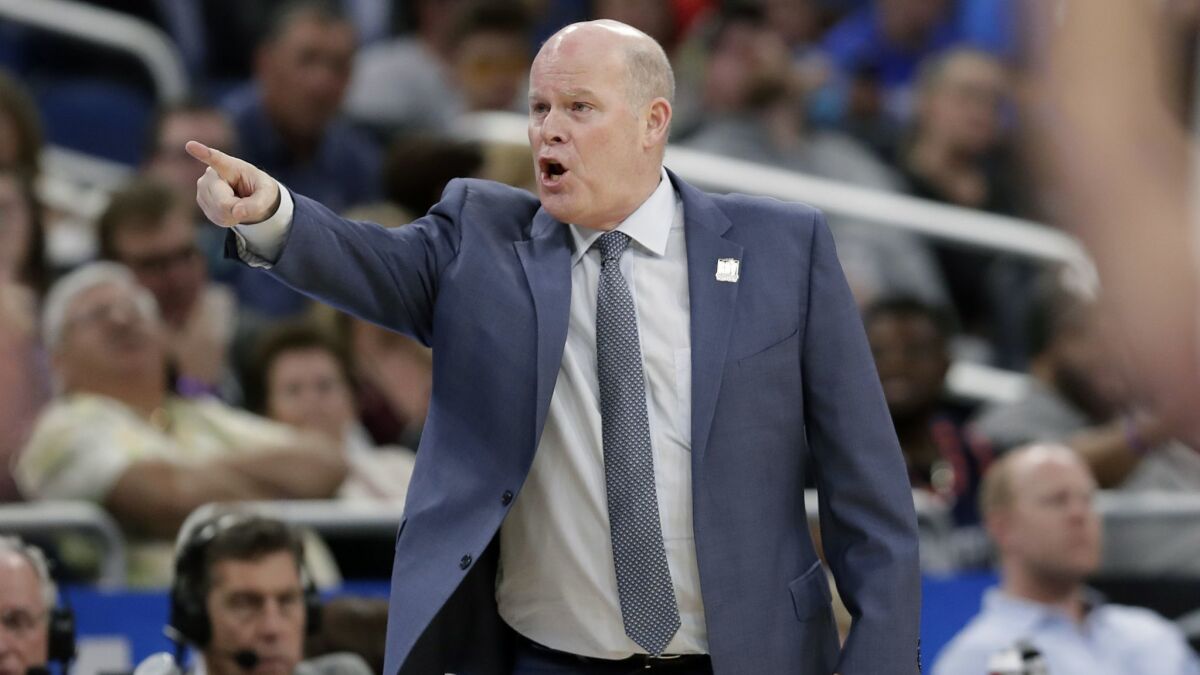 Reporting from Toronto —
When Steve Clifford met with his new bosses in Orlando last May, they shared with their coach a vision for their team. The Magic would use their length and their athleticism. They would defend. They'd give teams headaches on both ends of the floor.
"That's what this league is all about," Clifford remembered thinking.
Tuesday night in Toronto, the Magic will try to take a 2-0 lead over the Raptors in their Eastern Conference first-round playoff series because they've realized a lot of their front office's thinking. With Clifford, one of the top defensive coaches in the NBA, the Magic always have a chance.
"Give him credit. He just has a system, first of all, that works," Orlando guard Evan Fournier said.
"He's very good at explaining to you everything so you really know what to do. And if you [mess] up? You know you're wrong. There is no gray area. There's no place for interpretation. You know what you have to do."
As the Magic forged their identity this season, Clifford met with his team and showed the players a series of defensive statistics.
"[It was him] showing us proof that, in the past, when his teams defended, they had a chance," All-Star center Nikola Vucevic said. "We just bought into it. We understood that it's the only way we could do it."
The numbers are there. Hold an opponent to 100 points or fewer this season, you're probably going to win. Orlando went 22-4 in the 26 regular-season contests in which it did that.
While the Magic started winning, Clifford's thumbprint on the team's defense was easy to see. The Magic pack their players in the paint — sometimes all five when an opponent decides to drive to the rim. From there, they react to the play, using speed and length to close out on shooters or to challenge the drive at the basket.
And after a few months this season, it started to work.
The most pivotal stretch of Orlando's season came in late January and early February when it followed a stretch in which it lost seven of eight games by winning seven of eight, beating teams such as Indiana, Brooklyn and Milwaukee as the Magic climbed back toward .500.
"I didn't think we could be, for a stretch of the season, the best defensive team in the league. But we've grown into that," forward Jonathan Isaac said. "Scheme plays a part of it. [Clifford's] ability to get us to buy in plays a part in it. He's got a no-nonsense approach to the defensive end. And if you can't do it, you're not on the floor. It's all a part of it.
"It was just him holding guys accountable, and it's turned into us holding each other accountable."
Isaac's not exaggerating. Since Feb. 1, the Magic have the NBA's best defense. Their 21 wins from that date to the end of the regular season tied them with Golden State, Portland, Toronto and Utah for third most in the league behind Houston and Milwaukee.
Those teams all have, to varying extent, some version of superstars. The Magic do not. In some ways, Clifford said, that's maybe made it easier to get them to buy into a defense-first mind-set.
He's been on the other side of it. Clifford was on the 2012-13 Lakers' staff — a team that featured Steve Nash, Kobe Bryant and Dwight Howard. And while a lot of people remember that season as a failure, Clifford quickly remembered how that team got on track, how it had the fifth-best record in the NBA over the final 40 games of that season.
Just like that team figured out its recipe for success, this Magic team learned it too.
"Every game that we played well, every time we had success early on this season, it was because of our defense. It was clear," Fournier said. "We have talent, don't get me wrong. But we're not Golden State. We're not going to show up and outscore people. For us to be successful, it takes defense.
"We all know that."
Sign up for our daily sports newsletter »
Twitter: @DanWoikeSports
Get our high school sports newsletter
Prep Rally is devoted to the SoCal high school sports experience, bringing you scores, stories and a behind-the-scenes look at what makes prep sports so popular.
You may occasionally receive promotional content from the Los Angeles Times.