Prep Rally: Carson? Banning? Someone else? Who will lead the tough Marine League?
Hi, and welcome to another edition of Prep Rally. My name is Eric Sondheimer. The toughest football league in the City Section, the Marine League, begins action this week. Let's take a look.
Marine League intrigue
Banning, Carson and Narbonne have won 12, 11 and 10 City Section football titles, respectively. Add San Pedro (six) and Gardena (five) and you begin to understand why the Marine League is the best football league in the City Section.
Action begins on Thursday with Carson (6-0) finally able to play a game on its new home field, hosting Narbonne. On Friday, Gardena (5-0) will get to test itself against defending league champion San Pedro (3-2).
Carson appears to have improved greatly to earn the favorite's role behind running back-linebacker Jerry Misaalefua, who has rushed for 678 yards and scored 11 touchdowns. San Pedro is making progress as its young offensive line gains experience. Banning (2-3) played a challenging nonleague schedule that it hopes will lead to better results.
Banning ends the regular season with a road game at Carson. San Pedro gets to host Carson on Oct. 6. If any team goes through league play undefeated, a No. 2 seed behind Birmingham for the Open Division playoffs is likely based on strength of schedule.
There's other intriguing league openers. In the West Valley League, Birmingham plays Granada Hills. In the Coliseum League, King/Drew plays at Crenshaw on Thursday night.
Get our high school sports newsletter
Prep Rally is devoted to the SoCal high school sports experience, bringing you scores, stories and a behind-the-scenes look at what makes prep sports so popular.
You may occasionally receive promotional content from the Los Angeles Times.
Midseason report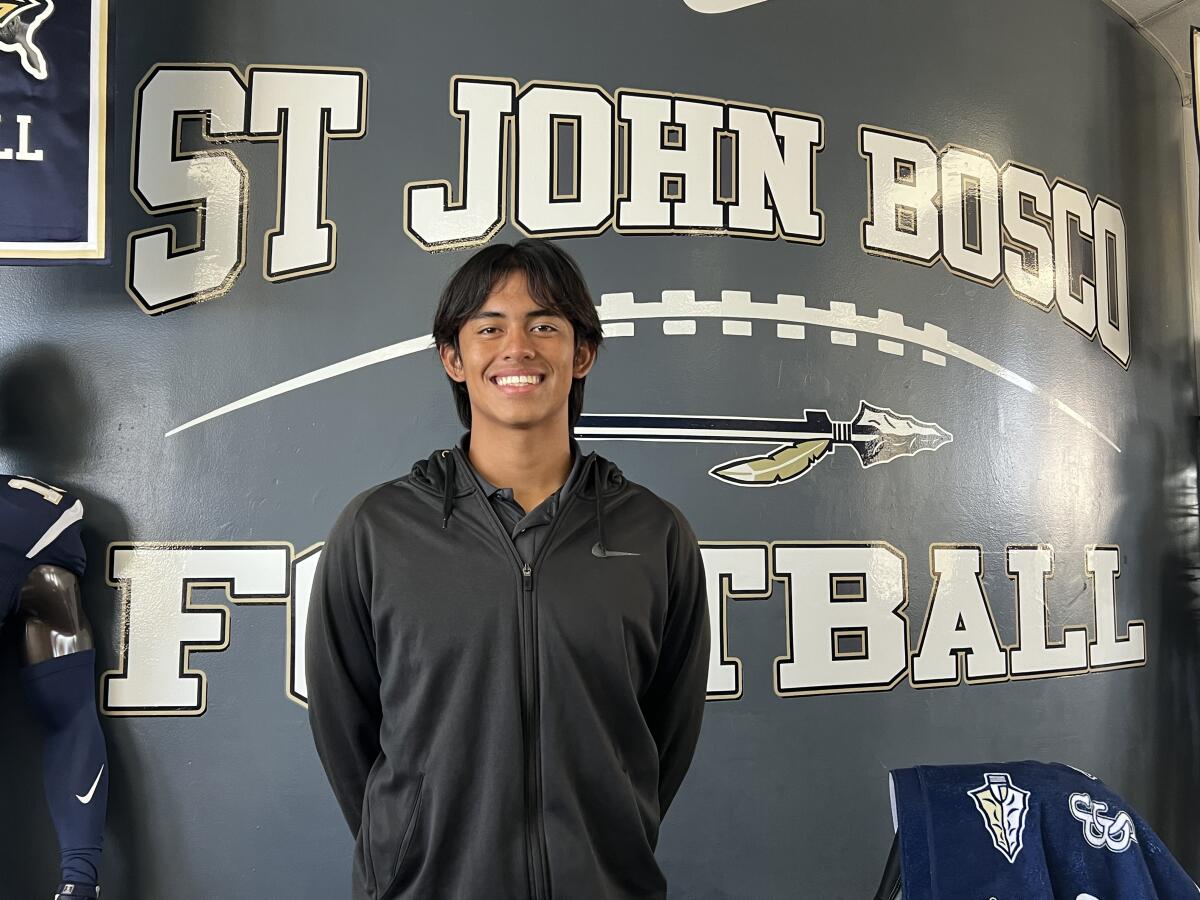 Half the regular season has been completed, so it's time to examine which football players are having outstanding seasons.
Here's a look at my midseason report.
Football rewind
It's Year 2 for Newbury Park project to become the best in Ventura County, and the Panthers are definitely headed in the right direction after a 54-42 win over Thousand Oaks. Here's the report.
No. 1 Mater Dei survived a challenging trip to Maryland and hung on for a 20-7 win over St. Frances at Johns Hopkins. The offense performed not so well but the defense was magnificent, with Nasir Wyatt and Chuck McDonald each scoring touchdowns. Mater Dei opens the Trinity League on Friday at home against Servite.
Two other schools took trips. Birmingham traveled to Texas and was beaten by Steele 49-7. Mission Viejo traveled to Washington D.C. and lost to St. John's 39-17.
Three teams in the Baseline League enter the start of league play unbeaten: Rancho Cucamonga (6-0), Damien (6-0) and Etiwanda (6-0).
San Juan Hills (6-0) replaced a tough nonleague schedule in 2022 with an easy one and came away unbeaten, but did it help prepare them? Let's find out on Friday night with a tough league clash against Tesoro.
Garfield continues to roll through the Eastern League with ease. The Bulldogs won 54-0 over Huntington Park.
Corona del Mar keeps playing close games and this time won one. Here's the report.
Corona Centennial rallied for a 42-35 victory over Arizona Liberty in which it rolled up 747 yards in total offense and unveiled a new scoreboard and new LED lighting.
Is there any team to challenge unbeaten Sierra Canyon in the Mission League? Never doubt that Gardena Serra and Bishop Amat have the toughness and experience to offer resistance if the Trailblazers take them lightly. First up for Sierra Canyon is a game against Sherman Oaks Notre Dame on Friday. Former Notre Dame quarterback Wyatt Becker is Sierra Canyon's quarterback. He accounted for eight touchdowns (seven via the air) last week.
Granada Hills Kennedy appears headed to a Valley Mission League title after a 17-14 win over San Fernando. Steven Garcia kicked a field goal and two PATs and also played well as a receiver and defensive back. He's a three-sport athlete and straight-A student.
Murrieta Valley, behind quarterback Bear Bachmeier, upset unbeaten San Clemente, 39-38.
Here's a look at top individual performances from Week 5.
Here's this week's City Section top 10 rankings.
Here's this week's top 25 rankings by The Times.
Here's last week's scorelist.
Here's this week's schedule of games.
Sit-out period ends
The transfer sit-out period ends Monday for Southern Section football players, which means several teams are about to get better real fast.
St. John Bosco's secondary will get even stronger with the arrival of former Gardena Serra safety Jason Mitchell.
Newbury Park's defense picks up Chaminade defensive lineman TJ Ford.
Oaks Christian gains Calabasas transfer Joseph Peko, a defensive lineman.
Rancho Cucamonga and Los Alamitos will get additional depth with multiple players becoming eligible.
One school facing scrutiny is Nogales, which played an ineligible player two weeks ago and could face sanctions from the Southern Section. No decision has been announced whether any forfeits or punishment is coming to the school or team.
Girls' volleyball
Revenge was sweet for the Mater Dei girls' volleyball team Saturday night in the gold bracket championship game of the Durango Fall Classic in Las Vegas.
The Monarchs (27-2) rallied to defeat Mira Costa 18-25, 25-20, 25-21 to avenge a three-set sweep at the hands of the Mustangs in a nonleague match Aug. 29.
Senior setter and opposite hitter Julia Kakkis was named Most Valuable Player and joining her on the All-Tournament team were three fellow Monarchs: senior outside hitter Isabel Clark, senior libero Malyssa Cawa and sophomore outside hitter Layli Ostovar.
After dropping only one set in three pool play matches Friday, Mater Dei defeated Xavier College Prep of Phoenix, 25-13, 25-15 to qualify for the highest division, then outlasted Assumption of Louisville, KY 22-25, 25-23, 25-20 in the quarterfinals and Sierra Canyon 20-25, 25-22, 25-11 in the semifinals to set up a rematch with Mira Costa (21-2) which was riding a 19-match win streak.
Senior setter Charlie Fuerbringer, junior libero Taylor Deckert and sophomore outside hitter Audrey Flanagan made the All-Tournament team for Mira Costa while junior libero Lauren Lynch and senior outside hitter Danica Rach made it from Sierra Canyon (22-4), the reigning Southern Section Division I champion.
Mira Costa, Mater Dei, Huntington Beach, Sierra Canyon and Redondo Union were the top four-ranked schools in last week's CIF Southern Section Division I poll. Huntington Beach lost to Mira Costa in the quarterfinals at Durango while Redondo Union finished sixth in the silver bracket.
Mater Dei, which won the silver division at Durango last fall, resumes Trinity League play Tuesday against Santa Margarita while Mira Costa hosts Redondo Union in Bay League action.
Eastvale Roosevelt is making news in the Inland Empire with a 4-0 record in the Big VIII League and champions of the Freeway tournament after defeating Redlands in the final.
Palos Verdes defeated Redondo Union in a Bay League match to perhaps emerge as the prime challenger to Mira Costa in league play.
Girls' golf
What a week it was for Sherman Oaks Notre Dame girls' golf.
On Monday, the Knights won the Walnut tournament team golf title behind a 67 from Alexis Faieta. Then Eliana Saga went to France and placed first representing the United States at the Evian tournament. Both are candidates to win the Southern Section individual title this season.
Flag football
The City Section is holding playoffs this season for girls' flag football and most of its participating teams have their first games this week.
Others have been playing for a month, with Eagle Rock and Crenshaw looking as contenders.
San Pedro is 11-2 and playing in the championship game of the Narbonne tournament Monday against Eagle Rock.
Long Beach Poly, Woodbridge and Newport Harbor continue to look like the best teams in the Southern Section, which won't have playoffs this season. Poly is 6-1 with its only loss to Woodbridge, which is 15-2. Newport Harbor is 16-1 with two wins over Woodbridge.
Footballs were flying and flags were falling Saturday at Drollinger Field on the campus of Loyola Marymount University, where the Rams hosted their inaugural Girls Flag Football Jamboree.
The event featured 56 teams divided into four groups of 14 and provided over 1,240 players from throughout Southern California an opportunity to compete against each other in celebration of the initial season of flag football as a sanctioned CIF sport.
Here's the report.
Notes
Mark Serve was fired as Westlake football coach last week during a bye week after the team went 1-4. Ellis Green was named interim coach. Serve was head coach for a little more than two seasons after being offensive coordinator at Sierra Canyon. His previous starting quarterback, Tagg Harrison, who transferred from Oxnard Pacifica, has since transferred to a school in Arizona. Serve had to deal with the death of defensive end Julius Poppinga earlier this season. . . .
Los Altos girls' soccer player Brooke Juncaj has committed to USC. . . .
Basketball player Jermaine Washington Jr. of Rancho Verde has committed to San Jose State. . . .
Murrieta Mesa is participating Sept. 30 through Oct. 7 in Student Athlete Mental Health Week. It is organized by Hilinski's Hope, the foundation run by the parents of former Washington State quarterback Tyler Hilinski, who died by suicide. Over 150 schools will be using the week to address the mental well-being of student athletes. . . .
Birmingham first baseman Trevor Sostman has committed to Willamette. . . .
Sophomore Victor Cardona of Garden Grove Pacifica has committed to NYU for baseball. . . .
Junior softball pitcher Pricilla Ramirez of California has committed to Long Beach State. . . .
Santa Margarita softball player Jillian Torres has committed to Notre Dame. . . .
Junior baseball player Ryan Oh of West Ranch has committed to Loyola Marymount. . . .
Eastvale Roosevelt guard Darnez Slater has committed to Colorado State. . . .
Mater Dei offensive lineman Brandon Baker has committed to Texas.
From the archives: Tetairoa McMillan
During his days at Servite, receiver Tetairoa McMillan was a trendsetter and game changer. He led Servite to the 2021 Southern Section Division 1 championship game, breaking up the Mater Dei vs. St. John Bosco final game monopoly with a win over St. John Bosco in the semifinals.
He surprised some by making Arizona as his college choice and has continued to make an impact with his one-handed catches. He has 21 catches for 341 yards and three touchdowns this season.
Here's a 2021 story looking at the impact McMillan was having in Southern California high school football.
Recommendations
From the Seattle Times, a column on the coach who scored victory in the Supreme Court for praying at games but lasted one game.
From Tucson.com, a story on former Servite linebacker Jacob Manu of Arizona leading the Pac-12 in tackling.
Tweets you might have missed
Until next time...
Have a question, comment or something you'd like to see in a future Prep Rally newsletter? Email me at eric.sondheimer@latimes.com, and follow me on Twitter at @latsondheimer.

Did you get this newsletter forwarded to you? To sign up and get it in your inbox, click here.
Get our high school sports newsletter
Prep Rally is devoted to the SoCal high school sports experience, bringing you scores, stories and a behind-the-scenes look at what makes prep sports so popular.
You may occasionally receive promotional content from the Los Angeles Times.