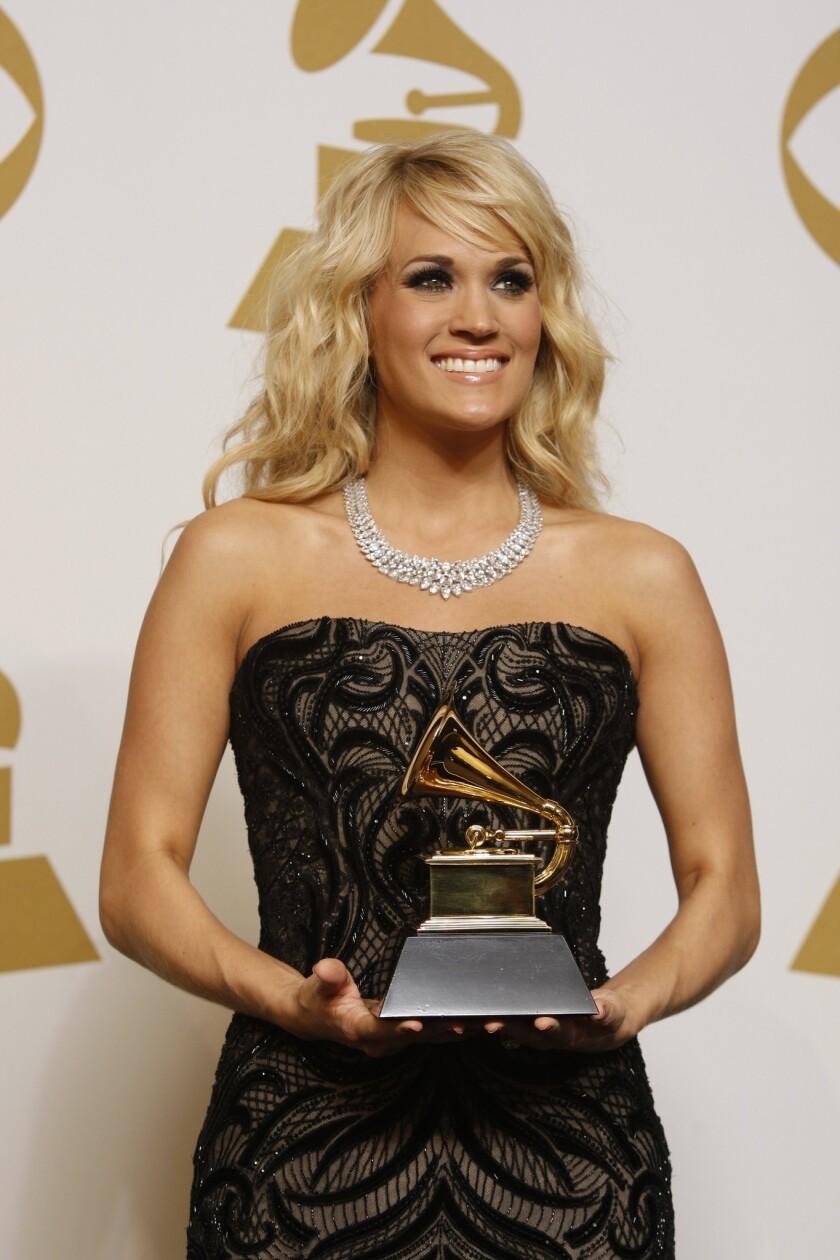 She'll sing that she's been waiting all day for Sunday night, but really Carrie Underwood has been waiting months.
Underwood, who replaces Faith Hill in singing the "Sunday Night Football" opening for NBC, performed her segment in June at an airport-hangar-sized studio in Playa Vista. Her rendition debuts Sunday night when the New York Giants open the season against the Dallas Cowboys.
The song will be the same one sung by Pink in 2006, and Hill each year since — "Waiting All Day for Sunday Night" — but Underwood's version is intended to be faster-paced and more energetic.
"We all definitely wanted to make an intentional shift in the sound and the look and the feel of it," Underwood said. "Because Faith put such a stamp on it. She made it her own. We wanted people to know it was someone else; it was me — my music, my sound, my voice, my look."
Each version of the song has been complemented by a mini-story or theme, one somehow involving NFL stars, and Underwood's is no different.
"The general story is Carrie is performing in a concert stadium, and in the crowd are these living cubes," said Fred Gaudelli, the show's producer. "Inside these cubes are NFL stars. They're submerged in water, but then they rise out of the cubes and become themselves. It's kind of a real world combined with a surreal world."
Among the players who appear in the video are Peyton and Eli Manning, Clay Matthews, Terrell Suggs, J.J. Watt, Andrew Luck, Calvin Johnson, Aaron Rodgers, Jimmy Graham, Rob Gronkowski and Patrick Willis.
"You knew you were getting a star," Gaudelli said of Underwood, "but her ability to nail things the first time is unlike anybody I've ever seen, other than maybe [play-by-play announcer] Al Michaels."
Michaels credits the upbeat introduction for attracting viewers who might not ordinarily tune in for a football game.
"And maybe we can keep them around for 15 minutes or so afterward," he said, adding: "You hope the game is half as good as the open."
---