Column: Through Week 3 in the NFL, the powerful Rams have not cut corners but they did lose two to injury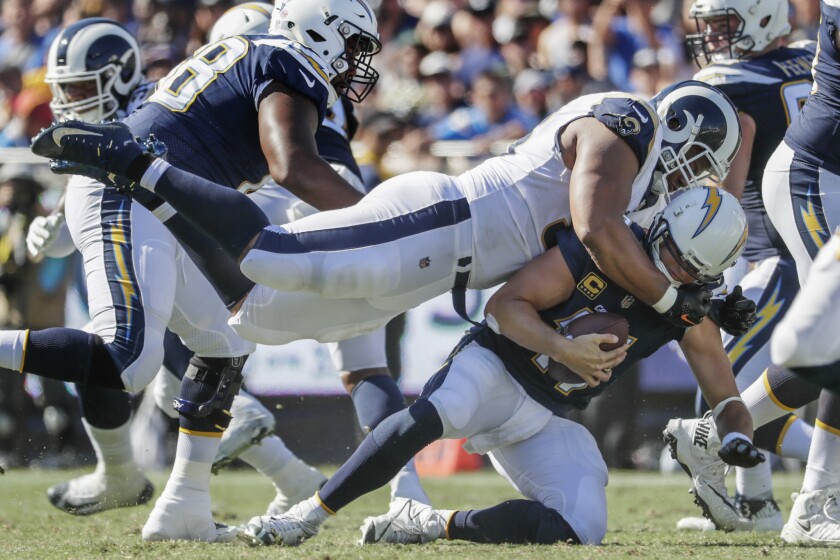 Chargers quarterback Philip Rivers is sacked by Rams defensive lineman Ndamukong Suh during a third quarter drive on Sept. 23
(Robert Gauthier / Los Angeles Times)
Rams receiver Brandin Cooks hauls in a 17-yard pass over Chargers cornerback Casey Hayward Jr., landing at the one-yard line, setting up the Rams' first touchdown on Sept. 23.
(Robert Gauthier / Los Angeles Times)
Chargers quarterback Philip Rivers throws downfield to receiver Mike Williams for a 16-yard gain during the third quarter on Sept. 23.
(Robert Gauthier / Los Angeles Times)
Rams quarterback Jared Goff congratulates receiver Brandin Cooks after hooking up for an apparent touchdown pass in the first quarter against the Chargers at the Coliseum.
(Robert Gauthier / Los Angeles Times)
Chargers receiver Mike Williams dives into the end zone past Rams safety Lamarcus Joyner for a 20-yard touchdown from quarterback Philip Rivers at the Coliseum.
(Robert Gauthier / Los Angeles Times)
Rams running back Todd Gurley is tackled by Chargers defenders Kyzir White, left, and Derwin James at the Coliseum.
(Robert Gauthier / Los Angeles Times)
Fans reach for an autograph from Rams receiver Josh Reynolds before a game against the Chargers at the Coliseum.
(Robert Gauthier / Los Angeles Times)
Chargers receiver Keenan Allen can't haul in a potential touchdown pass late in the fourth quarter as Rams safety Lamarcus Joyner defends on Spet. 23.
(Robert Gauthier / Los Angeles Times)
Rams receiver Cooper Kupp slips the tackle of Chargers cornerback Trevor Williams for a 53-yard touchdown pass on Sept. 23.
(Robert Gauthier / Los Angeles Times)
Rams linebacker Cory Littleton blocks the punt attempt of Chargers punter Drew Kaser, resulting in a Rams touchdown in the second quarter on Sept. 23
(Robert Gauthier / Los Angeles Times)
Minnesota melts down. San Francisco loses its star quarterback. New England drops consecutive games for the first time since 2015. Jacksonville tumbles to Earth. Houston has yet to achieve liftoff. And Oakland's $100-million coach is winless.
Where is the sanity in the NFL?
Only in L.A.
The Rams did what they were supposed to do Sunday, maintaining an unblemished record with a 35-23 victory over the Chargers and reinforcing what they believe is the city's proper NFL pecking order.
Coach Sean McVay says it so often it should be painted on the walls of the Coliseum tunnel and tattooed down his arm: The truest measure of performance is consistency. The Rams have won each of their three games by double digit, and, in order, have scored 33, 34 and 35 points. Their point differential is a league-best plus-66, which is 20 points better than the next-closest team (Baltimore).
It's quite a change for a Rams franchise that not so long ago was consistently awful.
"A lot of times you get caught up in how good you have to be," tackle Andrew Whitworth said. "You have to really put yourself in position where you don't give the game away."
But the win was far from perfect. At times Sunday, the Rams were a well-oiled machine. At times, the football looked well-oiled, with a fumble by Todd Gurley, an end-zone interception by Jared Goff, and three penalties by linemen that wiped out big gains by the home team.
"We definitely gave some stuff away, we could be way better than what we were," Whitworth said. "But some of that's going to happen. I could argue that one thing that's kind of a negative is this team hasn't faced a ton of adversity."
Like it or not, they're getting some now. The Rams lost their two star cornerbacks to lower-leg injuries Sunday, with Marcus Peters carted off to the locker room in the first half and Aqib Talib walking gingerly to the clubhouse in the second.
After the game, Peters walked with a boot on his right foot. Talib did the same with a boot on his left, plus a crutch to help him hobble. The two players have a combined 54 interceptions — and only two healthy legs.
That means the Rams will face Minnesota on Thursday night with Troy Hill and Sam Shields at corner, with Nickell Robey-Coleman mixed in. That's not necessarily disastrous, but it's trading some of the league's best playmakers for more pedestrian starters.
The NFL doesn't like to have teams cross two time zones to travel to a Thursday night game — those are difficult enough for the teams that don't have to leave town — but it wanted a marquee matchup for this week's game in particular, with Fox making its "Thursday Night Football" debut.
So the Rams will play host to the hopping-mad Vikings, who are coming off a shocking and humiliating home loss to lowly Buffalo. They fell 27-6 to a team led by a rookie quarterback (Josh Allen) in a place where they had won 10 of their last 11 games, including playoffs.
The win by the Bills was the biggest shocker on a day when the 49ers lost quarterback Jimmy Garoppolo to a knee injury, powerhouse Jacksonville mustered two field goals in a 9-6 loss to Tennessee, and Houston and Jon Gruden's Raiders dropped to 0-3. The Patriots lost 26-10 to previously unbeaten Detroit.
According to ESPN, the Bills became only the sixth 16-plus-point underdog winner in the NFL's last 81 point spreads of that size, with the last such winner being Washington over Dallas in 1995.
"I don't think we took them too lightly," coach Mike Zimmer said. "I think they came out and kicked our butts."
For the Rams, there are two ways to look at it. They're getting a Vikings team that has a bruised confidence tender to the touch, or an angry sleepwalker who has suddenly snapped to attention.
"Look, they're a dangerous team regardless if they beat Buffalo by a hundred or lost by a hundred," said Rams center John Sullivan, who used to play for the Vikings. "We know those guys, we played them a year ago [a 24-7 Vikings win at Minnesota], it's a dangerous squad with a ton of talented players on both sides of the ball. So we have to be ready."
Sometimes, that means going to extreme lengths. On Sunday afternoon, the Rams moved in a labyrinth of massage tables into the locker room so players could immediately begin their recovery regimen, a necessity for the short week. A few minutes later, a team of trainers had players lying on the floor doing yoga-type stretches. This is highly unusual for the aftermath of an NFL game, when players have typically scattered for their cars and families.
"Never done this before," said Sullivan, who climbed onto a massage table mere minutes after pulling off his jersey and pads. "It's because [the Rams training staff is] cutting edge. Smart guys. The more you can do. It's really limited time, so you might as well take advantage of it while we're all here."
Heading into the fourth week of the season, what the Rams are doing is working. In a league of unpredictability and slap-your-forehead upsets, when weekly tremors change the landscape dramatically, the rock-solid ground is in L.A.
Follow Sam Farmer on Twitter @LATimesfarmer
---
Get the latest on L.A.'s teams in the daily Sports Report newsletter.
You may occasionally receive promotional content from the Los Angeles Times.