Column: Chargers are not satisfied despite win over Washington Redskins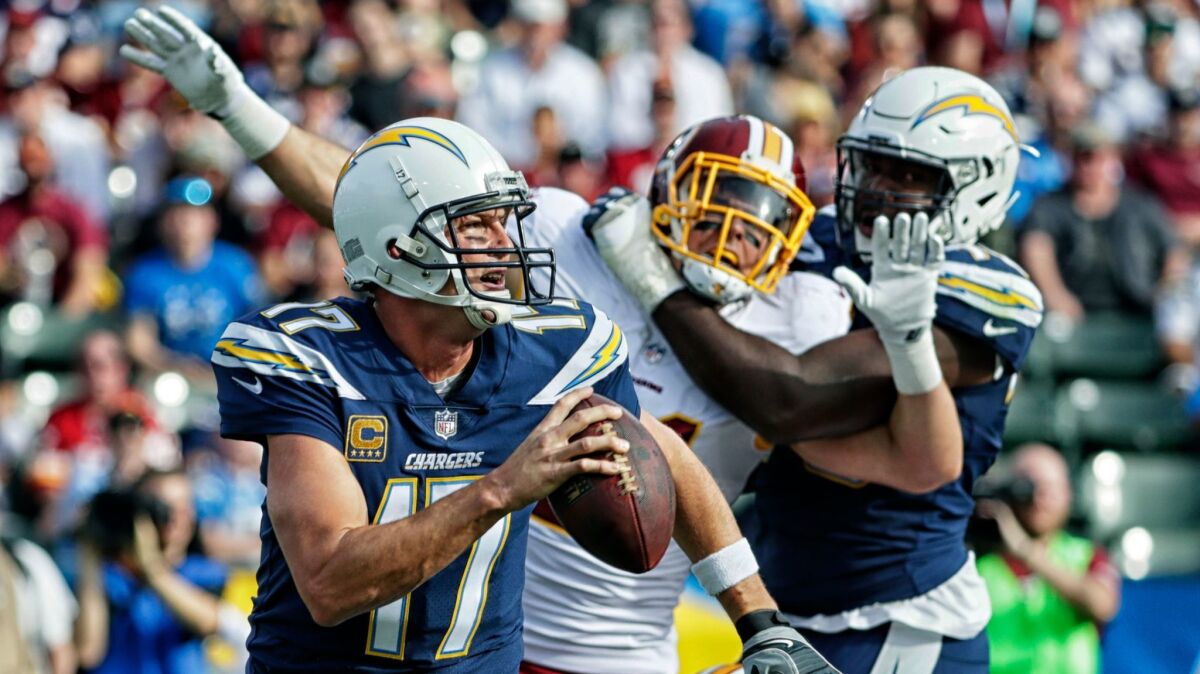 Are we having fun yet?
If you're the Chargers, the answer is no. And that's a welcome change.
"We haven't accomplished anything really at all," said tackle Russell Okung, buttoning his shirt Sunday in a mostly empty locker room in the aftermath of a 30-13 blowout of Washington. "We're 7-6. We're happy that we dug ourselves out of a hole, definitely, but there's not much to celebrate."
In lyrical terms, this team, which has gone 7-2 since losing its first four games, can't get no satisfaction.
"This is so different compared to the way it was," said center turned radio host Nick Hardwick, who played for the Chargers from 2004-14. "This team is mature, professional. Guys are smiling because they won, but it's not like it's unexpected. It's, 'Yeah, we won. What's next?' It's not like, 'We've arrived.'
"We've gotten that before. We'd almost get to .500 and you'd see elation in the locker room. 'Woohoo! We won!' It was, 'No. Now's the time to bear down on the work that you did to make it meaningful at the end.' "
The Chargers are a wounded animal. Wounded by their embarrassing 0-4 start. Wounded by their bizarre situation in this new city, where they've frequently felt like visitors in their own stadium (although StubHub wasn't overrun by Redskins fans Sunday). But these players haven't had to manufacture an us-against-the-world mentality; it's ready-made for them.
So now they have won four in a row, share the division lead with Kansas City, at play at the vulnerable Chiefs on Saturday with control of the AFC West up for grabs.
"These are the games that you grow up dreaming about playing in, and here we are playing in it," quarterback Philip Rivers said. "Two teams that are sitting there at 7-6 in December, Saturday night in Kansas City at about 38, 40 degrees. Pretty awesome."
It's a credit to first-year coach Anthony Lynn that he's been able to keep his young team focused on the now, when they could have come unglued by their face plant out of the gate. They were in a deep hole, back when it looked like the Chiefs would run away with the division.
But Kansas City has lost six of eight since getting off to a 5-0 start. The Chiefs stopped their slide by beating the Raiders on Sunday.
Meanwhile, the Chargers' two losses in the past nine games were at New England — a forgivable sin — and at Jacksonville, in a final two minutes that were the football equivalent of a nuclear meltdown. This is a team that can play with anyone.
"I think the biggest thing I want to reiterate about those first four games is we weren't terrible then," Rivers said. "We lost some really close games and we just weren't as consistent… It wasn't terrible football. We just weren't finding a way to win."
This stretch run is setting up nicely for the Chargers, who are catching the Chiefs at a time when they're still trying to find their way; then play at the New York Jets, who Sunday lost starting quarterback Josh McCown to a broken hand (Hello, Bryce Petty); and play host in the finale against the up-and-down Raiders, whose Sunday performance was summed up bluntly by quarterback Derek Carr: "There is no easy way to put this one. We sucked."
The Chargers are a stark contrast. They're hitting their stride. What didn't kill them has now made them stronger.
"We're a humble group," defensive end Melvin Ingram said. "And starting off 0-4 makes you even humbler."
They haven't arrived, far from it. But they're still on the road. And that's saying something.
Follow Sam Farmer on Twitter @LATimesfarmer
---
Get our high school sports newsletter
Prep Rally is devoted to the SoCal high school sports experience, bringing you scores, stories and a behind-the-scenes look at what makes prep sports so popular.
You may occasionally receive promotional content from the Los Angeles Times.