Chiefs' Patrick Mahomes is armed and dangerous on his feet, making him early favorite for NFL's MVP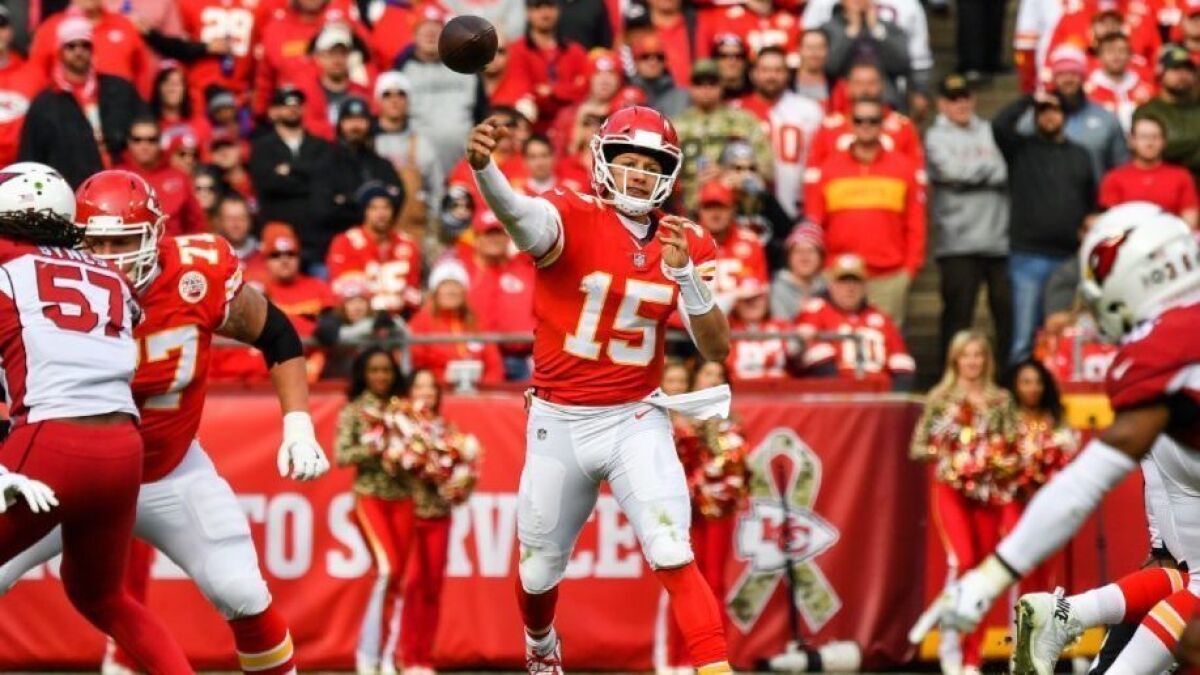 Reporting from kansas city, mo. —
There's no containing Patrick Mahomes II.
The future Kansas City Chiefs quarterback proved that at the World Series at age 5, when his father was pitching for the New York Mets. Young Patrick would assume his stance at one end of the Shea Stadium bullpen, and knock lobbed pitches back at his dad during warmups.
"The bullpen was about 80 feet long, and the fence was about 10, 11 feet high," father Pat Mahomes recalled. "He could hit, but he could never hit it over the fence. We got to the World Series, and ESPN had set up the crew out there behind the right-field fence. Patrick was hitting, and he saw those guys up there — Harold Reynolds and all those guys up there — and he started hitting it over the fence all the time."
The next day, when those TV panelists arrived for their show, they all brought gloves so they would be prepared for the baseballs sailing out of the bullpen.
"Patrick," his dad said, "has always risen to the occasion."
That's on full display in the NFL, where Mahomes is off to a scorching start. The Chiefs and Rams, tied for the league's best record at 9-1, meet Monday night at the Coliseum in what's essentially a midseason Super Bowl. The game was supposed to be played in Mexico City, but the field at Estadio Azteca was so torn up after a recent concert that the NFL called an audible and moved the game to Los Angeles.
Meanwhile, Mahomes has been moving mountains. He leads the NFL in passing yards (3,150), passing touchdowns (31), and touchdown-to-interception ratio (plus-24). He has the AFC's best passer rating (117.4), and his jersey was sent to the Pro Football Hall of Fame after his second start when he became the first quarterback to throw 10 touchdown passes through his team's first two games of a season.
The second-year quarterback, who as a rookie backed up Alex Smith, already holds the club record for touchdown passes in a season — with six games to go.
"I can't even explain it, man," Chiefs tight end Travis Kelce said. "He has this magical ability about him to be able to make plays with his feet, his arm. To be able to look defenders off and throw no-look passes. It's incredible what he's been able to do, and the best part about that is his confidence in doing that."
The younger Mahomes credits his father's game for helping to make him a better quarterback.
"I played shortstop my entire life, so I always knew how to make throws from different platforms, be accurate and throw it to the first baseman," he said in an interview with The Times. "So I feel like playing quarterback I was able to find different ways that you had to throw the ball, different platforms, different arm angles, and that helps me when I'm out there on the field."
And there's more. He has a coolness under pressure, the presence of mind to make plays like the one in Week 4 against Denver. With a Broncos tackler wrapped like a python around his legs, Mahomes changed hands at the last moment and completed a pass with his left. It was one of several rub-your-eyes moments he has compiled both at Texas Tech and in the past 10 Chiefs games.
The stage is never too big for Mahomes.
"With Patrick, he was in that milieu from birth," said his agent, Leigh Steinberg. "He's not arrogant about it, but he does have the expectation that he belongs on center stage, and he'll play out his athletic future on center stage."
That includes back-to-back appearances on "Sunday Night Football" this season — a 43-40 loss to New England, followed by a 45-10 victory over Cincinnati — and Monday night's game against the Rams.
The success of Mahomes is due in part to his mind meld with coach Andy Reid, whose offensive creativity has been revitalized by his young quarterback and an explosive cast of playmakers that includes Kareem Hunt, Tyreek Hill, Sammy Watkins and Kelce.
Mahomes said he and Reid don't need a chalkboard to strategize. They speak the same language when it comes to Xs and O's. That's no small feat, especially for a young quarterback.
"If Mahomes can keep track of all 22 characters on the field just by virtue of what Andy Reid is saying, that's a level beyond," said former college coach and NFL coordinator Rick Neuheisel, now a CBS analyst.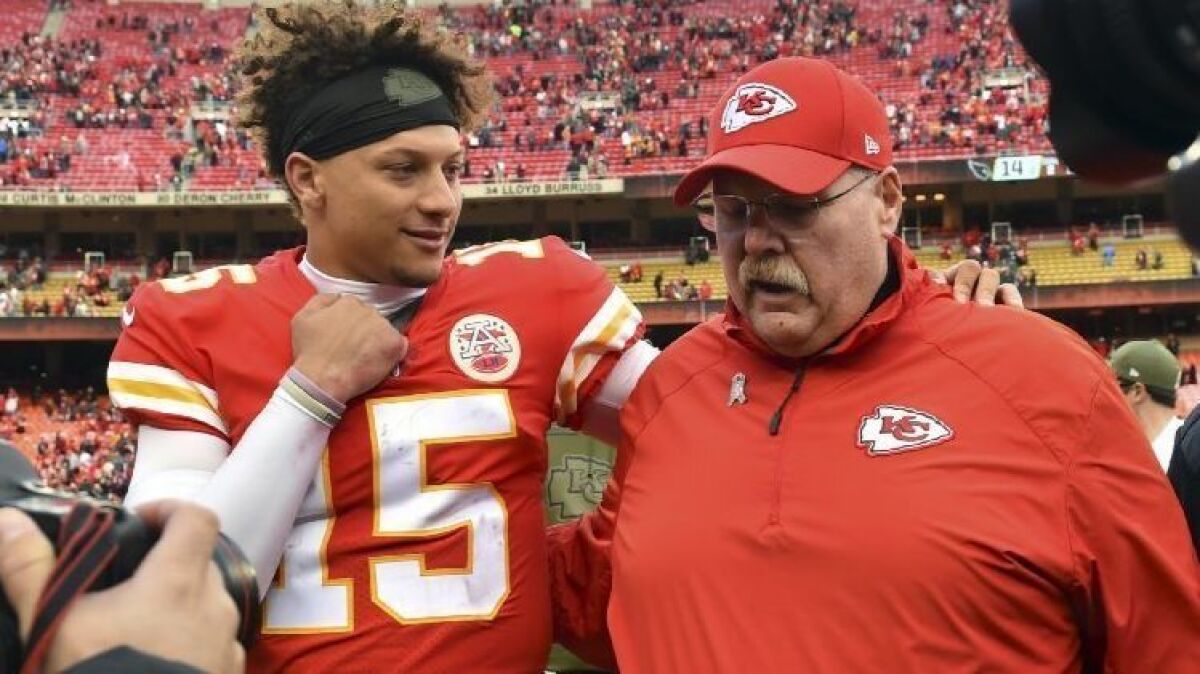 Former NFL quarterback Boomer Esiason, also a CBS analyst, said of Mahomes: "He's got God's gift hanging off his right shoulder, and I think he knows it and utilizes it."
After a long completion against Arizona on Sunday, a smiling Mahomes stuck his fingers through the bars of his facemask and wiggled them. He then smiled and pointed to Reid on the sideline.
"He called the play, then me being able to complete that big pass on third down," Mahomes said. "I was just letting him know we were on the same page."
Chiefs linebacker Justin Houston could see early on that the coach and quarterback would click.
"When he was a rookie," Houston said, "I pulled him to the side and said, 'Get up under coach Reid, and follow coach Reid.'
"You do that," Houston said, "and the best is yet to come."
Follow Sam Farmer on Twitter @LATimesfarmer
---
Get our high school sports newsletter
Prep Rally is devoted to the SoCal high school sports experience, bringing you scores, stories and a behind-the-scenes look at what makes prep sports so popular.
You may occasionally receive promotional content from the Los Angeles Times.