The rookie is a veteran: Aspiring Ram Daniel Rodriguez is battle tested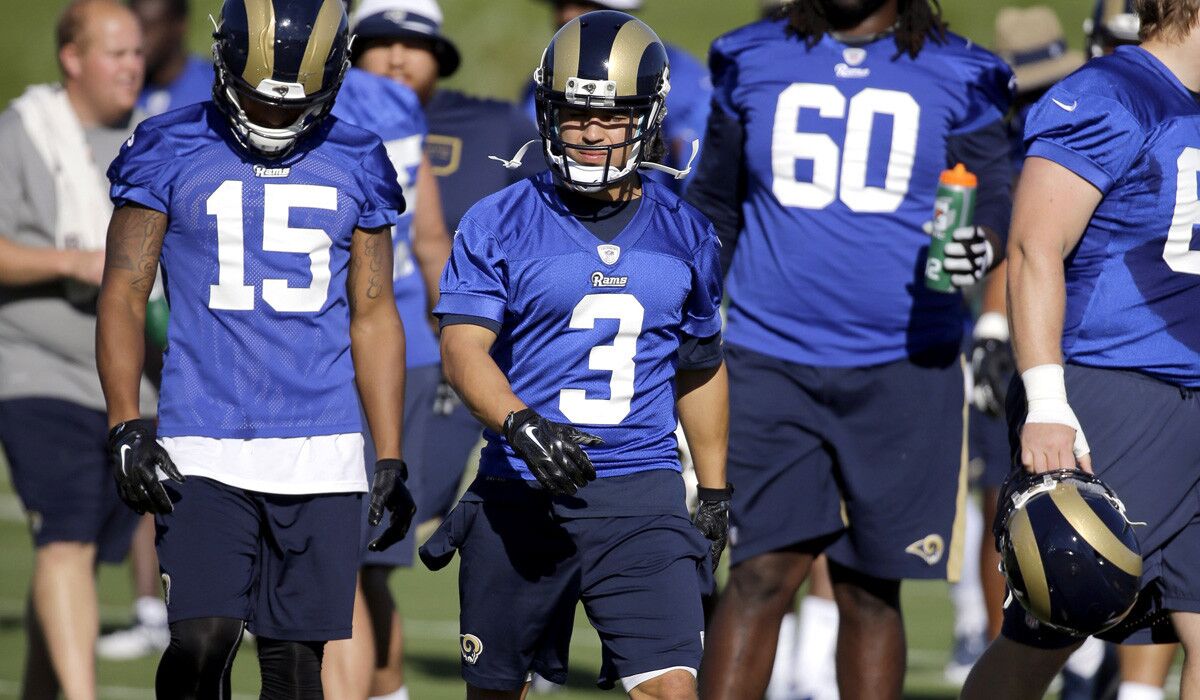 It was impulsive. It was foolhardy. It made no football sense.
Yet Jeff Fisher couldn't help but smile.
The St. Louis Rams coach didn't slam his headset to the ground when rookie Daniel Rodriguez fielded that kickoff nine yards deep in the end zone and, instead of taking the obvious touchback, decided to run it out. Fisher only smiled.
"I was thinking, 'Just let him return it,'" Fisher said. "He's savoring every moment."
First of all, it was only an exhibition game at Oakland. But more important, Rodriguez deserved his moment in the spotlight. OK, so it was miraculous that the 5-foot-8, 180-pound returner was able to get the ball to the 15, but his story is all about miracles anyway.
"There was no way in hell I was taking a knee," said Rodriguez, 27. "I worked my tail off to even have an opportunity out there, so unless it was out of bounds, there was no way I was going to not take it. That first touch had to be something special."
Rodriguez is no ordinary undrafted rookie. He is an Army veteran who served separate tours of duty in Iraq and Afghanistan. He was wounded in the Battle of Kamdesh, among the bloodiest firefights in the war, and was awarded a Purple Heart and Bronze Star Medal with valor device for his actions that day.
He was discharged in 2010, and his decision to pursue a football career stemmed from a promise he made to a fellow soldier, a close friend who was later killed in action.
"A lot of people told me I was too small and laughed at the idea," said Rodriguez, who grew up in Stafford, Va. "I even went to my old high school coach and asked if he could help me send out a recruitment video. The first thing he did was list off a bunch of Division III schools. I kind of looked at him and said, 'I was thinking Virginia Tech or some bigger schools.' He just shook his head and laughed."
Imagine the surprise when Rodriguez enrolled at Clemson on the G.I. Bill, joined the football team as a walk-on, and made the final roster. He played 37 consecutive games for the Tigers, mostly on special teams, and scored a two-yard touchdown on an end around against the Citadel on Clemson's 2013 Military Appreciation Day.
Impressive as those accomplishments were, they're not the type that open NFL doors. But Rodriguez, a workout freak, is exceptionally athletic, and Fisher was moved by his path.
"When we found out about his story and that he didn't get drafted, we wanted to give him a chance to realize that dream, to play a game in the National Football League," Fisher said.
Rodriguez is easy to spot on the field, mostly because he's considerably smaller than almost all of his teammates. In fact, defensive end Chris Long had a serious case of mistaken identity.
"I was eating lunch with him one day, and I think the guy is a kicker," Long said. "Next thing you know, he gets up from the table and everybody's kind of buzzing about it. I'm like, 'Who the hell is this guy? He's the most celebrity kicker I've ever seen.'
"And everybody was like, 'No, that's the dude who was in Afghanistan and Iraq, had all these honors.' It's just a big honor to play with him. If there's ever a reason to play hard, it's to know you've got a guy 100 times more badass than you watching you play. You want to make sure you're working as hard as you can."
Rodriguez, who lives in Hermosa Beach, has written an autobiography, "Rise," and has sold the movie rights to his story.
"Initially, I was very hesitant to do the book," he said. "But at the end of the day I felt that my story could shed light on other veterans that were suffering like I was. If my story or my journey can influence others to do something positive with their lives, being veterans or non-veterans, I felt that my life had purpose again.
"Coming home from war and losing a lot of friends, and unsure if I even wanted to live anymore, I needed a purpose."
As for making the Rams' final roster, Rodriguez again faces long odds. He and several others are competing for the fifth and possibly sixth receiver spots, and many of the players vying for those jobs have more experience. The Rams host Indianapolis on Saturday, and NFL teams are required to cut their rosters from 90 to 75 players by Tuesday.
Typically, Rodriguez is undaunted.
"Hey, it was a numbers game getting into college, it was a numbers game getting my foot in the door," he said. "I can't be discouraged if the door closes. I've got to look at it as they missed out on an opportunity if that day comes, and just keep moving forward. Stay positive. Try to get a job somewhere else.
"What I don't ever get down on is what I can't control. And I can't control what the coaches' decisions are. I can control being the first one out on the field. I can control being the last one here. Taking mental reps on the sideline as if I'm the starter."
And savoring every moment.
Twitter: @LATimesfarmer
---
Get our high school sports newsletter
Prep Rally is devoted to the SoCal high school sports experience, bringing you scores, stories and a behind-the-scenes look at what makes prep sports so popular.
You may occasionally receive promotional content from the Los Angeles Times.