David Sills, once a teenage quarterback prodigy, now focused on being NFL receiver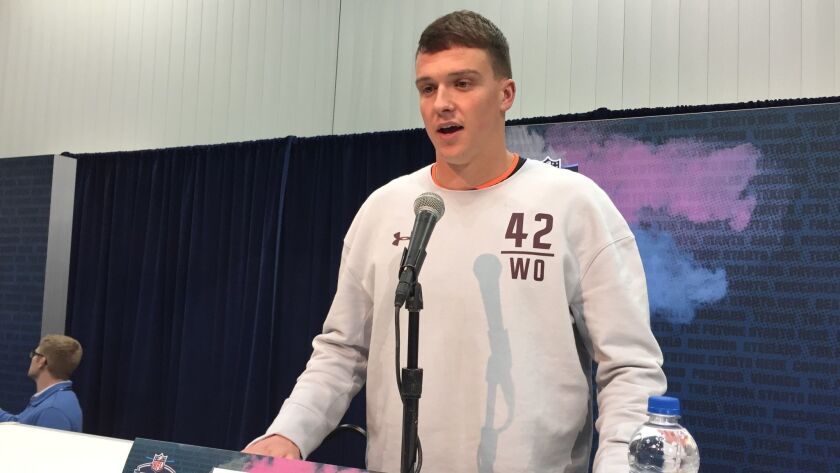 Reporting from indianapolis —
He stood at a podium Friday at the NFL combine just as he imagined he would someday after committing to play quarterback for USC.
That was in 2010, when David Sills was 13 years old.
Nine years later, after rescinding his commitment to USC, starting his college career at West Virginia, transferring to El Camino College and then returning to West Virginia and embracing a switch to receiver, Sills is ready for his NFL shot.
With no regrets.
"I don't think I would do things any differently," Sills said, adding that everything he has gone through prepared him for this opportunity.
A few podiums to Sills' right, a swarm of reporters and camera operators crowded around former Oklahoma quarterback Kyler Murray, regarded as a potential top-five pick in the April draft.
A much smaller group queried Sills about his circuitous journey to NFL receiving prospect.
"The goal was to play on Sundays, and figuring out what's going to be the best way and to be able to have the longest career," said Sills, who caught 33 touchdown passes over his final two college seasons. "And, obviously, quarterback was what I wanted to do — that was my dream. ... Being so inexperienced at the [receiver] position, it almost gives me a drive to get up every day and work like I'm playing catch-up."
Southern California-based Steve Clarkson began tutoring Sills as a private quarterbacks coach when Sills was in elementary school in Delaware. It was Clarkson who showed then-USC coach Lane Kiffin a tape of the precocious seventh-grader, leading to Kiffin's scholarship offer that roiled college football, landed Sills on TV and stirred national debate.
Clarkson remains close to Sills, and he cites New England Patriots receiver Julian Edelman — the Super bowl MVP — as a shining example of a quarterback who transitioned to receiver. Sills, he said, is equipped with similar quarterback knowledge.
"There's something to be said for when you grow up learning the responsibility of every position and the nuances," Clarkson said. "He's giving the quarterback really another set of eyes.
"He can go back to the huddle and relay what other wide receivers can't, and he can do that immediately."
Sills, 6 feet 3¼ inches and 211 pounds, acknowledges that he remains a work in progress after navigating his highs and lows.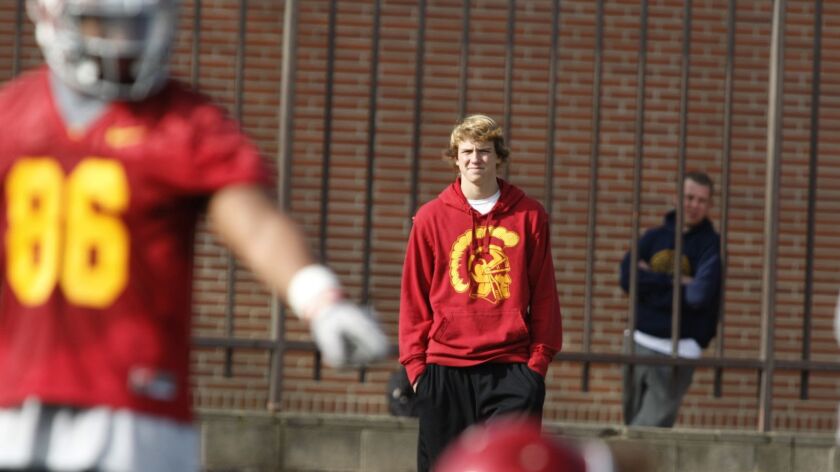 In 2013, during Sills junior year of high school, USC fired Kiffin. New coach Steve Sarkisian told Sills that he would honor the scholarship offer, but Sills has said that it was clear he was unlikely to play. So he reopened his recruitment.
During his senior season in high school, Sills suffered a right hand injury that affected his throwing motion and release. He also suffered a season-ending ankle injury.
When he enrolled at West Virginia on a football scholarship, he quickly found himself on the scout team as a receiver. He played in three games, catching two touchdown passes, but transferred to El Camino in Torrance for another chance to play quarterback.
In 2016, Sills passed for 15 touchdowns, but he received no scholarship offers to play quarterback.
Then West Virginia coach Dana Holgorsen called.
"Do you want to come back and play receiver?" Sills recalled Holgorsen saying.
"Absolutely," Sills responded. "Just send the papers over."
When Sills returned to West Virginia's campus, he said he was met with open arms. Sills immediately embraced his new role, quarterback Will Grier said.
"From the day he stepped back in Morgantown, we threw almost every day," Grier said Friday at the combine. "Just preparing, doing everything he could to kind of catch up, work his technique.
"And it showed when it came fall."
As a junior, Sills caught 60 passes for 980 yards and 18 touchdowns. Last season he caught 65 passes for 986 yards and 15 touchdowns.
"Our communication was almost at another level" because of Sills' experience playing quarterback, Grier said. "He kind of understood what I'm looking at from my vantage point."
Said former West Virginia tight end Trevon Wesco: "He knows all the coverages — he knows everything."
Sills' knowledge of offenses has helped him break down plays in detailed fashion during interviews with NFL teams. But he knows he must demonstrate NFL speed when he runs the 40-yard dash, and when he goes through pro day and individual workouts.
The dream of playing quarterback ended, but the opportunity to play pro football is just beginning.
"When I'm 35 years old, I'm not going to look back and regret anything that happened," he said. "I gave [playing quarterback] everything I had — it just didn't work out. It wasn't in God's plan. ...
"I'm in the position I'm in now, and just going to try to continue to be the best I can be."
Sign up for our daily sports newsletter »
Follow Gary Klein on Twitter @latimesklein
---
Get our high school sports newsletter
Prep Rally is devoted to the SoCal high school sports experience, bringing you scores, stories and a behind-the-scenes look at what makes prep sports so popular.
You may occasionally receive promotional content from the Los Angeles Times.