The NFL might be surprised to know that the two top quarterback prospects in this week's draft have been riffling through poker chips for much of the offseason.
Ok, so that's not how it sounds.
USC's Sam Darnold and Wyoming's Josh Allen have been working with quarterback specialist Jordan Palmer, who uses poker chips to help players visualize formations, personnel packages, and the like.
"Instead of writing plays down on paper, you slide the chips around into formations," said Palmer, 33, who has an uncommon knack for distilling complex concepts into simple and teachable ones. "It's about creating pictures. Quarterbacks are visual learners."
That ability to teach has quickly made Palmer — the younger brother of former USC and NFL star Carson Palmer — an up-and-coming and in-demand expert on the position. Through his private coaching company, QB Summit, he worked with Deshaun Watson in the months before last year's draft, and before that with quarterbacks such as Blake Bortles, Christian Hackenberg and Sean Mannion.
Although QB Summit also conducts a series of three-day clinics for quarterbacks from middle school through college, Palmer's recent focus has been on his three draft prospects: Darnold, Allen and Houston's Kyle Allen (no relation), who have been sharing a three-bedroom house the company rented at Capistrano Beach.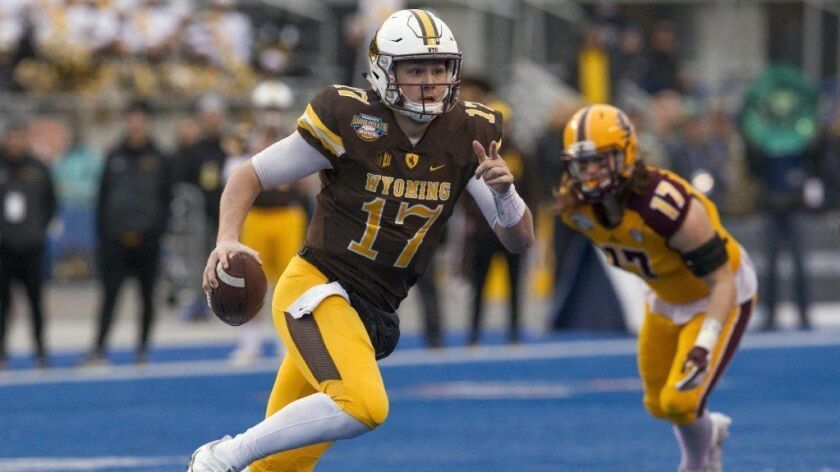 "There's only one three-month period in an NFL quarterback's life when the only thing he has to worry about is personal development," Palmer said. "This is a time when they don't have to worry about teammates, coaches, class, marketing, friends or family. I think you can get 20% better during this period if the content is right."
Whether its regular throwing workouts at JSerra High, intensive classroom work, or yoga on the beach, Palmer's regimen is designed to transform the quarterbacks into "triple threats," preparing them physically, mentally, and emotionally for the next step.
It's conceivable that six quarterbacks could be selected in the first round this year, which would match the record set in 1983. Darnold and Josh Allen are both considered strong candidates to go No. 1 overall to Cleveland.
"I don't care who goes first, I care that these guy go to the right situations," Palmer said. "The end goal is to get them ready for their rookie year. I couldn't care less where they get drafted. Deshaun Watson was the third quarterback taken last year, and two teams traded up to take quarterbacks other than him. As soon as he was taken by the Houston Texans, which was the goal all along, none of it mattered. He went to the best spot for him."
Palmer has seen both ends of the NFL spectrum. He stuck around for the better part of eight years in the league, never recording a start, while his older brother, Carson, four years his senior, threw for 46,247 yards and 294 touchdowns, both 12th in league history.
"I always loved explaining the game," said Jordan. "I was fascinated by how to get better, and I wasn't a great player. Explaining it and doing it are two different things."
Carson Palmer said that during his playing career he relied on the keen eye of his younger brother both as a business mentor and for his football observations.
"He has that rare ability to watch their game, break it down and just give guys two things to work on before he sees you next," the elder Palmer said. "The simplicity of that is very attractive."
Rams tackle Andrew Whitworth was the blind-side protector in Cincinnati when the Palmer brothers played there, with Carson as starter and Jordan as backup.
Whitworth remembers Jordan taking on a de facto coaching role for the Bengals in 2011 after Carson staged a contract holdout. It was Jordan who helped rookie Andy Dalton work through the playbook of new offensive coordinator Jay Gruden.
"[Jordan is] a young quarterback trying to learn, and he's teaching a rookie in Andy Dalton," Whitworth said. "Never flinched. Never seemed intimidated. Just did it — and did an amazing job."
As for their bet on Jordan Palmer? This year's top prospects have pushed their chips to the middle of the table.
1983 all over again?
Thirty-five years ago, the NFL had its best quarterback draft, with a record six selected in the opening round, among them future Hall of Famers John Elway, Jim Kelly and Dan Marino. Although no one is reasonably suggesting this year's class will rival that one, this crop of quarterbacks is unusually deep with Darnold, Josh Allen, UCLA's Josh Rosen, Oklahoma's Baker Mayfield, Oklahoma State's Mason Rudolph and Louisville's Lamar Jackson all first-round candidates.
This is also a strong running back draft, even though Penn State's Saquon Barkley might be the only one to go in the opening round. Others to watch include Louisiana State's Derrius Guice, Georgia's Sony Michel and USC's Ronald Jones II.
Compared with other years, this is not a particularly strong class when it comes to edge rushers or interior defensive linemen, although there are invariably surprises and late-round picks who make an unexpected splash when they get to the NFL.
Follow Sam Farmer on Twitter @LATimesfarmer
---