2019 NFL draft combine: Examining the top quarterback prospects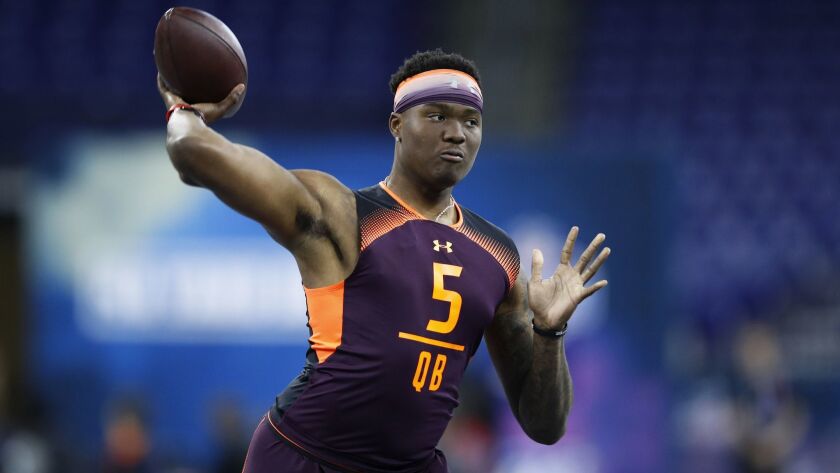 Reporting from indianapolis —
Greg Cosell, executive producer and analyst for "NFL Matchup," spends much of his life breaking down game video and evaluating college football players. He's widely respected in league circles for his knowledge of the game.
He weighs in on the four top quarterback prospects at the NFL combine:
Dwayne Haskins, Ohio State
Strengths:
A quick, compact delivery with a live, strong arm — ball jumped out of his hand at times.
An aggressive thrower with the willingness to turn it loose and drive the ball down the field.
Showed the ability to modulate his throws and deliver with touch and pace when needed.
Can make late-in-the-down accurate, tight-window throws versus zone.
Weaknesses:
Predominantly an upper-body and arm thrower with a tendency to be a little lazy with his lower-body mechanics.
Field vision at times an issue with Haskins not seeing things with needed clarity.
At times a little erratic with his ball placement and missing too many routine throws.
Kyler Murray, Oklahoma
Strengths:
Outstanding foot quickness and lower-body mechanics with a quick set and plant in the pocket, and a firm base on his delivery.
Quick, compact delivery with the ball coming out with juice.
Made the far-hash/deep-out throws with little effort.
Showed flashes of working through progressions with quick eyes and clean footwork.
In short order, Kyler Murray could be the quarterback prize of the NFL draft »
Weaknesses:
Lacks the desired height/weight/bulk profile for the position.
Some will look at the conceptual foundations of the Oklahoma offense, with its focus on misdirection and deception and defined reads, and question Murray's ability to progression read when needed.
Some inconsistency with ball placement but not scattershot.
Drew Lock, Missouri
Strengths:
Showed the arm strength to drive the ball with velocity off his back foot when needed.
Threw an excellent seam ball with the firm touch demanded.
There were times Lock looked like a very easy thrower on the deeper-intermediate and deep throws.
Made some outstanding deep throws, laying the ball out more than 60 yards in the air without hitching up into the throw.
Sign up for our daily sports newsletter »
Weaknesses:
Tendency to open up his front shoulder a beat early, which resulted in a bit of a push into his throwing motion as his arm needed to catch up.
Overall, Lock was inconsistent in his delivery, looking smooth with an easy motion, and other times looking a little labored.
Issues of decision-making popped up at times.
At times, a looseness and lack of discipline to his game.
Daniel Jones, Duke
Strengths:
Good natural arm strength with needed velocity on intermediate throws but not a power thrower.
Strong understanding of the quick game and bang play-action principles that defined Duke passing game.
Showed subtle pocket movement to slide away from pressure.
A deceptive runner by both design and improvisation.
Weaknesses:
At times a little stiff and heavy-footed with his drop and set out of shotgun.
No natural twitch or explosiveness to his movement in the pocket.
Lower-body mechanics need refinement with too many throws without a firm base, and lack of weight transfer.
Eyes and feet don't work together as consistently as they need to.
Follow Sam Farmer on Twitter @LATimesfarmer
---
Get the latest on L.A.'s teams in the daily Sports Report newsletter.
You may occasionally receive promotional content from the Los Angeles Times.