Former Homeland Security chief concerned about safety of NFL stadium project in Inglewood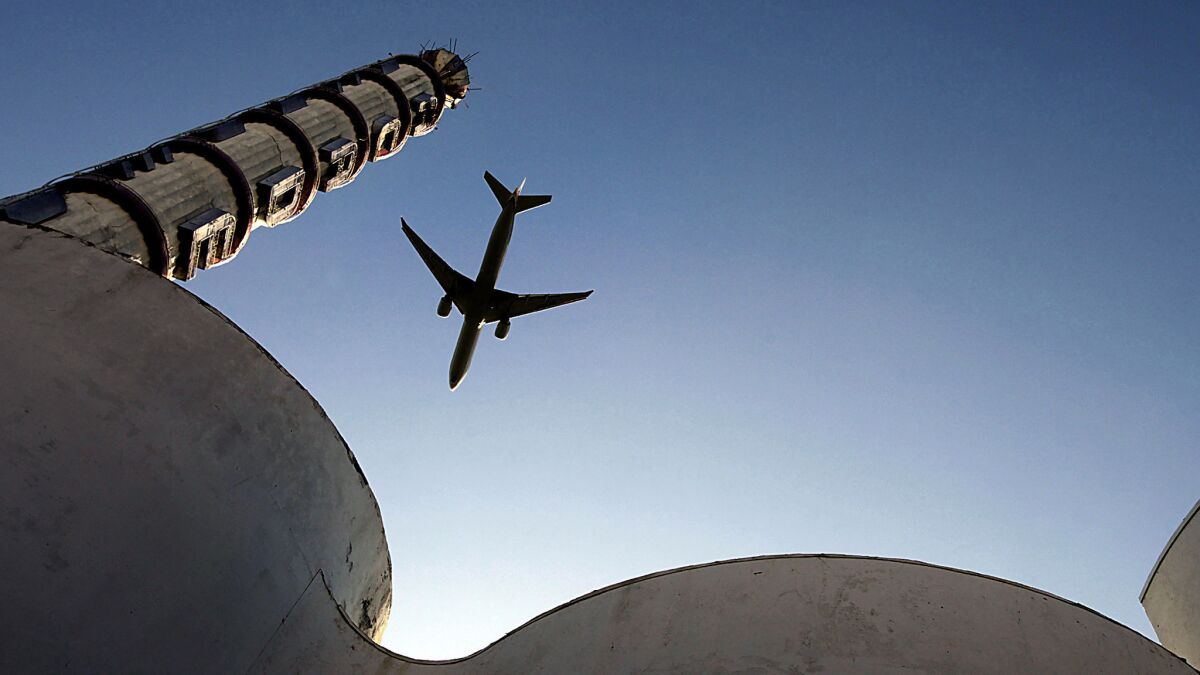 In another example of behind-the-scenes maneuvering as the NFL moves toward a Los Angeles solution, former secretary of Homeland Security Tom Ridge reiterated his reservations about the proposed Inglewood stadium in a letter to Carolina Panthers owner Jerry Richardson.
Sent last month, the two-page letter noted the Federal Aviation Administration's concern that the stadium could interfere with radar at nearby L.A. International Airport and called for public hearings about safety and security before league owners select a stadium site.
Ridge's spokesman provided a synopsis of the letter, which hasn't been made public, in response to a request from The Times.
"In a post 9/11 world, Gov. Ridge believes we shouldn't be building stadiums in the direct flight path of one of the busiest airports in the world," the spokesman said. "It is both disturbing and curious that there is such great interest in hyping the political discussion surrounding Inglewood to the distraction of safety and security concerns."
A risk assessment on behalf of the NFL in 2015 came to a much different conclusion. Michael Chertoff, who in 2005 followed Ridge as secretary of Homeland Security, conducted the wide-ranging study that included the proposed stadium sites in Carson, Inglewood and Anschutz Entertainment Group's defunct concept in downtown L.A. The wide-ranging study for any potential risks or threats found no unusual factors that could not be dealt with in the ordinary course of securing a venue.
Chertoff reached a similar conclusion when he surveyed the proposed riverfront stadium site in St. Louis and the Mission Valley property in San Diego.
Other stadiums sit in close proximity to airports, including Levi's Stadium in Santa Clara and MetLife Stadium in East Rutherford, N.J.
Inglewood Mayor James T. Butts Jr. pushed back against Ridge's assertions about the safety of the site in his city.
"The Hollywood Park race track and Forum for decades held concurrent events drawing a combined 50,000-plus spectators without a single aviation-related problem," Butts wrote in an email. "It is our belief that Tom Ridge continues this ploy in the service of others' economic interests."
A 101-page risk assessment commissioned by the city last year and conducted by TAL Global Corp. found that the stadium site's proximity to LAX wasn't a major risk or vulnerability.
Ridge previously warned in a report commissioned by AEG that the site of the old Hollywood Park racetrack would be vulnerable to a terrorist attack such as a plane being shot down or crashed into the venue. City officials and aviation experts dismissed the claims.
Last March, AEG dropped longstanding plans to build an NFL stadium in downtown L.A., but the Inglewood vision — planned to be a sports and entertainment hub — could be in direct competition with AEG's showcase L.A. Live complex.
Ridge remains a security consultant for the company.
Asked if AEG had any connection to the letter, a company spokesman cited its policy not to discuss other L.A.-related stadium projects and declined comment. Developers of the Inglewood stadium, backed by St. Louis Rams owner Stan Kroenke, also wouldn't comment.
When asked if Ridge wrote the letter at the behest of AEG or another party, his spokesman didn't provide a direct answer, but said: "Gov. Ridge's motivation for writing . . . was simply this: he continues to believe the Inglewood site is the wrong choice for a new NFL stadium."
But the FAA's inquiry into the Inglewood plan isn't expected to result in a long-term problem. The obstruction evaluation, required for a variety of construction projects including those taller than 200 feet, examined the impact the project's height, location and size would have on air traffic. It doesn't examine other risks like terrorism.
In November, the agency issued a "notice of presumed hazard," which isn't a final determination, but a starting point for negotiations with developers to find a way to mitigate any concerns. Those talks have been ongoing since the parties first met before Thanksgiving.
The league and developers are confident the matter can be resolved and won't jeopardize the project.
Ridge's spokesman said the former secretary and Pennsylvania governor is choosing to be vocal about his "personal concerns" related to the Inglewood site.
The five owners who, along with Richardson, comprise the NFL's Committee on L.A. Opportunities received courtesy copies of Ridge's letter.
"It is my sincere hope that your committee will exercise judgment and a standard of care on behalf of the NFL that goes beyond parochial financial interests and focuses instead on safety, security and other holistic factors involved in stadium site selection," the letter said.
While most owners haven't made their preference known between the Inglewood project and the rival site in Carson, Richardson has been a staunch proponent of the stadium proposed by the San Diego Chargers and Oakland Raiders. That included recruiting Disney Chairman and CEO Robert Iger to oversee the project if it is approved by owners.
Twitter: @nathanfenno
Times staff writer Sam Farmer contributed to this report.
MORE NFL NEWS
NFL wants a team or two in L.A., and owners head to Houston for a vote
Is the NFL coming to L.A.? Here are the latest answers
Bill Plaschke: The choice should be clear: Bring the Rams back to Los Angeles
---
Get our high school sports newsletter
Prep Rally is devoted to the SoCal high school sports experience, bringing you scores, stories and a behind-the-scenes look at what makes prep sports so popular.
You may occasionally receive promotional content from the Los Angeles Times.