Meet the Los Angeles Rams
When the Rams picked up and moved to St. Louis after the 1995 season, they took with them a promising young running back, Jerome Bettis.
As they return to Los Angeles they're bringing another budding star back, Todd Gurley.
Though comparing Bettis, a Pro Football Hall of Famer, to Gurley is truly unfair, the latter is the new young face of one of the NFL's youngest teams.
The Rams have struggled in recent years to find a quarterback with the endurance to last a full season, and as such they've struggled in the passing game. They've also lacked a true No. 1 receiver.
The Rams haven't seen a wideout break the 1,000-yard mark since 2007, when Torry Holt had 1,189 yards receiving. The Rams have the 15th overall pick in the 2016 draft and could address that need in May.
They have heavily invested in their defense with their top picks, selecting three defensive linemen and a linebacker with four of their seven first-round selections since 2011.
Here is an introduction to some of the franchise's most important players.
OFFENSE
Case Keenum, quarterback
6 feet 1, 205 pounds
2015 STATISTICS
828 yards passing | 4 touchdowns | 1 interception

Keenum headed into the off-season as the Rams' incumbent starter if he returns next season, since he's a restricted free agent and not under contract for 2016. The four-year pro took the starting job late in the season from Nick Foles, whom St. Louis acquired from Philadelphia in a quarterback swap for Sam Bradford. Keenum, who went undrafted out of Houston in 2012, was 3-2 as a starter last season with four touchdown passes and one interception. He's a pocket passer but has moves that can extend plays, though his offensive numbers won't blow you away. Ultimately, though, the only number that matters is wins.
Nick Foles, quarterback
6-6, 243
215 STATISTICS
2,052 yards passing | 7 touchdowns | 10 interceptions
The Rams traded for Foles with the idea that he'd step in and become their starting quarterback for the long term, even going as far as giving him a two-year contract extension before he played his first meaningful snap. Fast-forward to mid-November: Foles found himself on the bench after the team's offense scored fewer than 19 points in five of nine starts. Foles struggled with accuracy, completing just 56.4% of his passes, but that wasn't always the case. In 2013, Foles had 27 touchdowns with just two interceptions in 13 games as he led the Eagles to the NFC East title and their first playoff appearance since 2010.
Todd Gurley, running back
6-1, 227
2015 STATISTICS
229 carries | 1,106 yards rushing | 10 touchdowns
21 catches | 188 yards receiving
Gurley was the first running back selected in the first round of the 2015 NFL draft (10th overall) and and led all rookies with 1,106 yards rushing and 10 touchdowns despite missing the first two games of the season while recovering from a torn anterior cruciate ligament he suffered in college at Georgia. His speed, power and field vision make him a dangerous offensive weapon. Gurley had 11 carries for more than 20 yards (second-most in the NFL) and five plays of 40-plus (most in the league).
Kenny Britt, receiver
6-3, 223
2015 STATISTICS
36 catches | 681 yards receiving | 3 touchdowns

The former Titan has led the Rams in yards receiving in back-to-back years. Britt's 18.9 yards per catch were the second-most in the league last season, thanks to his ability to get the deep ball. He had 11 grabs that went for more than 20 yards and five greater than 40.
Tavon Austin, receiver
5-8, 176
2015 STATISTICS
52 catches | 473 yards receiving | 5 touchdowns
52 carries | 434 yards rushing | 4 touchdowns
34 punt returns | 268 return yards | 1 touchdown
Austin put together the best season of his career last year despite the Rams' struggles on offense -- St. Louis had the fewest passing yards per game. The No. 8 overall pick in the 2013 draft out of West Virginia is among the fastest players in the league, making him a threat as a receiver, running back or punt returner if he gets in space. Last year, Austin saw career highs in rushing yards and receiving yards.
Tre Mason, running back
5-8, 207
2015 STATISTICS
75 carries | 207 yards rushing | 1 touchdown
18 catches | 88 yards receiving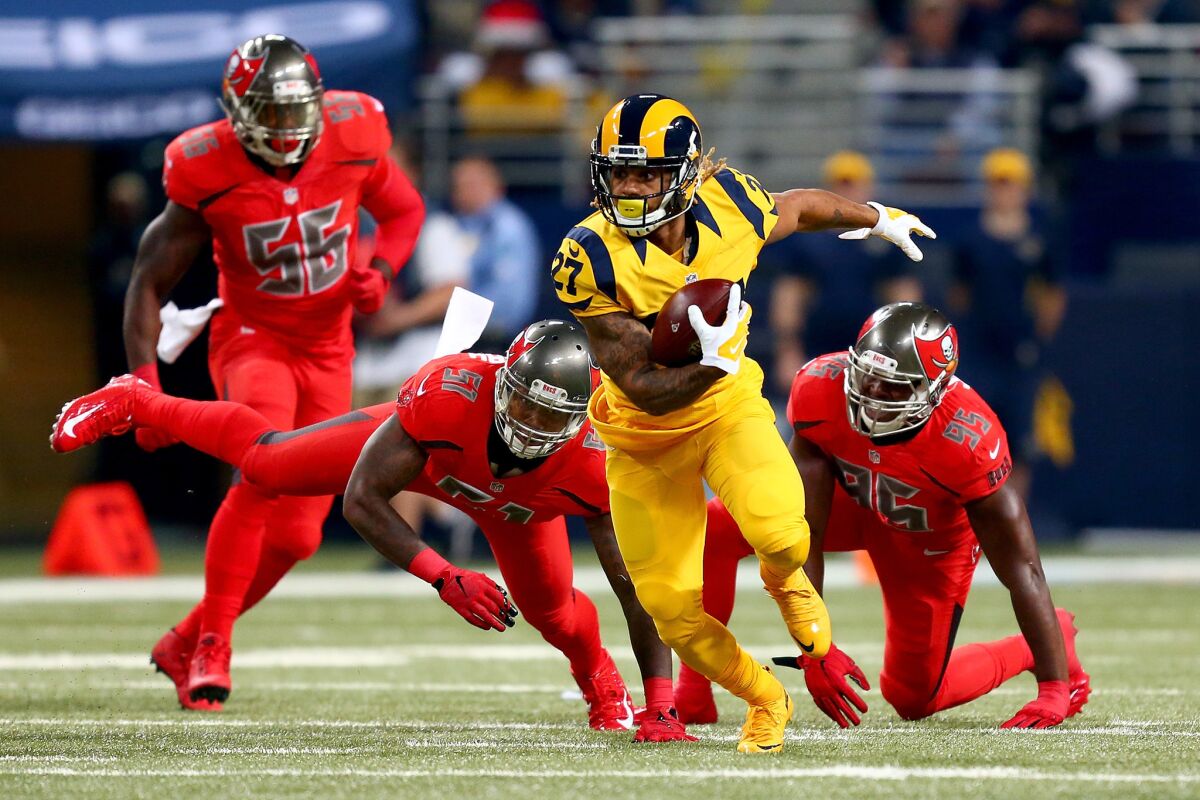 Mason led the Rams with 765 yards rushing and five total scores in 12 games in 2014, but he took a backseat to rookie Gurley in 2015, partly because of a hamstring injury suffered during the preseason. He was limited to fewer than 10 carries in 11 of the 13 games he appeared in this season, with his average yards per carry dropping from 4.8 to 2.8. Mason isn't a bruiser, but his compact size and quickness allow him to slip through even the tiniest of holes in the defensive line.
Jared Cook, tight end
6-5, 254
2015 STATISTICS
39 catches | 481 yards receiving

Cook failed to find pay dirt last season, but he was the Rams' second-leading receiver with 481 yards and 19 grabs for first downs. The veteran tight end has had 16 touchdown grabs over seven NFL seasons, but saw his production dip in 2015 as the Rams shifted toward a run-first mentality. His size and speed make him a matchup problem for opposing defenses.
DEFENSE
Aaron Donald, defensive tackle
6-1, 285
2015 STATISTICS
69 tackles | 22 tackles for loss | 11.0 sacks
Donald earned first-team All-Pro honors in his second year in the league as he quietly put together one of the better seasons for a defensive player in 2015. He has uncommon quickness for a player of his size and doesn't have to just overpower opposing offense to get to the quarterback. Donald has collected 20 sacks since he was selected with the 13th overall pick in 2014.
Mark Barron, safety/linebacker
6-2, 213
2015 STATISTICS
116 tackles | 3 forced fumbles | 1 sack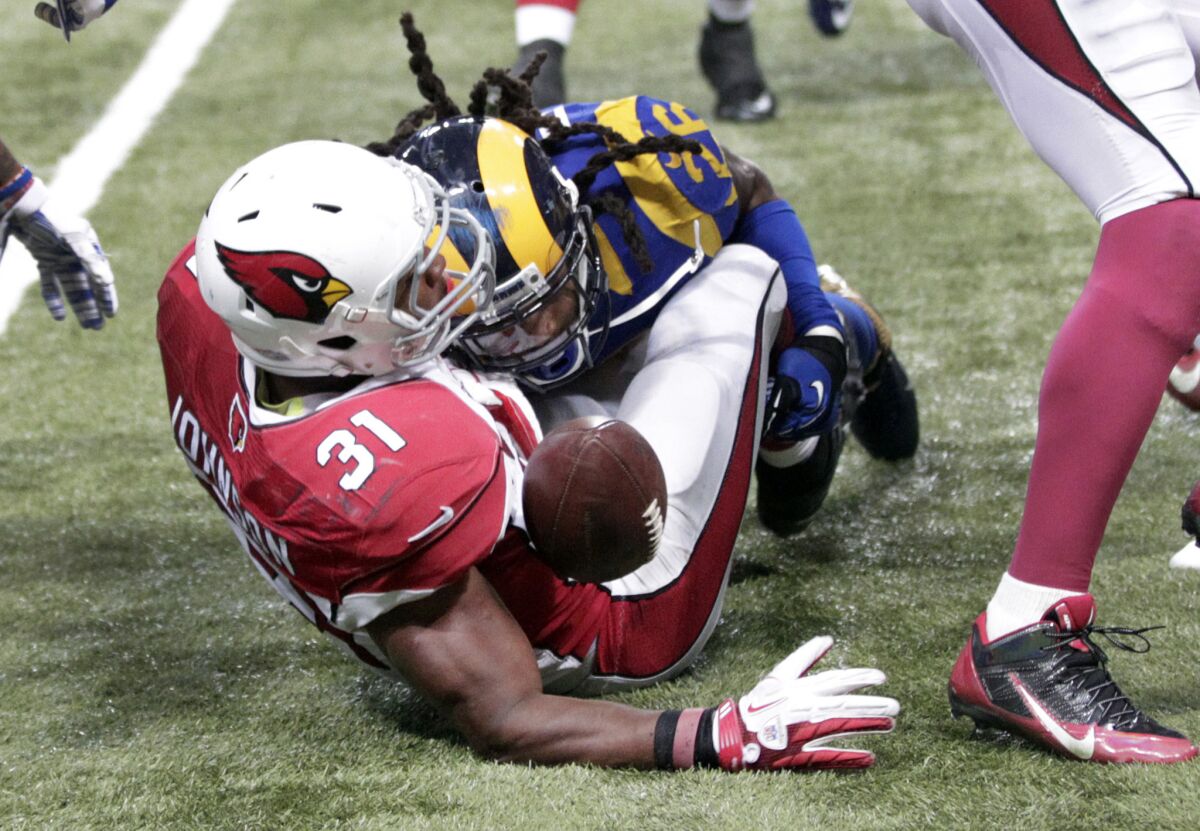 Barron converted from safety to a hybrid linebacker position last season because of an injury to linebacker Alec Ogletree. The move was a boon for Barron, who finished the season as the Rams' leading tackler (116) and collected his fourth sack since joining St. Louis from Tampa Bay by trade in 2014. The seventh overall pick in the 2012 draft is a free agent.
Robert Quinn, defensive end
6-4, 264
2015 STATISTICS
21 tackles | 5 sacks | 3 forced fumbles
Rams top pass rusher Donald is able to do his job so well because of this man on the other side of the line. Quinn was limited to eight games in 2015 because of a knee and hip injuries and was ultimately put on injured reserve because of a back injury. He has recorded 50 sacks in five seasons, including 19.0 in 2013, when he was named an All-Pro. He underwent surgery on his back this month and could miss some time in training camp.
James Laurinaitis, linebacker
6-2, 248
2015 STATISTICS
109 tackles | 1 forced fumble | 1.0 sack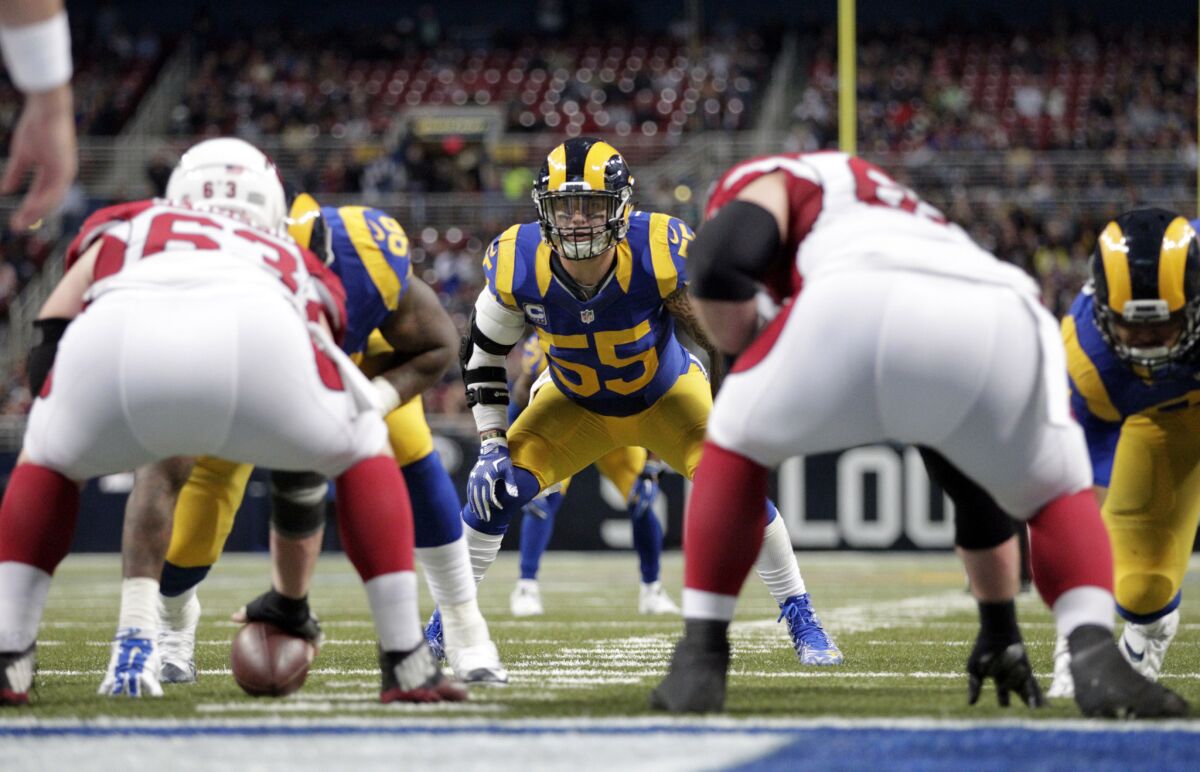 The former Ohio State linebacker is the Rams' franchise record holder for most tackles after leading the team in takedowns in four of the last seven seasons. In that time he's had 852 tackles, 16.5 sacks and 10 interceptions. He doesn't make a whole lot of flashy plays, but he doesn't give up a lot of big plays, either.
Trumaine Johnson, cornerback
6-2, 208
2015 STATISTICS
71 tackles | 17 passes defensed | 7 interceptions
Johnson put together the best season of his career in his final contract year with the Rams. He finished with a career-high 71 tackles and seven interceptions, tied for the third-most interceptions in the league. Among his biggest accomplishments of 2015 included holding Detroit receiver Calvin Johnson to just one catch for 16 yards on five targets.
Janoris Jenkins, cornerback
5-10, 198
2015 STATISTICS
64 tackles | 15 passes defensed | 3 interceptions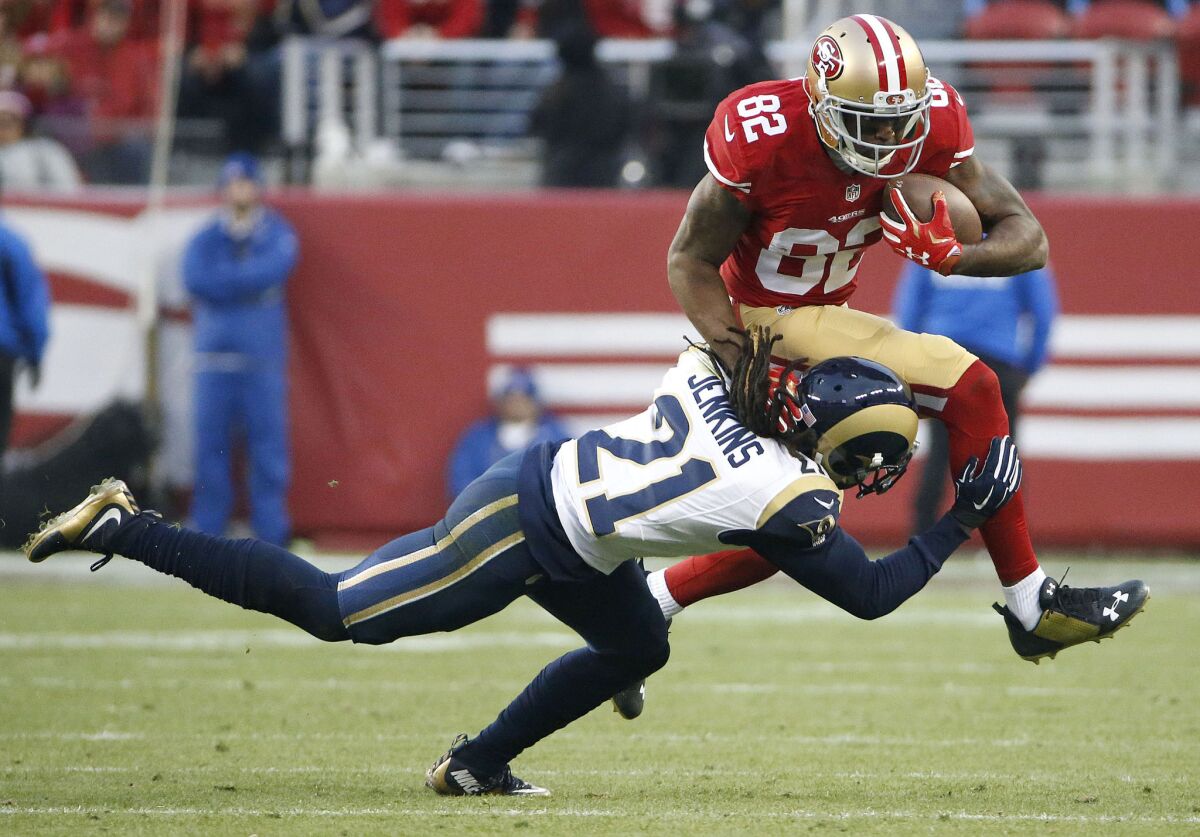 Jenkins makes up the other half of the Rams' cornerback tandem and he is also a free agent after posting some of the best numbers of his career. He's started 58 of the 60 games he's appeared in since he was drafted in the second round in 2012 and has established himself as the team's best cornerback.
Chris Long, defensive end
6-3, 268
2015 STATISTICS
19 tackles | 3 sacks | 1 forced fumble
Long has been slowed the past two years by injuries but remains the Rams' vocal veteran defensive leader and another threat to opposing quarterbacks with 54.5 sacks over eight seasons. Long is the son of Hall of Fame defensive end Howie Long and was born in Santa Monica, though the family moved to Virginia after the elder Long's retirement.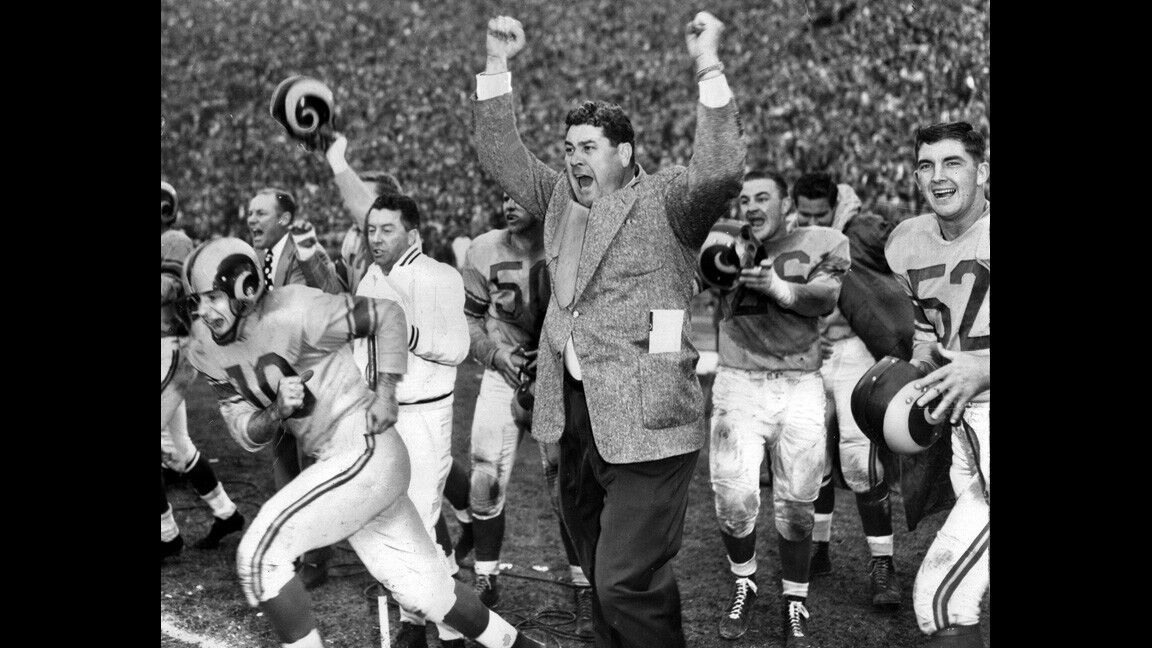 Coach Joe Stydahar and members of the Los Angeles Rams celebrate winning the National Football League Championship 24-17 over the Cleveland Browns in game at the Coliseum.
(Art Rogers / Los Angeles Times)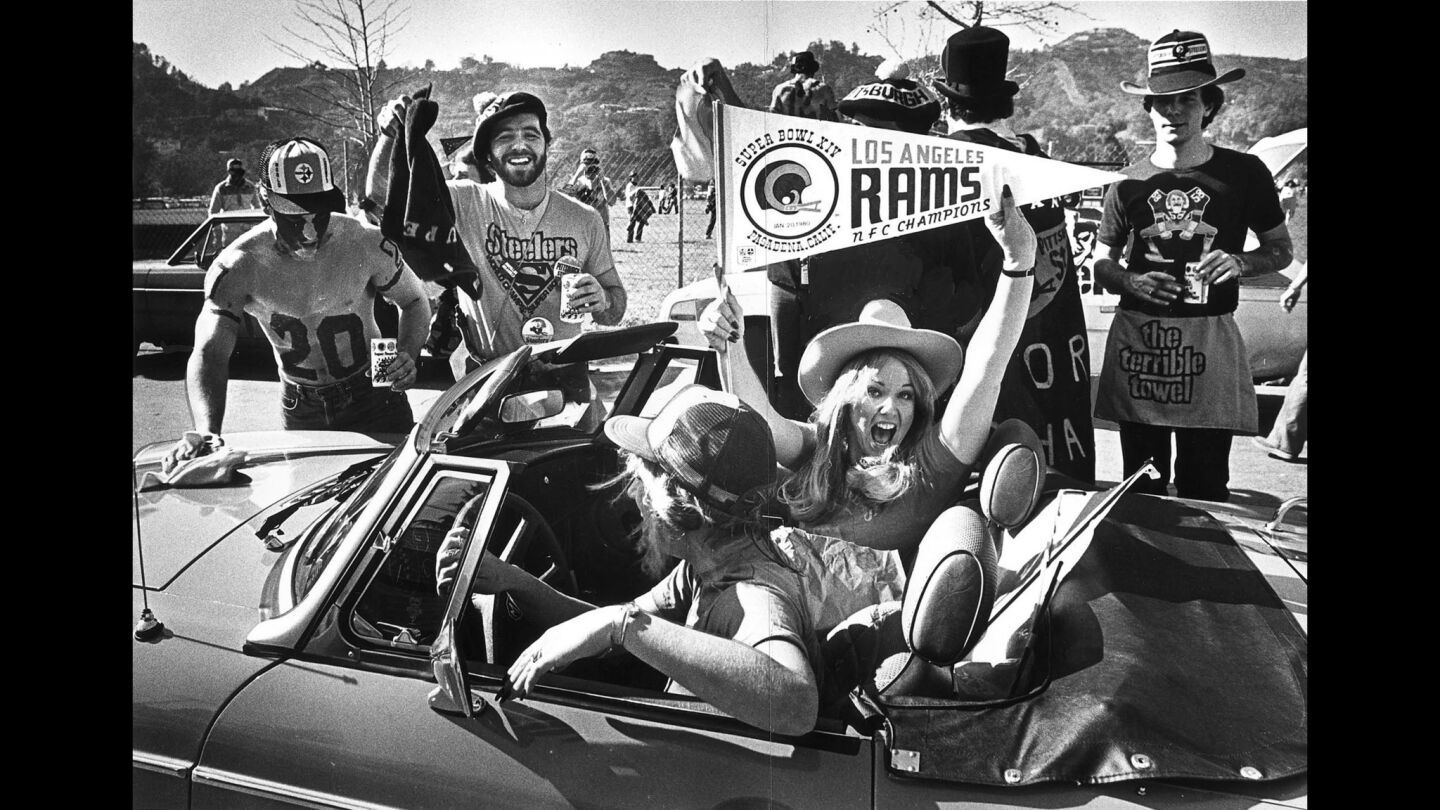 Steeler and Rams fans at Super Bowl XIV, held Jan. 20, 1980, at the Rose Bowl.
(Ken Hively / Los Angeles Times)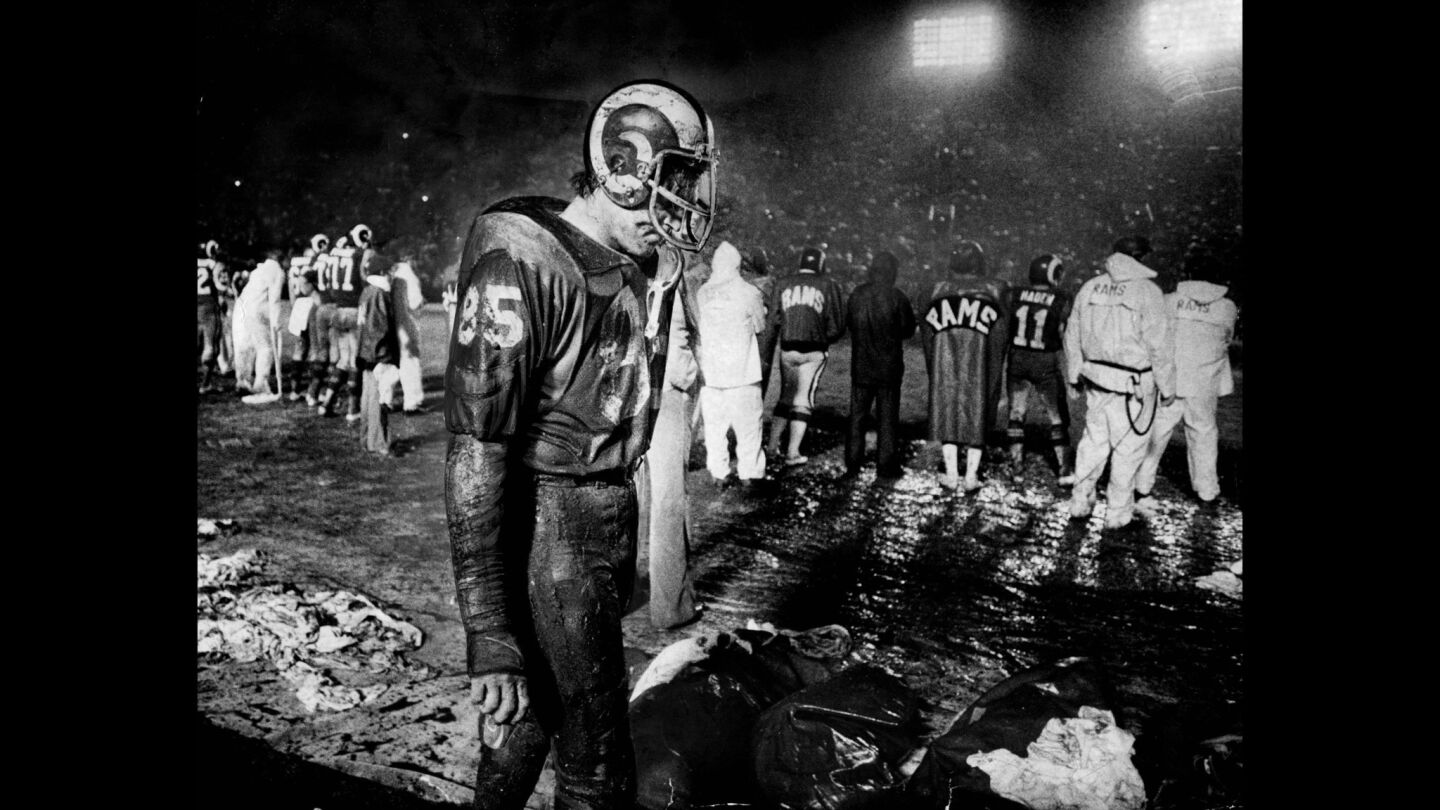 Dec. 26, 1977: Los Angeles Rams defensive end Jack Youngblood walks the sidelines after the Minnesota Vikings scored a fourth-quarter toughdown to take a 14-0 lead in an NFL playoff game. Vikings won 14-7.
(Michael Mally / Los Angeles Times)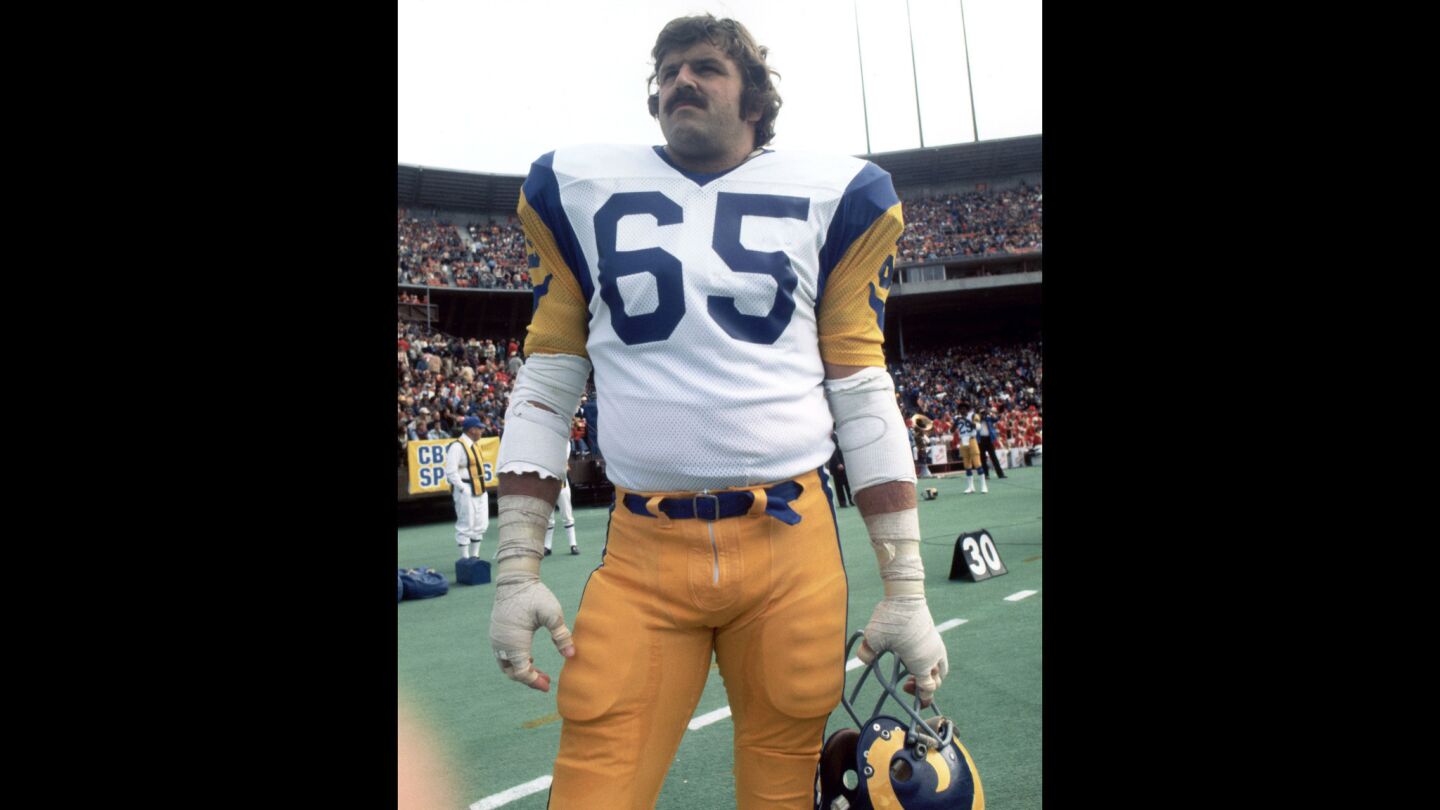 Tom Mack of the Los Angeles Rams watches from the sidelines during the game against the San Francisco 49ers at Candlestick Park on Nov. 20, 1977, in San Francisco. The Rams defeated the Niners 23-10.
(Michael Zagaris / Getty Images)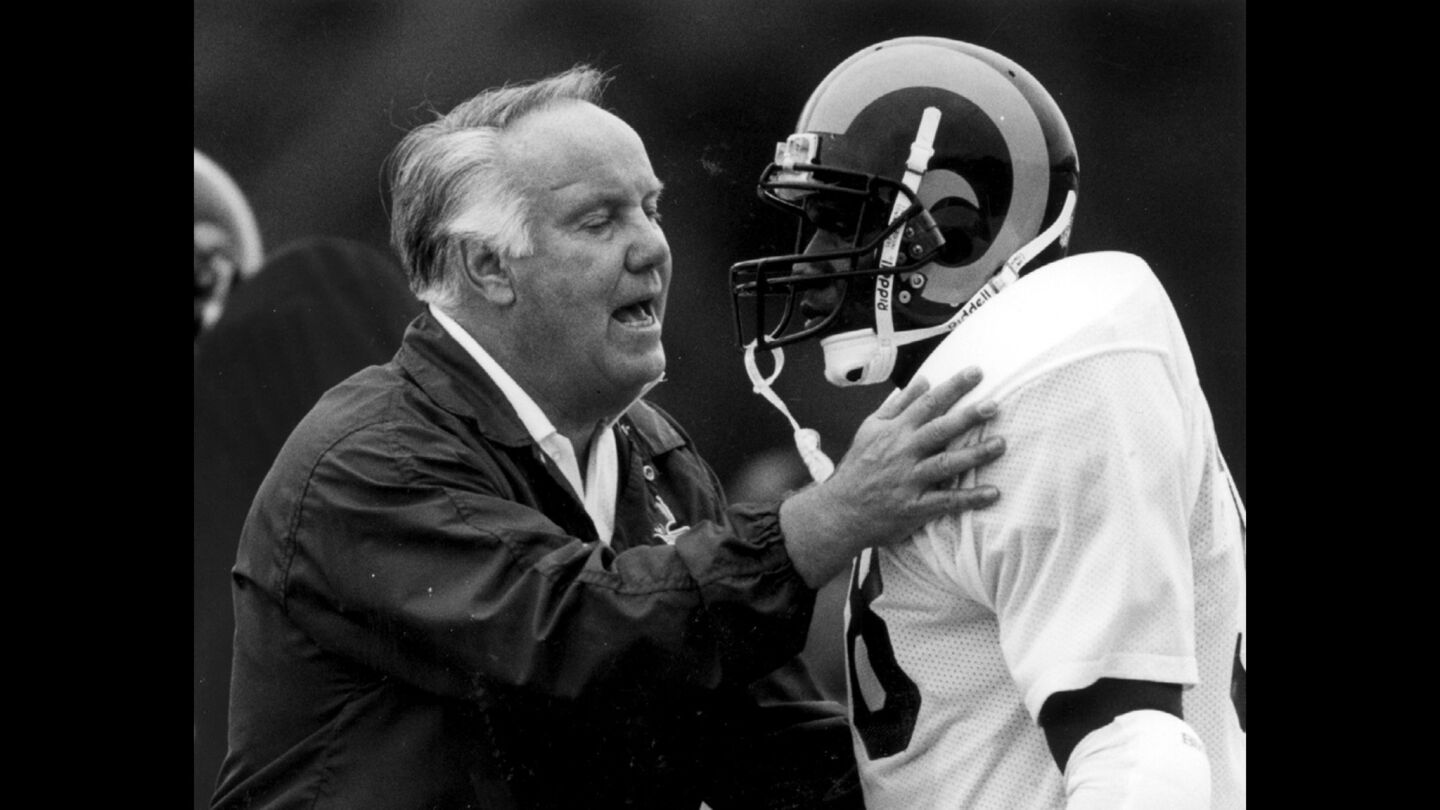 Head coach John Robinson at a Rams full squad workout in 1991.
(Gary Ambrose / Los Angeles Times)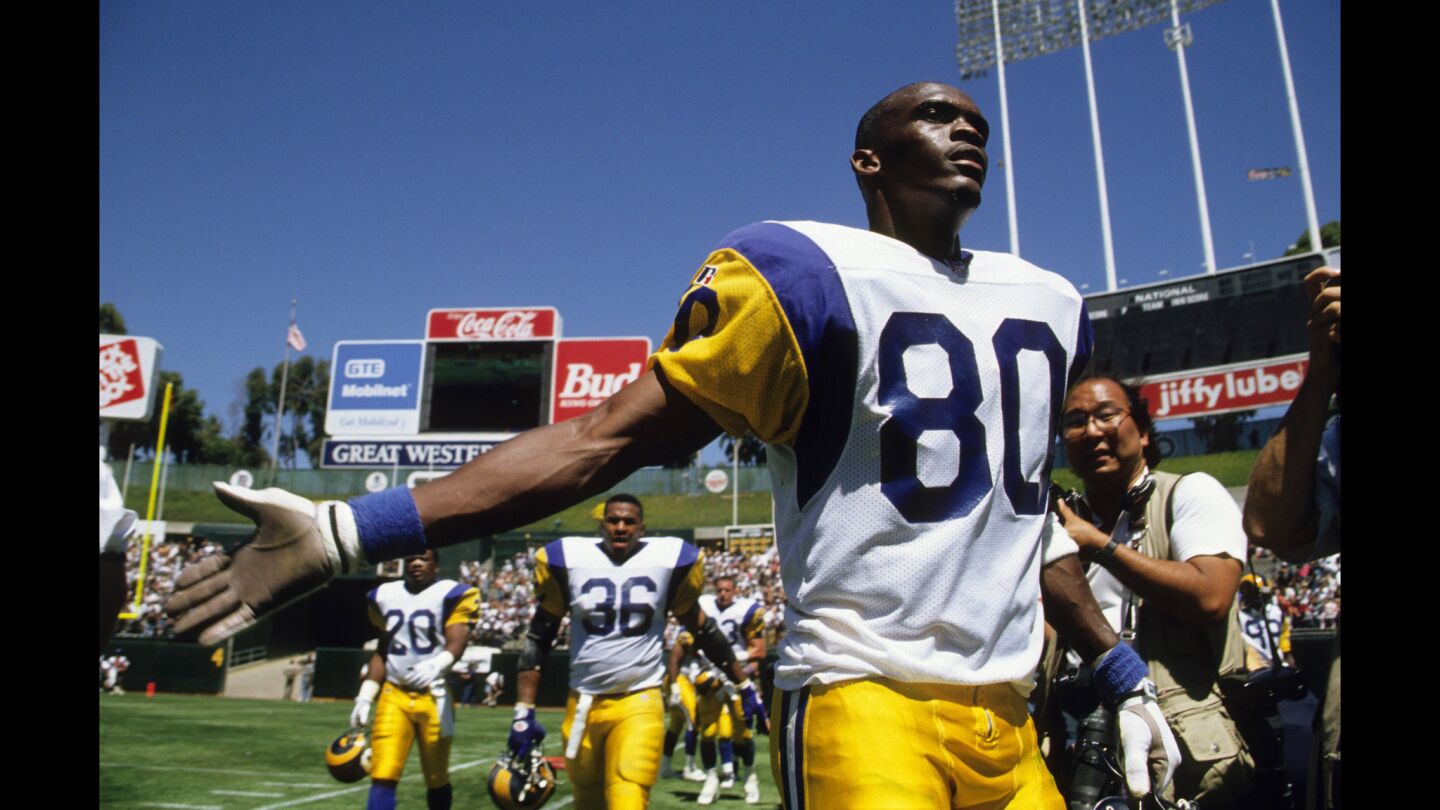 Wide receiver Isaac Bruce #80 of the Los Angeles Rams enters the field at an exhibition game against the Oakland Raiders at the Oakland/Alameda County Coliseum on Aug. 12, 1995. The Raiders won 27-22.
(George Rose / Getty Images)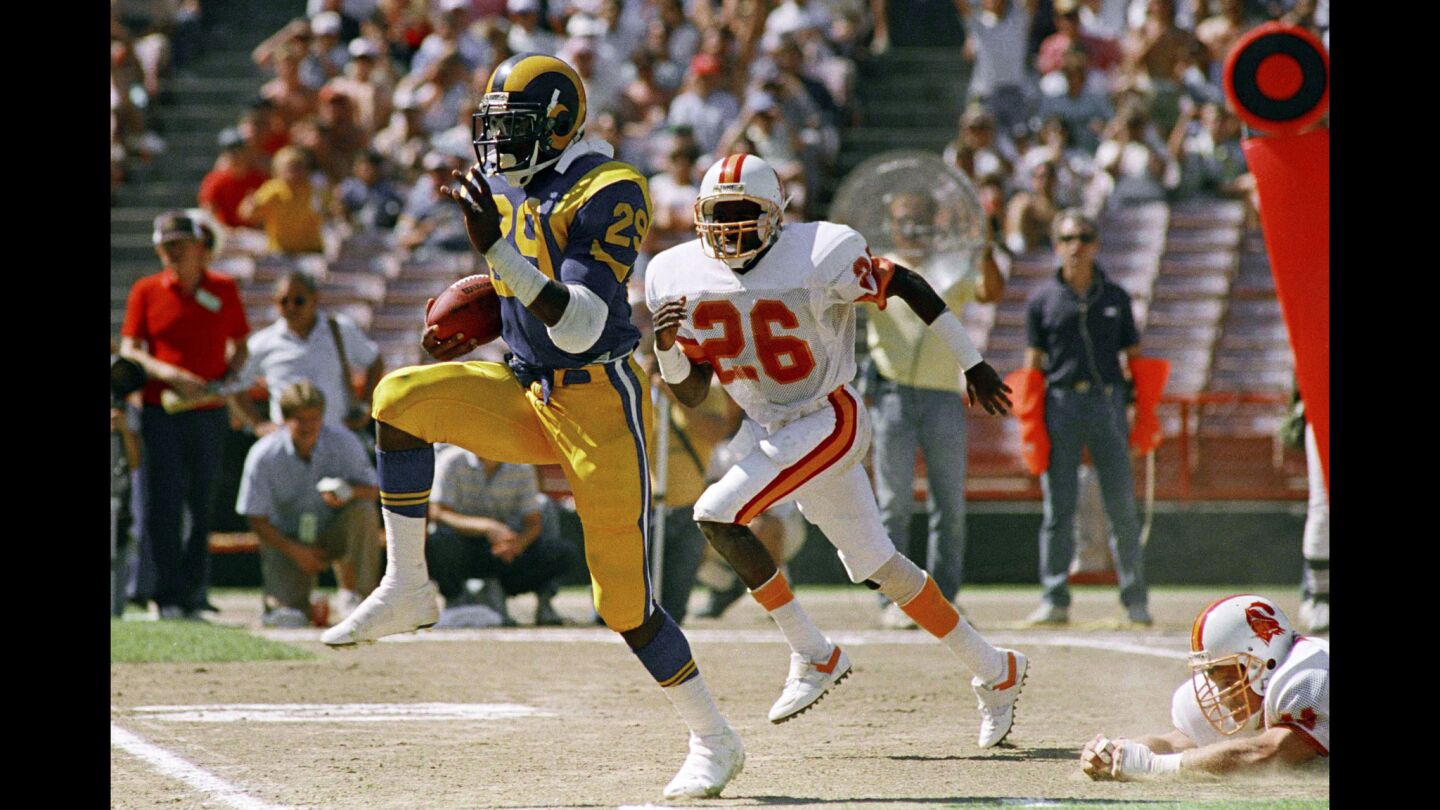 Los Angeles Rams running back Eric Dickerson (29) breaks away from Tampa Bay Buccaneers defender Ricky Easmon (26) for a big gainer Oct. 6, 1986, in Anaheim. Dickerson scored two touchdowns, the final one coming on a 42-yard run in overtime giving the Rams a 26-20 win.
(Lennox McLendon / Associated Press)
Chuck Knox coaches the Rams against the Raiders during a preseason game on Aug. 20, 1994, in Anaheim.
(Steve Dykes / Los Angeles Times)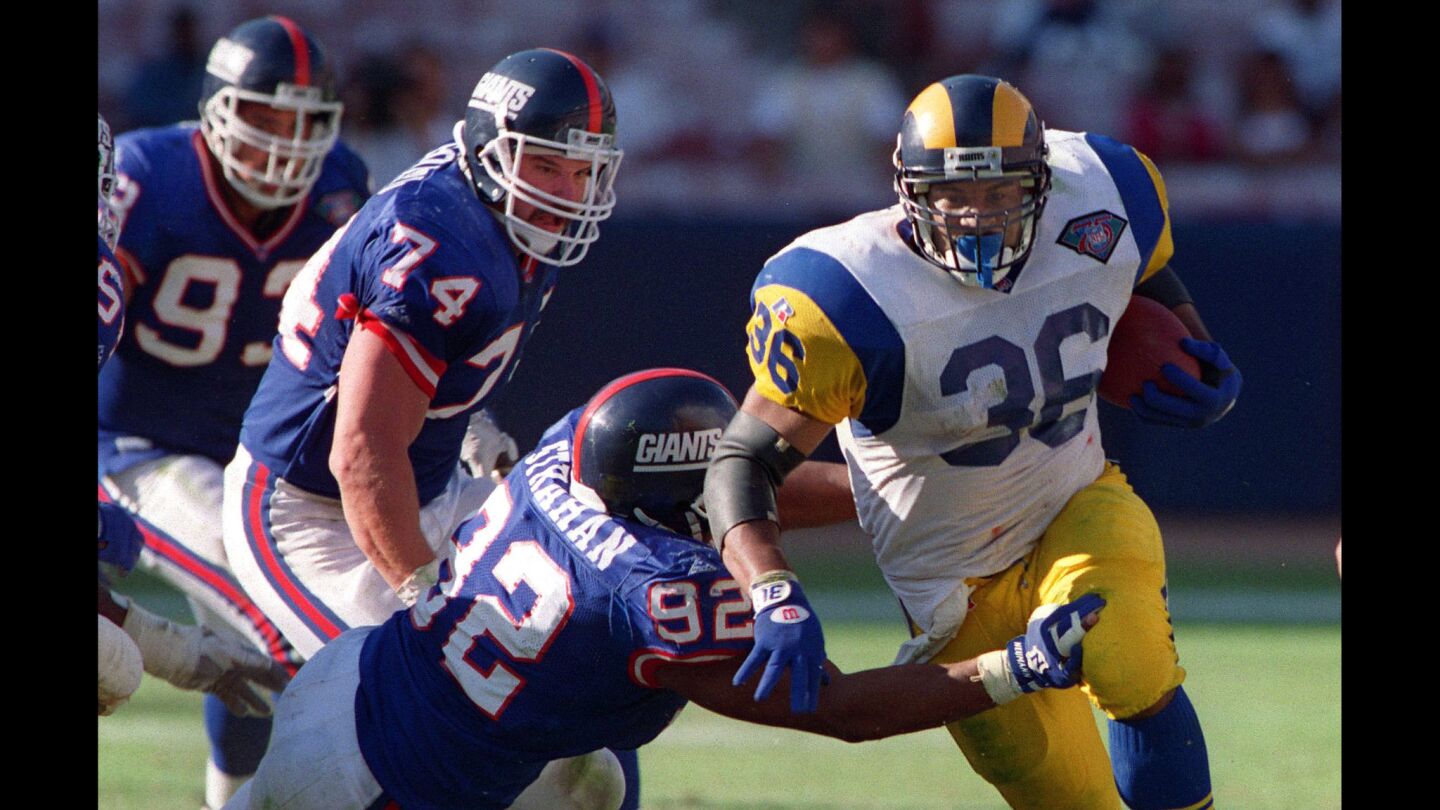 From left, Giants Mike Fox, Erik Howard, and Michael Strahan try to stop Rams running back Jerome Bettis (36) in the fourth quarter Oct. 16, 1994, at Anaheim Stadium.
(David Fitzgerald / Los Angeles Times)
Jackie Slater says goodbye to his fans at the last home game on Christmas Eve 1994.
(Alex Gallardo / Los Angeles Times)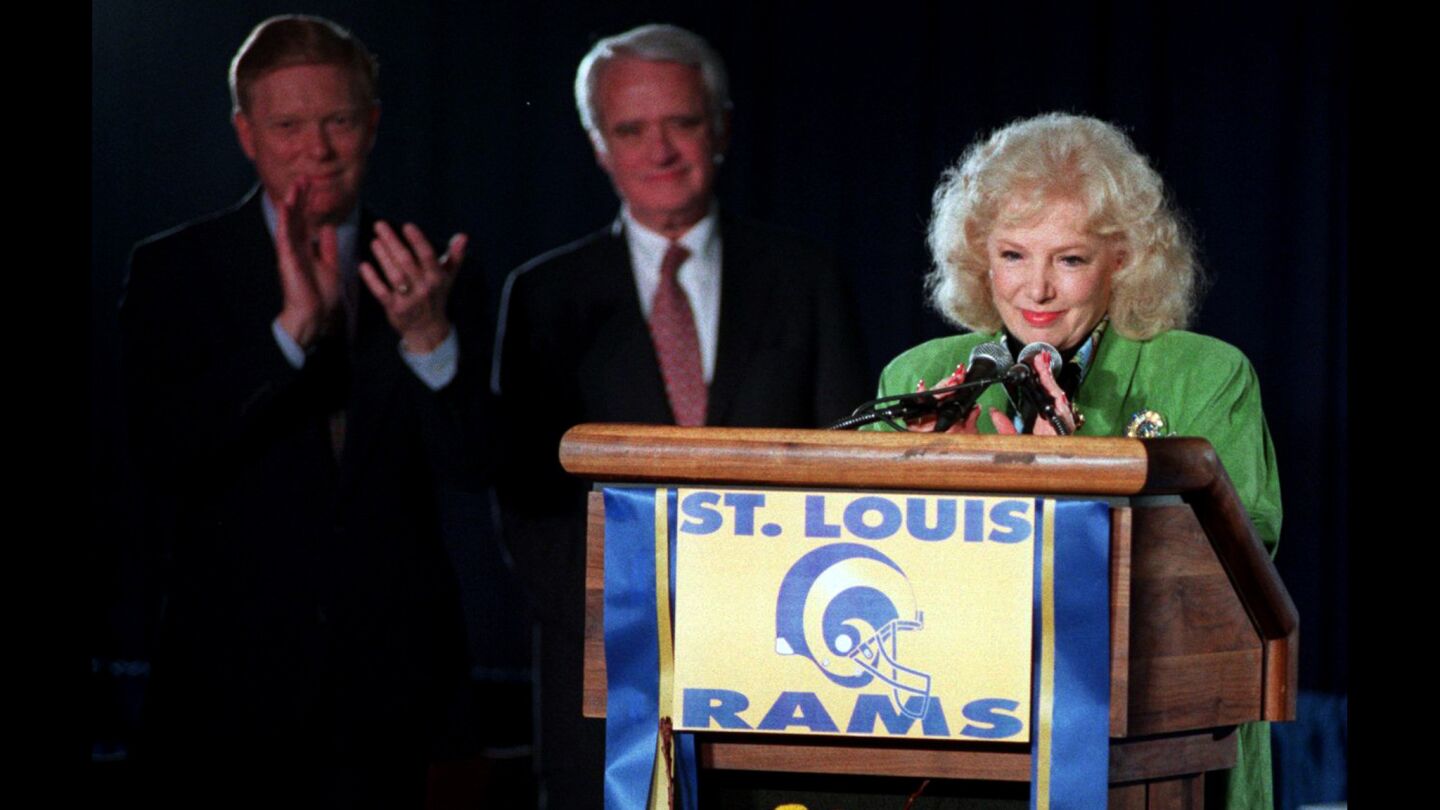 Rams owner Georgia Frontiere is applauded in 1995 by Rep. Richard Gephardt and former Sen. Thomas Eagleton, two of the many who were responsible for getting the Rams to move to St. Louis.
(Mark Boster / Los Angeles Times)
Follow Matt Wilhalme on Twitter @mattwilhalme
---
Get our high school sports newsletter
Prep Rally is devoted to the SoCal high school sports experience, bringing you scores, stories and a behind-the-scenes look at what makes prep sports so popular.
You may occasionally receive promotional content from the Los Angeles Times.