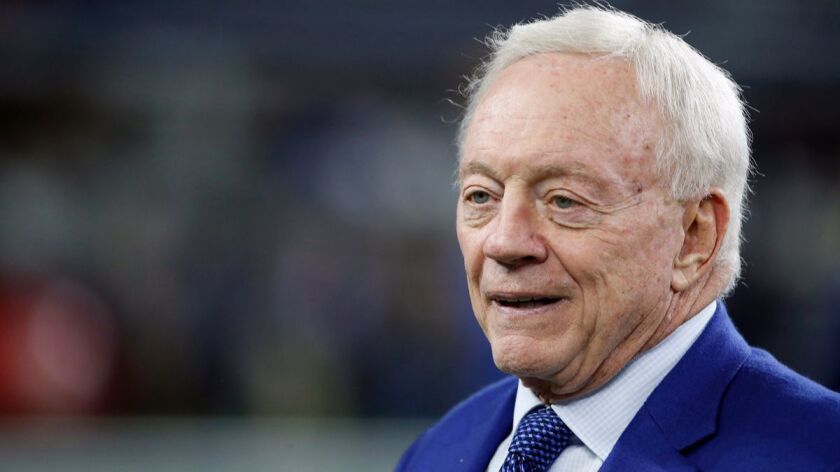 Reporting from dallas —
It's all over but the shouting — and there definitely could be some raised voices.
Although NFL Commissioner Roger Goodell has signed his contract extension, the details of how that came about will be discussed Wednesday at the league's annual one-day meeting at Hotel Las Colinas. That could lead to some friction, as Dallas Cowboys owner Jerry Jones has not withdrawn his resolution to delay ratifying Goodell's extension for six months.
"I'm really looking forward to it," Jones said Tuesday during his weekly radio appearance on 105.3 The Fan, according to Profootballtalk.com.
"I'll assure you all of the owners around the NFL aren't bailing out because they need a trip into town. They're here because it's important business and we'll be able to get some very meaningful things done. In the long haul, we'll really get some meaningful things done because of what we've been doing over the last few months."
The meeting starts at 10 a.m. with a presentation from the Compensation Committee, chaired by Atlanta Falcons owner Arthur Blank, and the issue of Goodell's contract will be discussed.
While noting the contract already has been "signed and executed," league spokesman Joe Lockhart said the committee "will talk about whatever is on the mind of the owners."
Also on the agenda, Goodell will speak to ownership about the league's new social justice initiative.
Typically at these December meetings, teams get an initial estimate of what the next year's salary cap will be.
Follow Sam Farmer on Twitter @LATimesfarmer
---