Love for the game has brought these new NFL coaches back to the sidelines after working in other areas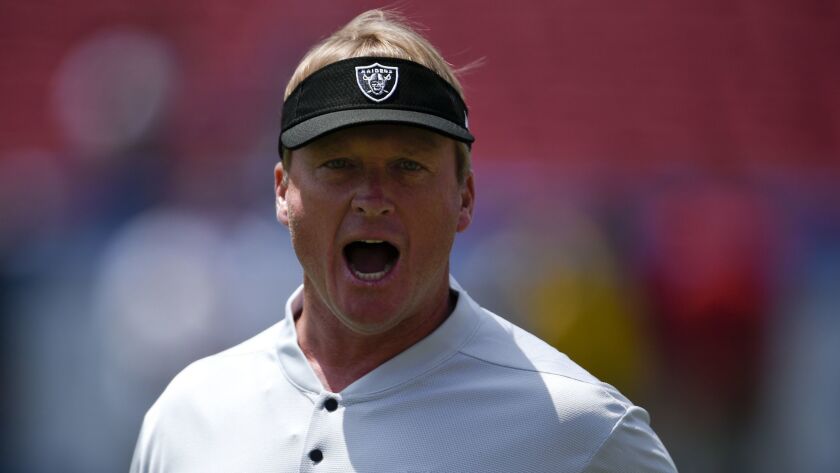 Meet the new coaching class of 2018.
A banker, an engineer, a broadcaster, a real estate agent, a pastor…
Of the seven new coaches — Arizona's Steve Wilks, Chicago's Matt Nagy, Indianapolis' Frank Reich, Oakland's Jon Gruden, Tennessee's Mike Vrabel, Detroit's Matt Patricia and Pat Shurmur of the New York Giants — at least five had workaday careers that were a distinct departure from what they're doing now.
Wilks, a former Appalachian State defensive back who made it to Seattle Seahawks training camp in 1992 and briefly played for the Charlotte Rage of the Arena League, left football in the early 1990s for a job with First Citizens Bank. He was a branch manager at age 25.
But the grip of the game was tight — or maybe it was that necktie he was cinching up every day.
"Suit and tie every day, banker's hours," Wilks recalled. "It was one of those things where I enjoyed doing it, but I had that itch."
He couldn't resist returning, and Wilks left his short-lived job in banking to become defensive coordinator at Johnson C. Smith University, a Division II program in Charlotte. That launched a coaching career that ultimately led to him returning to a bank — Bank of America Stadium, home of the Carolina Panthers, where Wilks worked his way up to assistant head coach and defensive coordinator.
Nagy is a former Arena League player too, and he quarterbacked two teams to the ArenaBowl. But when football stopped paying the bills for the Nagys and their four kids, Matt turned to selling real estate. The onetime Philadelphia Eagles intern couldn't resist coming back to the game, though, and said yes when then-coach Andy Reid offered him an entry-level job with the team.
That friendship was a fruitful one, as Nagy rose to become Reid's offensive coordinator in Kansas City, where last season the Chiefs ranked fifth in total offense.
It's no secret that Gruden — who previously was head coach of the Raiders and then the Tampa Bay Buccaneers, leading them to a Super Bowl victory over his old team — had a wildly successful second career as a broadcaster. He spent nine years in the "Monday Night Football" booth for ESPN.
He wound up signing a 10-year, $100-million deal to return to Oakland.
"Every year he had options to go places, from big college programs to NFL teams," said Mark Arteaga, his longtime right-hand man both in football and broadcasting. "It had to be the right situation, the right setup. The stars needed to be aligned, because he had a great job. He didn't need to come back. He had a big contract and multiple years. For him to walk away from that to come back to his passion, he needed to follow his heart."
Reich followed his heart too, and it took him to the church. The former NFL quarterback earned a master's degree in divinity after his 14-year playing career and worked as a Presbyterian minister before returning to football.
Of course, it was a comeback that defined Reich as a player. Filling in for the injured Jim Kelly in a playoff game against Houston in January 1993, Reich famously led Buffalo back from a 32-point deficit, the largest comeback in NFL history.
Reich, who won a Super Bowl as Philadelphia's offensive coordinator last season, will now look to lead a revival of the Colts with a surgically repaired Andrew Luck.
Patricia spent the last 14 seasons with the New England Patriots, including the last six as defensive coordinator. Think Bill Belichick's schemes are complex? Consider that Patricia got his degree in aeronautical engineering from Rensselaer Polytechnic Institute while playing four years of football for the Engineers (yes, that's their school nickname).
Patricia spent two years as an application engineer with Hoffman Air & Filtration Systems. After graduating, he got an offer to maintain nuclear submarines and aircraft carriers with Westinghouse Electric Co. But the gravitational pull of football was strong, and he returned to that.
He said if he weren't coaching football, he'd be designing planes and submarines. In his current business, it's far better to head up than down.
---
Get the latest on L.A.'s teams in the daily Sports Report newsletter.
You may occasionally receive promotional content from the Los Angeles Times.