NFL: Green Bay Packers fire coach Mike McCarthy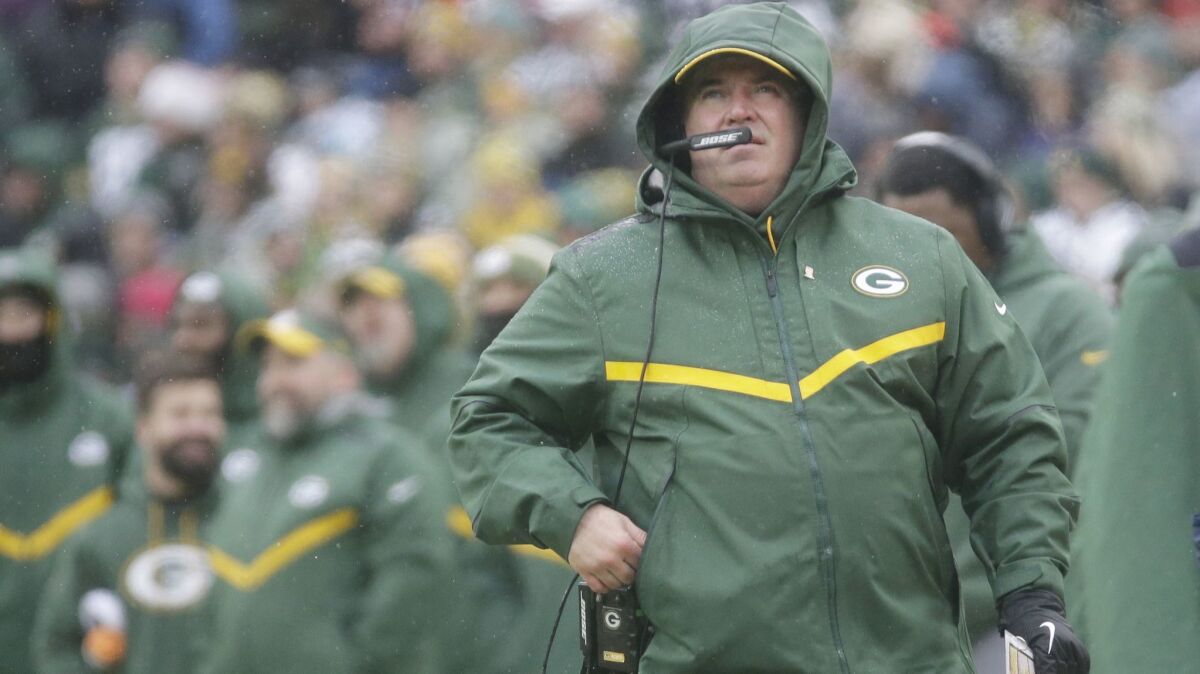 The Green Bay Packers have fired coach Mike McCarthy and made offensive coordinator Joe Philbin the interim head coach.
The move announced by team president Mark Murphy came after a stunning 20-17 loss on Sunday to the Arizona Cardinals, dropping Green Bay to 4-7-1.
Murphy, in a statement, said the 2018 season "has not lived up to the expectations and standards of the Green Bay Packers. As a result, I made the difficult decision to relieve Mike McCarthy of his role as head coach, effective immediately."
Murphy said the process of hiring the next head coach would begin immediately.
McCarthy was in his 13th season as coach. The Packers won the Super Bowl under McCarthy in the 2010 season.
Hunt sorry: 'I lied'
Kareem Hunt, the NFL's reigning rushing champion, admitted he misled Kansas City about his role in a February assault in a hotel that led to his release last week.
"They believed that I lied to them. I lied to them," Hunt said in an interview with ESPN. "They pretty much said 'we love you, everybody cares about you, and just we have to let you go.' It was a tough conversation. And the Chiefs did what was right. I made a poor decision and I'm willing to take full responsibility," including getting help for anger management.
TMZ released a video that shows Hunt arguing with and shoving a woman before several men step in to hold him back. He later pushes one of the men into the woman, sending her sprawling, and then knocks her over again with his leg.
Hunt said he was hosting some friends at his apartment at the hotel and he did not know the woman. "I honestly wanted her just to leave," he said.
Hunt said the NFL never contacted him. The league uses a standard investigative process in which witnesses, complainants and the police are contacted before the player is. Because the complainants never responded, the police decided not to bring charges against Hunt, and because Hunt spoke with the Chiefs, the NFL did not interview him.
The NFL tried to obtain the video, but the hotel said corporate policy only allowed it to be given to law enforcement. The NFL then contacted police, but the department said it did not pursue the video because it was not a felony-level case.
Hunt, who's run for 824 yards and scored 14 touchdowns this season, remains on the exempt list, which means a team could sign him but he would be unable to play until the league's investigation is complete.
"Everything is happening fast right now and I just want everybody to forgive me," Hunt said.
Olsen likely done
Carolina's three-time Pro Bowl tight end Greg Olsen re-injured his right foot during Sunday's loss to Tampa Bay, the latest blow to the 33-year-old's return from surgery to repair the same foot last season.
"I ruptured my plantar fascia. The plantar fascia on the bottom of my foot popped. It's just something we've dealt with since I've come back," said Olsen, who has 27 receptions for 291 yards and four touchdowns. He already missed three games because of his foot.
Kessler's first win
Jacksonville quarterback Cody Kessler, who replaced benched Blake Bortles, completed 18 of 24 passes for 150 yards and won for the first time in nine career starts.
The former USC standout was sacked three times but avoided turnovers. He had one interception dropped and managed to wrestle back a fumble.
Get our high school sports newsletter
Prep Rally is devoted to the SoCal high school sports experience, bringing you scores, stories and a behind-the-scenes look at what makes prep sports so popular.
You may occasionally receive promotional content from the Los Angeles Times.