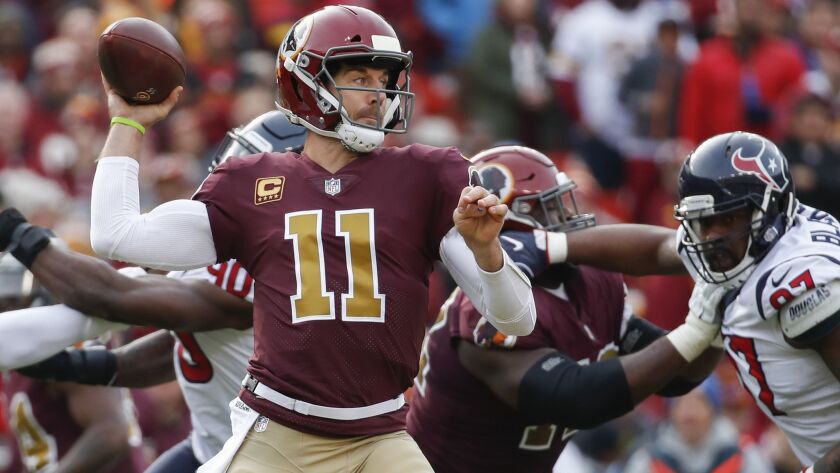 The Washington Redskins have asked for privacy for Alex Smith and his family amid reports the quarterback is dealing with complications from surgery to repair a broken leg.
In a statement released Thursday, the team says it appreciates concerns about Smith's injury that occurred Nov. 18 against Houston and that the 34-year-old and his family remain strong. A team spokesman declined to say whether Smith was still in the hospital more than two weeks after surgery to repair a broken right tibia and fibula.
Coach Jay Gruden said Nov. 19 he expected Smith to make a full recovery and be out six to eight months. NFL Network and Washington's FM-106.7 reported Thursday that Smith is still battling infection in his right leg and being tended to by doctors.
Fired coach Mike McCarthy returns to speak to Packers
Fired coach Mike McCarthy was welcomed back to bid farewell to the Packers players on Thursday.
"Mike came by the office, I think Tuesday we all saw him as a staff, which was great," interim coach Joe Philbin said before Thursday's practice.
"Then we talked, and he wanted an opportunity to speak with the team. I was 100 percent, fully supportive of that, and he did a fantastic job talking to the team. Not just about football and winning football games, but his passion.
"His passion for the game, his love for the players was clearly evident. I'm sure it was emotional for him and everybody in the room. It was awesome. I thought he did a great job."
McCarthy, who was in his 13th season, was fired after Sunday's home loss to the Arizona Cardinals. The team's fifth loss in six weeks sent the Packers to 4-7-1 on the season.
Philbin's first game as interim coach will be at home against the Atlanta Falcons on Sunday.
Jaguars will be without left tackle Josh Walker vs. Titans
Jacksonville left tackle Josh Walker is out against the Tennessee Titans, an injured foot and ankle sidelining him for the fourth straight game.
Walker had been listed as questionable for Thursday night's game for the Jaguars (4-8), who already have three starters on the offensive line on injured reserve this season. The Jaguars' other inactives include wide receiver DJ Chark, running back Dave Williams, safety C.J. Reavis, cornerback Tre Herndon and safety Barry Church. Nose tackle Abry Jones already had been declared out with an injured shin.
The Titans will have both kick returner Darius Jennings, who's leading the NFL with a 34.8-yard average per return, and starting outside linebacker Derrick Morgan available after being questionable with injured knees. Tennessee's inactives include defensive back Dane Cruikshank, running backs David Fluellen and Jeremy McNichols, linebacker Kamalei Correa, guard Aaron Stinnie, offensive tackle Tyler Marz and defensive end Matt Dickerson.
---