Column: NFL divisional hosts all have distinct home-field advantages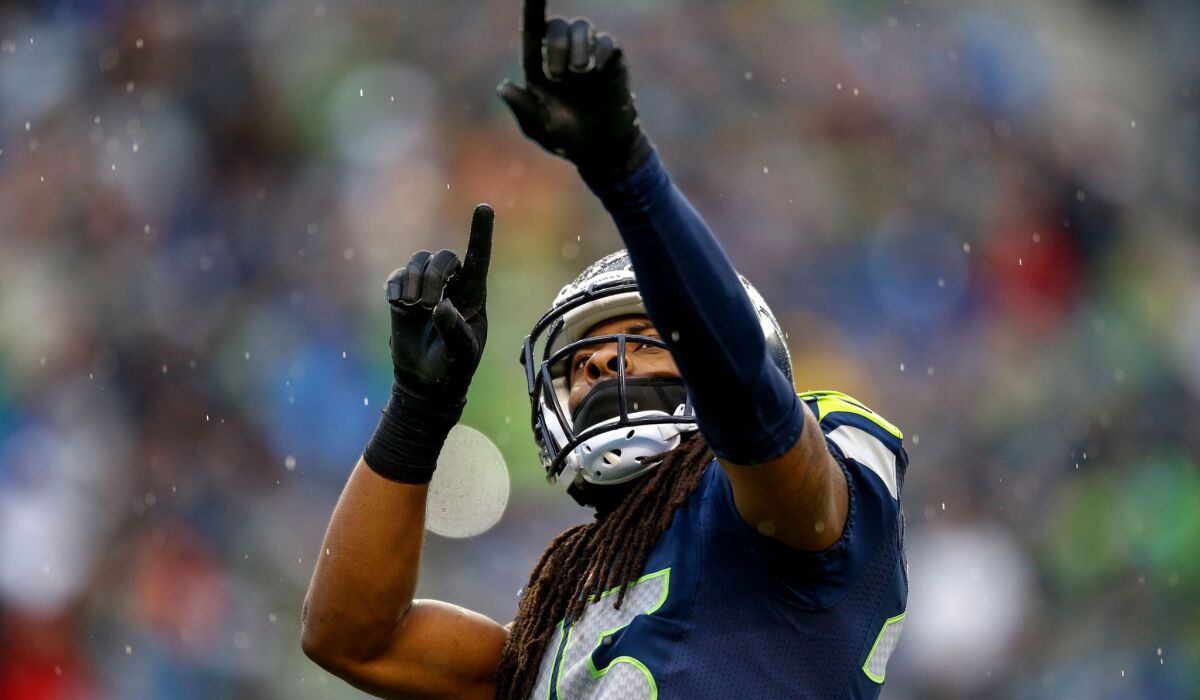 Reporting from RENTON, Wash. —
The way Seattle Seahawks cornerback Richard Sherman sees it, there's no way for visiting teams to simulate the sensory overload of a playoff game at CenturyLink Field, and certainly not the next-to-the-freight-train noise that's almost constant when the opposition is on offense.
"Even on defense, it's unnerving when you first get into it, because it puts you in kind of a panic," Sherman said after practice Thursday in preparation for Saturday night's divisional playoff game against Carolina. "There are certain situations where you need to verbally communicate things, and you can't. Certain situations where it's, 'Oh, I really need to alert this play' or watch the hard count. You can't."
Home-field advantage is an overriding theme in this round of the postseason. The four teams hosting games this weekend — Seattle, Green Bay, New England and Denver — were a combined 30-2 in their own venues this season. This marks the third time in the last decade the four divisional hosts had that combined record, that being the case in 2005 and 2011.
This year, each divisional site has a distinct reputation.
"The Patriots, it's usually freezing when you're out there," Sherman said. "In Denver it's the altitude. We've got the sound. Green Bay's got the frozen tundra. Everybody's got a home-field advantage of some sort. There's something that each team has acclimated to, that opposing teams have to quickly try to get used to."
The forecasts call for Seattle to host the warmest of the four games, with predictions for temperatures in the mid-40s and cloudy for Saturday night.
It's supposed to be in the low-20s when New England plays host to Baltimore earlier Saturday, and closer to 15 on Sunday when Dallas plays at Green Bay, 47 years after the legendary "Ice Bowl" game between the Cowboys and Packers.
Denver plays host to Indianapolis on Sunday, and the midday weather is predicted to be a relatively mild 43 degrees, but the mercury is expected to dip into the mid-20s by sunset.
The Broncos went undefeated at home this season, finishing 8-0 for the first time since the 2005 season.
The Patriots were 7-1 at home but have a history of struggling against Baltimore in postseason games at Gillette Stadium. New England is 1-2 in home playoff games against the Ravens, and 11-1 against everyone else.
Ravens quarterback Joe Flacco dismissed the notion his team might be rattled by the idea of playing any road game.
"I think it's kind of funny that people would be intimidated at any point in any game against anybody," he said. "It's just not in our nature."
Never mind the Ravens' nature, what about Mother Nature? Patriots Coach Bill Belichick has been known to store practice footballs in the freezer to prepare his team.
When he was an assistant coach in Green Bay, Steve Mariucci used to hold halftime quarterback meetings in the home locker room's sauna, so his signal-callers could thaw.
The Packers were 8-0 at home this season, and the Cowboys were 8-0 on the road. This marks the first time in playoff history that teams with those unblemished records will face each other.
In Seattle, where Seahawks fans have set Guinness Book records for their noise, the home team relishes the rancor. It used to be that the Seattle fans went by "12th Man" but that moniker has been shortened to simply "12's," and they don't take selfies but "twelfies."
It's opposing offensive lines that typically have the most problems with the noise.
"Watch this game," Sherman said. "Most teams, if it gets really loud, the linemen will hold hands. At the snap, the guard will move his hand and it will go down the line. It's a chain, and sometimes that slows them down just a tick. That's a big advantage."
The Seahawks' Legion of Boom secondary can operate wordlessly, if need be, and that's typically the case when the crowd is loud enough to move a seismometer needle.
"We're so keyed in that it just takes hand movement," Sherman said. "We can have a whole conversation with just a few hand motions. It makes for good football."
Get our high school sports newsletter
Prep Rally is devoted to the SoCal high school sports experience, bringing you scores, stories and a behind-the-scenes look at what makes prep sports so popular.
You may occasionally receive promotional content from the Los Angeles Times.