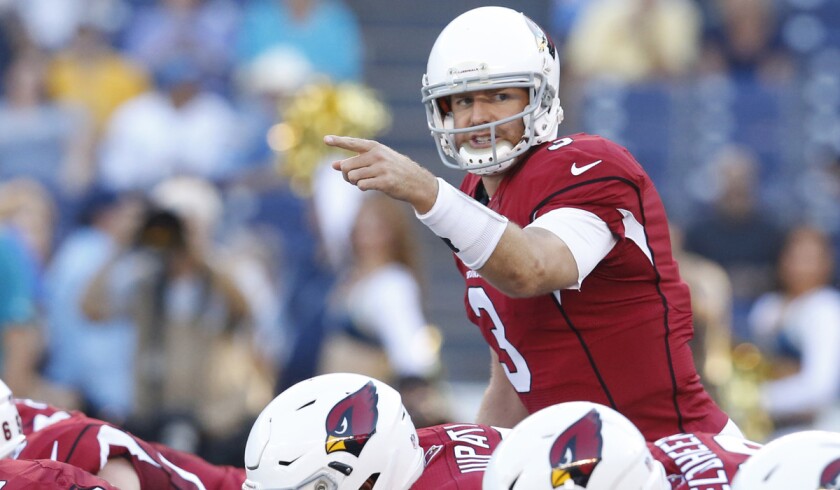 The NFL season is just underway, meaning there are a lot more questions than answers. Here are 25 of them to ponder:
In terms of power rankings, how are the rookie quarterbacks stacking up?
Rank the most intriguing four this way: Dak Prescott, Carson Wentz, Paxton Lynch and Jared Goff.
Prescott has given Dallas Cowboys fans reason for hope in the wake of losing Tony Romo for at least six games with a compression fracture in his back. Wentz has been banged up and barely played this summer, but has Philadelphia's coaches confident enough to start him over the capable Chase Daniel. Lynch showed promise for Denver but clearly has a long way to go — hence, the Broncos scrambled to sign Austin Davis last week. And Goff, too, threw some nice passes, and endured more than his share of drops by receivers, but made some costly and sometimes careless turnovers.
When will we see Goff?
The Rams weren't bluffing, obviously, when they said they weren't going to rush their rookie quarterback onto the field. Goff will be deactivated for Monday night's game at San Francisco, and he's No. 3 behind Case Keenum and Sean Mannion. He probably won't come in until the Rams lose consecutive games and/or the season has gotten away from them. If Keenum gets on a roll, he'll only tighten his grip on the starting job. A natural point to try Goff could be the Week 9 home game against Carolina, because the Rams will be coming off their bye and facing a team with two rookie cornerbacks and a more modest pass rush. Five of the Rams' seven home games come in the second half of the season.
What's the good news for Wentz?
Based on 2015 stats, the Eagles don't face a top 10 defense until Seattle in Week 11.
Is there reason to believe the quarterback nightmare is over in Cleveland?
Not yet. Robert Griffin III is an interesting experiment. He showed some flashes during the Browns' 0-4 preseason, and connected on five deep passes that made for enticing highlight clips. That said, he hasn't played in a regular-season game since 2014, didn't do much more than complete those deep balls, and was sacked five times in the third (and most significant) exhibition game. He's got a lot more to prove if he's going to be the slump buster for a franchise that's on its 25th different starting quarterback since relaunching in 1999.
What's the most overrated division?
The NFC East. There is a lot of talk about that division at this time of year, but not much in January. The New York Giants ran the table in 2011, winning three playoff games and the Super Bowl in what was their most recent postseason appearance. During that span, Dallas is 1-1 in playoff games, Philadelphia is 0-1, and Washington is 0-2. That's nine games.
By comparison, the NFC West has had 21 postseason games (three Super Bowl appearances) during the same time period — by Seattle, San Francisco and Arizona — going 13-8.
Which coaches are on the bubble?
Rex Ryan says, "We won the off-season," but he needs to produce when it counts, coming off an 8-8 season in Buffalo; the Bills haven't won a playoff game since 1995. With all the stadium pressure in San Diego, this season is like a week-by-week referendum on both the Chargers and Mike McCoy, who is 22-26 in three seasons and 1-1 in the playoffs.
Jim Caldwell is 18-15 in Detroit — the best two-season start of any Lions coach in the modern era — but that might not save his job. New General Manager Bob Quinn, who came from New England, might be looking for a Bill Belichick protege — Josh McDaniels? — if this season goes sideways. The temperature is rising on Jacksonville's Gus Bradley and Cincinnati's Marvin Lewis, who is 0-7 in playoff games.
It seems Jason Garrett is perpetually on the hot seat in Dallas. The Rams' Jeff Fisher is only the third coach in the modern era to be brought back for a fifth season after four consecutive losing ones. The two previous ones, Lou Saban and David Shula, were fired before they got through their fifth years. Still, every indication is the Rams are going to stick with Fisher for the time being, especially in light of all the upheaval associated with the relocation and the grace period for bringing along a rookie quarterback.
Then again, when coaches are fired coming off 14-2 seasons (Marty Schottenheimer in San Diego) or 12-4 years (John Fox in Denver), is anyone totally safe?
When hiring a new coach, what should teams keep in mind?
Don't let the gray hairs scare you. The league's three oldest coaches also happen to be the three winningest coaches over the past 60 games. That's a pair of 64-year-olds, Belichick (46 wins) and Pete Carroll (44), and 63-year-old Bruce Arians (43).
What's an early-season game that should not be missed?
Cincinnati at Pittsburgh in Week 2. This has emerged as the league's fiercest, nastiest rivalry, especially coming off that debacle of a playoff game last season that looked closer to a WWE match at the end.
What's an off-the-field drama to watch?
Is there such a thing as a shotgun re-wedding? That's what has happened in Indianapolis, where Coach Chuck Pagano and General Manager Ryan Grigson have renewed their professional vows after a public falling out. The test will be how that relationship holds up if the Colts don't get off to a good start.
What mistake is likely to happen over and over this season?
Some variation of this: When the Rams played at the Broncos in an exhibition game, the press-box announcer called the coin flip as, "Denver has deferred, St. Louis will receive…"
Was last season just a hiccup for Baltimore, or is this the beginning of a downward spiral for the aging Ravens?
John Harbaugh is among the NFL's best coaches, and last year's 5-11 record was his one losing season in the last eight. What's more, nobody had more injuries than the Ravens last season. But with Joe Flacco coming off a major knee injury, and the team getting old — Steve Smith is 37, Terrell Suggs is 33, Elvis Dumervil is 32, Eric Weddle is 31 — the window is closing on this group of players.
Which team is poised to take a big step forward?
Houston. The Texans have their quarterback in Brock Osweiler, and they have added a lot of speed to their roster. After back-to-back 9-7 seasons, and playing in an otherwise down division, they're ready for their close-up.
Can Carolina avoid the hangover of losing the Super Bowl?
The Panthers have something big weighing in their favor — as in 6-foot-5 big. They have receiver Kelvin Benjamin back after he missed last season with a knee injury. Not only that, but bookend 6-4 receiver Devin Funchess outplayed Benjamin this summer, and 6-5 tight end Greg Olsen gets open a lot, so Carolina will be looking to use that upper corridor in its passing game.
Does Tennessee have the winning formula, or is the running plan a bunch of Mularkey?
Coming off 2-14 and 3-13 seasons, the Titans have turned to Coach Mike Mular-key's "exotic smash-mouth" running strategy. With the mobile Marcus Mariota at quarterback and running backs DeMarco Murray and Derrick Henry looking good this summer, it's worth a try.
Will the real Andrew Luck please stand up?
Luck made a splash when he got to the Colts, and rocketed into the rarefied air of elite quarterbacks. But even when he wasn't injured last season, and he takes a beating, he made his share of mistakes. In half of his eight games, he had at least as many interceptions as touchdowns. This is a re-prove-it season for him.
When will Colin Kaepernick stand up?
Hard to see where this one will end. Once the San Francisco quarterback sat out the national anthem — now he kneels — it's difficult to imagine a scenario that would have him standing again any time soon.
What's the quirkiest story so far?
Tampa Bay kicker Roberto Aguayo. Kickers rarely get drafted, and especially not as early as Florida State's Aguayo, selected 59th overall by the Buccaneers, who traded back into the second round to grab him. In the last 15 years, only Mike Nugent was taken earlier (47th by the New York Jets in 2005). Aguayo had a lot of misses in exhibition games and practice this summer, and is already hearing boos. It's somewhat reminiscent of what first-round pick Sebastian Janikowski, another Florida State kicker, encountered in 2000 when he had a rough rookie season in Oakland. The Buccaneers and Aguayo have to be praying his career works out as well as Janikowski's has.
Is San Francisco's Chip Kelly going to repeat the success he had in his first season in Philadelphia?
Don't bet on it. Kelly, who opened with back-to-back 10-6 years with the Eagles, is in a tougher division, with a worse team, and no longer has the element of surprise on his side. The 49ers are in for a long year.
Tom Brady is suspended for the first four games. Will the Patriots be digging their way out of a hole all season?
No. Jimmy Garoppolo doesn't look fantastic, but the Patriots have proven before they can win without Brady. It wouldn't be a shock if they lost their opener at Arizona, then won their next three against Miami, Houston and Buffalo, all in Foxborough. Remember, when Pittsburgh's Ben Roethlisberger was suspended for the first four games in 2010, the Steelers started 3-0 and wound up making it all the way to the Super Bowl.
Is this Arizona's year?
The Cardinals will go as quarterback Carson Palmer goes. But for Newton, Palmer might have been last season's most valuable player. The former USC standout had a terrible NFC title game, though, with four interceptions in a 49-15 loss at Carolina. With the way he has come back from devastating knee injuries, Palmer knows how to leave the past in the past. His first test comes Sunday night against the Patriots.
Is Texas the cradle of quarterbacks?
It is this season. Seven Week 1 starters are from that state: Andy Dalton, Matthew Stafford, Ryan Tannehill, Drew Brees, Keenum, Griffin and Luck.
Which division has had the most seismic shifts on offense?
The NFC North. No Calvin Johnson in Detroit. No Matt Forte in Chicago. No Teddy Bridgewater in Minnesota. And Jordy Nelson is back in Green Bay.
The Raiders are a chic playoff pick. Is that warranted?
Yes. Oakland has an excellent young quarterback in Derek Carr, a rising-star receiver in Amari Cooper, and a potential defensive player of the year in Khalil Mack. A breakout season looks to be in the cards. But you have to be good before you're great, and this club hasn't had a winning season since 2002. You walk before you run.
Which team is in danger of being overlooked?
Kansas City. With the spotlight on the Broncos as defending Super Bowl champions, and the revitalized Raiders, it's easy to forget about the Chiefs. But remember, after stumbling to a 1-5 start, the Chiefs won 11 in a row last season, counting a playoff victory over Houston. Alex Smith is increasingly comfortable in Andy Reid's offense, and now has more weapons around him. The Chiefs aren't going away.
Super Bowl pick?
Arizona over New England.
sam.farmer@latimes.com
---