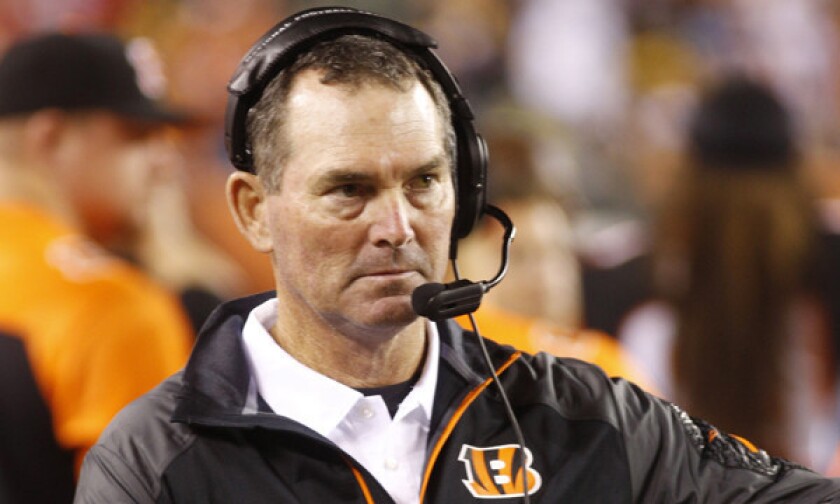 The Minnesota Vikings have hired Cincinnati Bengals' defensive coordinator Mike Zimmer as their head coach, according to a person with knowledge of the process who spoke Wednesday to the Associated Press on condition of anonymity because Zimmer's contract had not been completed and the team had not announced the hiring.
News of the decision emerged early in the day, but the Vikings held off on publicizing it.
Zimmer, who has been an NFL defensive coordinator for 14 seasons, spent six of those with Cincinnati. The Bengals were third in the league in yards allowed and fifth in points against this season, though they lost in the first round of the playoffs for the third straight year.
Zimmer replaces Leslie Frazier, another former Bengals defensive coordinator, who was fired Dec. 30 after the team finished 5-10-1 this season.
General Manager Rick Spielman interviewed at least seven candidates. He and Vikings owners Zygi Wilf and Mark Wilf settled on the one who was widely considered around the league to be the most overdue for a head coaching job. Zimmer interviewed for several vacancies in recent years, including this month with Tennessee.
The 57-year-old Zimmer played at Illinois State and spent 14 seasons coaching in the college ranks before being hired in 1994 as an assistant with Dallas. He got a Super Bowl ring the following season as defensive backs coach.
Then he became defensive coordinator of the Cowboys in 2000 and spent seven seasons at that post, the last four under coach Bill Parcells. Zimmer led defenses in Dallas that operated in both the 4-3 and 3-4 alignments, including the 2003 group that surrendered the fewest yards in the league.
After one season as the defensive coordinator for Atlanta, Zimmer went to Cincinnati to work for coach Marvin Lewis.
Dolphins hire Lazor to run offense
The Miami Dolphins are hoping their new offensive coordinator clicks with Ryan Tannehill the way he did with Nick Foles.
The Dolphins said they hired Bill Lazor, who tutored Foles this season as quarterbacks coach of the Philadelphia Eagles. Lazor joined the Eagles a year ago when Chip Kelly was hired as head coach, and was instrumental in the development of Foles, who led the NFL in passing in his second NFL season.
Lazor replaces Mike Sherman, who was fired last week after two seasons with Miami.
McVay is Redskins' offensive coordinator
The Washington Redskins promoted Sean McVay to offensive coordinator, a move expected after Jay Gruden was hired last week as head coach, then they addressed their woeful special teams units by adding Ben Kotwica from the New York Jets as special teams coordinator.
McVay has worked previously with Gruden and was one of the assistants retained after coach Mike Shanahan was fired earlier this month. McVay, 27, has spent four seasons with the Redskins, the last three as tight ends coach.
McVay, who replaces Kyle Shanahan, will offer some continuity for an offense centered on quarterback Robert Griffin III. Unlike Kyle Shanahan, McVay will not call the plays; Gruden will assume that role.
Ravens interview Kyle Shanahan
The Ravens have interviewed Kyle Shanahan for their offensive coordinator vacancy, the Baltimore Sun reported. The Ravens are expected to interview several candidates for the job, including at least one internal candidate: wide receivers coach Jim Hostler.
Coughlin fires two assistants
Tom Coughlin is making major changes to the struggling New York Giants offense, starting with his staff.
Longtime assistant coaches Mike Pope and Jerald Ingram were fired Wednesday after this season's dismal performance by the offense. The moves came one day after Coughlin decided to take the team in another direction by hiring Packers quarterbacks coach Ben McAdoo as offensive coordinator.
Etc.
At least 90 players who had college eligibility remaining were expected to enter the NFL draft by Wednesday night's deadline, shattering last year's record number of 73. ...
Detroit Lions wide receiver Calvin Johnson recently had surgeries on his right knee and a finger. Lions General Manager Martin Mayhew said Wednesday that Johnson's knee surgery was a relatively minor arthroscopic procedure.
New England Patriots quarterback Tom Brady did not practice Wednesday because of illness and his right shoulder, the Patriots said in their practice report. Brady has dealt with a shoulder condition through the season. He said last week that he had a cold. ...
Green Bay Packers running back Eddie Lacy will replace Adrian Peterson at the Pro Bowl on Jan. 26. The Vikings running back can't participate because of an injury.
---