Sam Farmer's NFL Week 13 picks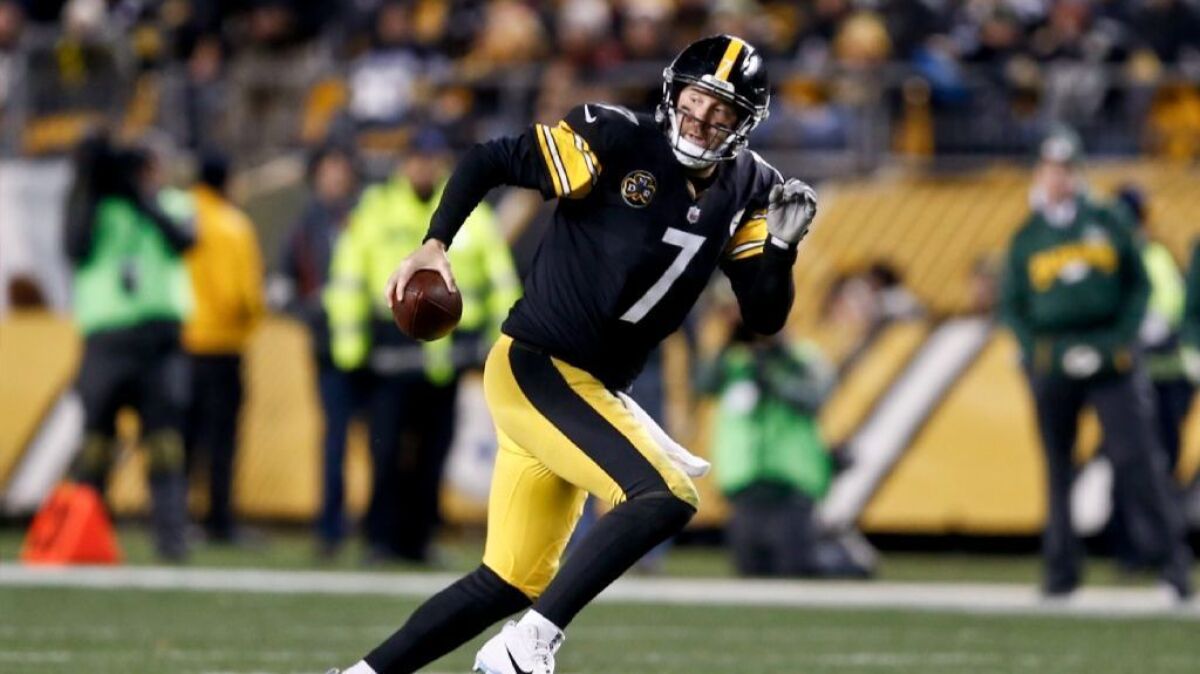 The Times' NFL writer, Sam Farmer, examines this week's matchups. Lines according to Pregame.com (O/U = over/under). Last week's record 14-2 (.875); season 114-62 (.648). Using point spreads with the scores Farmer predicted, the record against the spread last week would have been 8-7-1 (.533); season 82-84-10 (.494).
NEW ENGLAND PATRIOTS (9-2) at BUFFALO BILLS (6-5)
Sunday, 10 a.m.
TV: None. DirecTV: 705.
Line: Patriots by 9. O/U: 48.
This is the time of year the Patriots turn on the afterburners. Buffalo won at Kansas City last Sunday, but that says as much about the woeful Chiefs as it does about the Bills.
Patriots 35, Bills 20
SAN FRANCISCO 49ERS (1-10) at CHICAGO BEARS (3-8)
Sunday, 10 a.m.
TV: None. DirecTV: 706.
Line: Bears by 3. O/U: 41.
Jimmy Garoppolo makes his starting debut in his hometown, so this should be interesting. He doesn't have anyone to throw to, though, and the Bears will grind it out on the ground.
Bears 24, 49ers 20
INDIANAPOLIS COLTS (3-8) at JACKSONVILLE JAGUARS (7-4)
Sunday, 10 a.m.
TV: None. DirecTV: 707.
Line: Jaguars by 91/2. O/U: 41.
The Colts' front seven is respectable, and Blake Bortles is going to have to make some plays. But that Indianapolis offense is going to smack into that brick-wall Jacksonville defense.
Jaguars 24, Colts 12
KANSAS CITY CHIEFS (6-5) at NEW YORK JETS (4-7)
Sunday, 10 a.m.
TV: None. DirecTV: 708.
Line: Chiefs by 3. O/U: 43 1/2.
The Jets aren't winning many games but they're in most of them and playing hard. The Chiefs are in a tailspin and are grasping for answers on both sides of the ball.
Jets 24, Chiefs 20
HOUSTON TEXANS (4-7) at TENNESSEE TITANS (7-4)
Sunday, 10 a.m.
TV: None. DirecTV: 709.
Line: Titans by 6 1/2. O/U: 42 1/2.
This is a pride game for a Titans team that surrendered 57 to the Deshaun Watson-led Texans two months ago. Houston is a shell of the team that did that, and it's on the road.
Titans 31, Texans 23
DENVER BRONCOS (3-8) at MIAMI DOLPHINS (4-7)
Sunday, 10 a.m.
TV: None. DirecTV: 710.
Line: Broncos by 1 1/2. O/U: 38 1/2.
It's a race to the bottom for these two franchises, with Miami's losing streak at five and Denver's at seven. The Broncos still have a defense, but their offensive issues are monumental.
Dolphins 21, Broncos 17
MINNESOTA VIKINGS (9-2) at ATLANTA FALCONS (7-4)
Sunday, 10 a.m.
TV: Channel 11. DirecTV: 711.
Line: Falcons by 3. O/U: 47.
The Falcons have relocated their offense and are starting to hit their stride, but no one wants to face Minnesota's vice-grip defense. Case Keenum keeps it rolling with eighth win in a row.
Vikings 28, Falcons 24
DETROIT LIONS (6-5) at BALTIMORE RAVENS (6-5)
Sunday, 10 a.m.
TV: None. DirecTV: 712.
Line: Ravens by 3. O/U: 43 1/2.
The Lions have an offense, but their defense is terrible. The Ravens have a defense, but their offense is terrible. Should make for an interesting matchup and a close game. Lean to home team.
Ravens 27, Lions 23
TAMPA BAY BUCCANEERS (4-7) at GREEN BAY PACKERS (5-6)
Sunday, 10 a.m.
TV: None. DirecTV: 713.
Line: Packers by 2. O/U: 44 1/2.
Brett Hundley looked really good at Pittsburgh in a prime-time game — difficult to do — and he should make enough plays at home against a Buccaneers team that's 1-5 on the road.
Packers 24, Buccaneers 20
CLEVELAND BROWNS (0-11) at CHARGERS (5-6)
Sunday, 1 p.m.
TV: Channel 2. DirecTV: 714.
Line: Chargers by 13 1/2. O/U: 43.
Signs point to the Chargers ultimately sling-shotting to the top of the AFC West, and winless Cleveland isn't going to stop them from doing that. The Browns won't like the defense they'll see here.
Chargers 31, Browns 13
CAROLINA PANTHER (8-3) at NEW ORLEANS SAINTS (8-3)
Sunday, 1:15 p.m.
TV: None. DirecTV: 715.
Line: Saints by 4 1/2. O/U: 48 1/2.
The Saints saw their eight-game winning streak snapped in Los Angeles, but they're still a really good team. It's difficult to run on Carolina, but Drew Brees at home isn't a bad option.
Saints 27, Panthers 21
RAMS (8-3) at ARIZONA CARDINALS (5-6)
Sunday, 1:15 p.m.
TV: Channel 11. DirecTV: 716.
Line: Rams by 7. O/U: 44 1/2.
The Rams beat the Cardinals in London 33-0 and there's no reason to think this will be much different. Arizona is depleted of running backs and will have a difficult time sustaining drives.
Rams 31, Cardinals 9
NEW YORK GIANTS (2-9) at OAKLAND RAIDERS (5-6)
Sunday, 1:15 p.m.
TV: None. DirecTV: 717.
Line: Raiders by 9. O/U: 41 1/2.
The Giants have benched Eli Manning and they're not likely to find their answer in Geno Smith. But with their top receivers either hurt or suspended, the Raiders are diminished.
Giants 23, Raiders 21
PHILADELPHIA EAGLES (10-1) at SEATTLE SEAHAWKS (7-4)
Sunday, 5:30 p.m.
TV: Channel 4.
Line: Eagles by 6. O/U: 47.
The Seahawks didn't blow away San Francisco last week, and now they're facing the best and most physical team in the league. Russell Wilson will test the defense, but visitors prevail.
Eagles 31, Seahawks 20
PITTSBURGH STEELERS (9-2) at CINCINNATI BENGALS (5-6)
Monday, 5:30 p.m.
TV: ESPN.
Line: Steelers by 5. O/U: 43 1/2.
Ben Roethlisberger owns Ohio, and the Steelers own prime-time games. Pittsburgh got a scare from Green Bay last Sunday night, and this game could be close for a while, but Steelers pull away.
Steelers 30, Bengals 20
Follow Sam Farmer on Twitter @LATimesfarmer
---
Get our high school sports newsletter
Prep Rally is devoted to the SoCal high school sports experience, bringing you scores, stories and a behind-the-scenes look at what makes prep sports so popular.
You may occasionally receive promotional content from the Los Angeles Times.