Patriots vs. Chiefs: Some overlooked plays from the wild AFC championship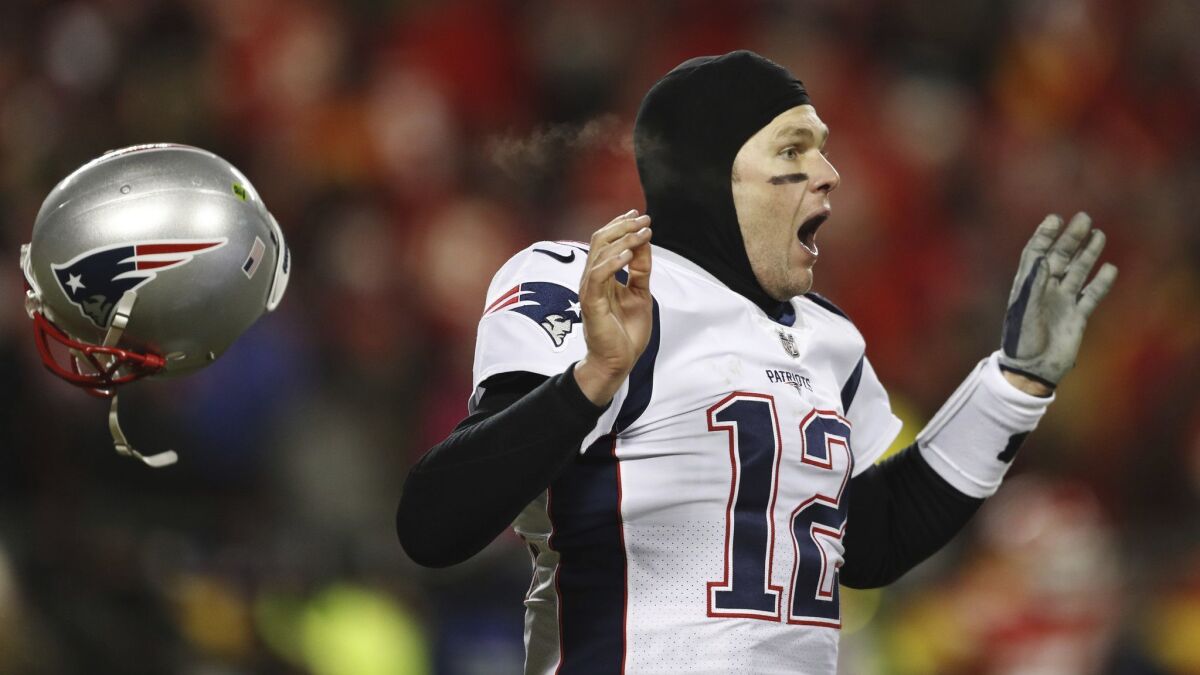 Reporting from KANSAS CITY, Mo. —
There were 141 plays in Sunday night's AFC championship game in Arrowhead Stadium, 94 run by the New England Patriots and 47 by the Kansas City Chiefs, and a combined 10 penalties called on the teams.
The outcome did not hinge on every snap or flag, but there were enough game-turning moments, especially in a fourth quarter featuring 38 points and four lead changes, that New England quarterback Tom Brady said his parents, wife and kids "all had heart attacks almost" while watching the Patriots' 37-31 overtime win.
"A lot of close calls and a lot of key plays," Patriots coach Bill Belichick said. "You could probably point to 50 plays that were critical plays in the game, but in the end, we were able to make a few more than the Chiefs, and that is why we are able to continue our season."
A closer look, in chronological order, at some plays that might have been overlooked in a wild game that ended with another dramatic Brady-led overtime drive, this one sending the Patriots to the Feb. 3 Super Bowl against the Rams:
— The Patriots took a 7-0 lead on the game-opening drive and had a chance to go up by two touchdowns early in the second quarter when they drove from the Chiefs 44-yard line to the one. But instead of putting their foot on Kansas City's throat, the Patriots threw the Chiefs a lifeline.
On third-and-goal from the one, with New England lined up in a power I formation, Brady faked a handoff to Sony Michel and threw into double coverage over the middle toward Rob Gronkowski. Kansas City linebacker Reggie Ragland stepped in front of the big tight end and intercepted the pass in the end zone.
Sign up for our daily sports newsletter »
"We had some short-yard situations that we did not convert," Belichick said at his post-game press conference. "You try to play too cute and not score, and then you are sitting here asking all of the other questions."
— The Chiefs had a chance to tie or cut the deficit to 7-3 later in the second quarter after quarterback Patrick Mahomes hit speedy receiver Tyreek Hill with a 42-yard pass that gave Kansas City a first down on the Patriots' 23-yard line.
But Mahomes overthrew running back Damien Williams on a wheel route down the right sideline — an accurate pass and catch would have resulted in a touchdown — and he took a 14-yard sack on third down that knocked the Chiefs out of field-goal range.
— Patriots running back James White made a superb five-yard catch of a ball thrown behind him on third-and-four and turned a screen pass into a 30-yard gain to set up Brady's 29-yard touchdown pass to Phillip Dorsett just before halftime.
Brady's scoring pass was badly underthrown, but Dorsett, with Chiefs cornerback Steven Nelson face-guarding him, made a nice play to come back on the ball and make the catch for a 14-0 lead.
— Kansas City defensive lineman Chris Jones batted down a third-down pass to force a punt early in the third quarter, but Hill turned the positive into a negative when he fielded the punt and ran backward for an 11-yard loss, pinning the Chiefs at their four-yard line.
The Patriots took advantage of the short field when Julian Edelman returned Kansas City's ensuing punt 13 yards to the Chiefs 37 and Stephen Gostkowski kicked a 47-yard field goal for a 17-7 lead.
— After Kansas City scored to trim the deficit to 17-14 early in the fourth quarter, Chiefs safety Daniel Sorenson stuffed Patriots running back Rex Burkhead for no gain on a fourth-and-one from the Kansas City 25.
The Chiefs took over but went three-and-out, the Patriots catching a huge break when, after an instant replay review, it was ruled that Edelman did touch the ball on a play that was originally called a muffed punt.
— New England had a 24-21 lead when defensive back Jonathan Jones dropped what looked like a sure interception in the end zone with two minutes 54 seconds remaining. Given another chance, Mahomes threw to Sammy Watkins for 38 yards, and Damien Williams scored from two yards out for a 28-24 Chiefs lead with 2:03 left.
— On New England's next possession, a Brady pass that Gronkowski had to jump for tipped off of Gronkowski's hands and high into the air, as if the Patriots tight end was setting a ball in a volleyball match.
The ball fell right into the hands of Kansas City's Charvarius Ward for an interception with 54 seconds left, a turnover that would have probably sealed the Chiefs' first Super Bowl berth in 49 years. But linebacker Dee Ford was ruled offsides for lining up in the neutral zone, a penalty Ford did not dispute.
"Execution trumps everything," Ford said. "We've got to be better, me especially on that play. Every play counts. I've got to see the ball. In that time of the game and what was at stake, I've got to see the ball."
On the next play, Brady floated a 25-yard pass to Gronkowski, who made a difficult catch while backpedaling with Chiefs safety Eric Berry in his face, and Burkhead scored on a four-yard run for a 31-28 Patriots lead with 39 seconds left.
— Chiefs running back Spencer Ware made a spectacular diving catch of a Mahomes pass for a 21-yard gain, and Demarcus Robinson made a nice leaping grab of a 27-yard pass between two defenders to set up Harrison Butker's game-tying 39-yard field goal with eight seconds left.
— Brady is 41 and Mahomes is 23, and some framed this game as a possible "passing of the torch" if the elder quarterback were to lose to the younger. The Patriots quarterback showed in overtime that the only thing he planned on passing for a while was a football.
Brady threaded three high-velocity pinpoint passes on third-and-10 plays in the extra period, to Edelman over the middle for 20 yards and 15 yards and to Gronkowski into a tight window between two defenders on a slant route for 15 yards.
Burkhead scored from four yards out, and the Patriots flooded onto the field, having secured their third straight berth in the Super Bowl, where they will play the Rams in Atlanta.
"They're a great team," Brady said of the Rams. "I haven't studied them for one second all year, so we will get to them [on Monday]. To get to this point is extremely difficult. They've faced some challenges. They have a great running back, a great offense and a great defense. They're well-coached. It's going to be a great game."
---
Get our high school sports newsletter
Prep Rally is devoted to the SoCal high school sports experience, bringing you scores, stories and a behind-the-scenes look at what makes prep sports so popular.
You may occasionally receive promotional content from the Los Angeles Times.