NFL Hall of Famer Jerry Rice teases about possible return to the Raiders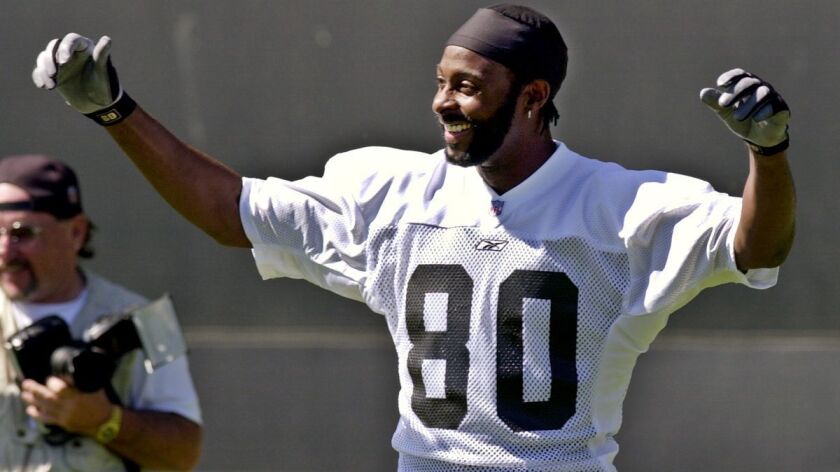 Could Jerry Rice make another run with the Oakland Raiders?
Rice, 55, played 20 seasons in the NFL with most of them with the San Francisco 49ers and Raiders, and a small stint with the Seattle Seahawks. But the Hall of Famer thinks he can still play the game.
Appearing on "The Adam Schefter Podcast" earlier in the week, Rice said he feels that he's in the best shape of his life, and could put on the pads and start catching balls on the field again.
"I was joking around with [new Raiders coach] Jon Gruden about this, because I told him, 'Jon,' I said, 'Look I still got about 80 catches in me.' And he was like, 'Don't joke with me 'cause, you know, we'll seriously sign you, you know, back to the team.' But, yeah, you know what? I played it for over 20 years. It's a whole different game now. It's more of a passer game now and it's the ideal situation for wide receivers," Rice said.
Rice signed with the Raiders in 2001 and played with the team until 2004, when he was 42. The last time the Raiders went to the Super Bowl, in 2002, he amassed a little over 1,200 receiving yards for the season at the age of 40. Still, he said he wouldn't hesitate to don the black and silver again if Gruden gave him a call.
"I would be on the football field in a heartbeat," he said."I wouldn't even give it a second thought, because, you know, I played it for over 20 years and I still think I played it the right way because I was like a little kid on the football field and to be able to impact, you know, so many lives and touch so many people, I think it made everything worthwhile."
Asked by Schefter if there was a chance that he would sign, Rice said, "Don't you start any rumors now."
Twitter: @edmgonzalez
---
Get the latest on L.A.'s teams in the daily Sports Report newsletter.
You may occasionally receive promotional content from the Los Angeles Times.