Steelers' James Conner and Broncos' Phillip Lindsay lead a run of NFL's surprising, rising players
In so many ways, the NFL season really starts after Thanksgiving.
That's the stretch run, when the weather turns cold, the division races either tighten or separate, and the traditionally good teams begin to build momentum that they will carry into the postseason.
There have been more than a few surprises this season, among them 33-year-old running back Adrian Peterson turning back the clock in Washington, 39-year-old New Orleans quarterback Drew Brees zeroing in on his first Most Valuable Player award, and the 10-1 Rams in position to claim the first playoff spot — during their off week, no less. If Seattle were to lose at Carolina on Sunday, the Rams would clinch the NFC West.
Lots of new blips are on the radar too. Several players around the league who were overlooked during some point in their careers have come into sharp focus, not only carving out roster spots, but also making real impacts on their teams.
Two of those are running backs James Conner of Pittsburgh and Phillip Lindsay of Denver, whose teams will meet Sunday in the Mile High City. The Steelers have won six in a row and are starting to pull away in the AFC North, while the 4-6 Broncos would need lots of help to pull back into contention for a wild-card spot.
Conner and Lindsay are two of the astounding success stories, both local heroes in their respective markets.
Conner, from Erie, Pa., played at the University of Pittsburgh, his career interrupted by a cancer diagnosis in 2015. Doctors discovered a mass in his chest that proved to be Hodgkin's lymphoma, the same condition that sidelined Kansas City safety Eric Berry, requiring 12 rounds of chemotherapy in the six months that followed.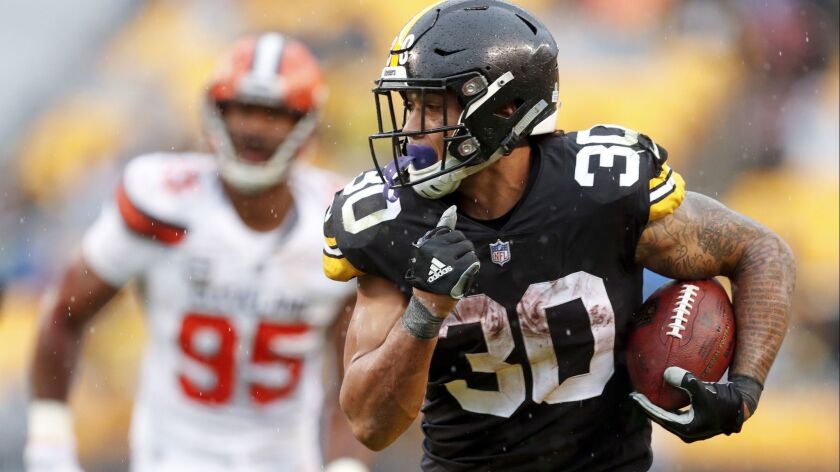 "I choose not to fear cancer," a tearful Conner told reporters after his diagnosis, vowing, "I will play football again."
And play he did, running for 1,092 yards for Pitt in 2016, then leaving for the NFL. The Steelers took him in the third round of the 2017 draft. He stepped in for Le'Veon Bell this season after the All-Pro running back decided to hold out indefinitely for a better contract.
Running behind one of the best lines in football, Conner leads AFC running backs with 10 rushing touchdowns, and is second in the conference behind Kansas City's Kareem Hunt with 796 yards on the ground.
In Denver it's a different feel-good story. Lindsay was a prep star at Denver South High and turned down other scholarship offers to stay in state and play at Colorado. At 5 feet 8 and 190 pounds, he's a compact Tasmanian devil, as fans like to say, who runs as if his untamed hair is on fire.
Despite running for a combined 2,726 yards and 30 touchdowns the past two seasons, Lindsay was not invited to the NFL scouting combine. Instead, he participated in a combine at his school, covering 40 yards in a blistering 4.39 seconds.
He was under the impression the Broncos might use a late-round draft pick on him. Instead, not only did they not select him, but they also used a seventh-round pick on another running back, Arkansas' David Williams.
Still, Lindsay was determined to stay in his home state and play for his favorite childhood team. So he turned down a slightly more lucrative offer from Baltimore to sign as a rookie free agent with the Broncos. It became evident in training camp almost immediately that he would make the team, probably as a third-down, change-of-pace back, a poor man's Christian McCaffrey.
Williams didn't make the team, and an ankle injury to starter Royce Freeman opened the door for Lindsay, who has run for 670 yards and five touchdowns, second among rookies to No. 2 pick Saquon Barkley of the New York Giants.
It's worth noting that Barkley received a $15-million signing bonus, whereas Lindsay's bonus was $15,000.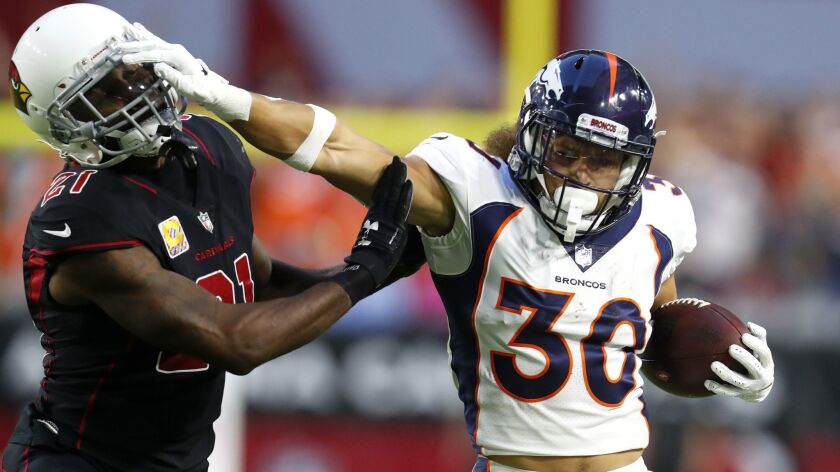 Conner and Lindsay are but two of this season's happy discoveries, budding stars who have their teams especially thankful on this holiday.
There's also Tennessee's Darius Jennings, who leads the NFL in kickoff returns with an average of 35.9 yards. He has been cut more than a dozen times, and has been on and off practice squads throughout his three-year career.
Carolina offensive lineman Greg Van Roten, who was an All-Ivy League tackle at Penn, bounced around the NFL for a while, played in Canada and then made a highlight video on YouTube that a friend showed to the Panthers. Carolina signed him last year, and now he's starting at left guard.
Rookie outside linebacker Darius Leonard didn't completely come out of the blue. He was a second-round pick by Indianapolis last spring out of South Carolina State. But people might be surprised he's leading the league in tackles with 104, 13 more than second-place Cory Littleton of the Rams.
How a player does in college is not always an accurate predictor of what type of NFL player he'll be. For instance, Miami rookie Jason Sanders made a ho-hum 25 of 35 field goals at New Mexico. He has made 15 of 16 for the Dolphins.
Those players are like unexpected pop-ins over the holidays. Their teams have made room for them at the table, hoping they'll get comfortable and stay awhile.
Follow Sam Farmer on Twitter @LATimesfarmer
---
Get our high school sports newsletter
Prep Rally is devoted to the SoCal high school sports experience, bringing you scores, stories and a behind-the-scenes look at what makes prep sports so popular.
You may occasionally receive promotional content from the Los Angeles Times.