Snowboarder Chloe Kim, a rising star, will get serious airtime at the Winter Olympics
Spinning, flipping, flitting from one place to the next, Chloe Kim speaks in much the same way she rides the halfpipe, with breathless velocity and startling twists.
"Snowboarding brought me out of my shell," she says. "You know, if you meet someone for the first time, they're not going to bite you."
Sitting before a clutch of reporters, looking every bit the Southern California teenager in lipstick and blond highlights, Kim muses rapid-fire about fan letters from prison, less-than-stellar SAT scores and the relative merits of the Korean food her mother cooks.
"I need to go to Chipotle," she says. "It's like KFC, where you at?"
Grit and daring have made this 17-year-old from La Palma a prodigy in her sport. The first woman to land back-to-back 1080s — two triple-spins in a flash — she is expected to medal at the upcoming 2018 Winter Olympics.
But if the Games serve as a watershed moment in her career, athleticism will be only part of the equation.
The U.S. State Department recently enlisted Kim, a first-generation Korean American, for a goodwill tour of South Korea, where the Olympics will take place. NBC has placed her at the forefront of its promotional spots, and corporate sponsors love her connection with a young demographic.
Sheer personality could make this self-proclaimed "girly girl" a crossover star in the vein of fellow snowboarder Shaun White.
"She is going to play very well on TV," says Andrew Rohm, a marketing professor at Loyola Marymount University. "This is her coming-out party on the world stage."
::
At first glance, nothing about Kim — not her slim build or bright smile or the pitch of her voice — hints at the ferocity with which she attacks the 22-foot walls of the halfpipe.
Speed translates into big air. This amplitude buys precious time to do things no one has seen in women's snowboarding.
"Ridiculously talented," says Rick Bower, a U.S. national coach. "She has a huge bag of tricks."
It all started with her father, Jong Jin Kim, who years ago wanted to try snowboarding. When his wife refused to join him, he instead brought their daughter up to the Mountain High resort.
"He took me as bait so he could be like, your 4-year-old daughter is here with me on the mountain, do you know how dangerous that is? You're a bad mom for not coming with her," Kim recalls.
Southern California's warm climate might not seem conducive to winter sports, but White — the Michael Jordan of snowboarding — grew up near San Diego, honing his skills in the San Bernardino Mountains.
Two aspects of Kim's early start laid a foundation for success.
So small at first, she could not afford to cautiously zig-zag across the pipe. The preschooler needed to take a riskier path, angling downhill to generate enough pace to launch herself even a few feet off the lip.
And though she was a natural "goofy-foot," riding with her right foot forward, her dad made her practice regular-foot until she was comfortable either way.
"That's not normal," Bower says. "Her ability to ride switch-stance is pretty amazing."
After winning her first junior competition at age 6, Kim spent two years living with an aunt in Switzerland, making weekly trips to the Alps. She then returned to Los Angeles and joined the developmental program at Mammoth Mountain.
As his daughter's skills continued to blossom, Jong decided to quit his job as an engineer.
"He went home and just told my mom, 'I'm done working, I'm going to make my daughter an Olympian,'" Kim says.
Jong would drag himself out of bed in the early morning, bundling his daughter into the car, letting her sleep as he drove hours north to Mammoth Lakes.
Though not quite as confident about future stardom, Kim gladly threw herself into riding, which she considered "a good obsession." People started noticing her on the mountain.
"Just this tiny little girl," Bower recalls. "But she could go so big out of the pipe."
::
The first milestone came in 2014 when a 13-year-old Kim performed a stunning final run, capped by consecutive 720s, to take silver at the X Games. Veteran rider Kelly Clark, who won that day, figures it was the start of something historic.
"She's one of the most talented young riders I've ever seen," Clark says.
One after another, Kim mastered her sport's midair acrobatics — the spins, flips and rotations known by such names as McTwists, frontside 9s and cab 720 melons. Her relaxed style belied the strength and conviction required to perform such tricks.
Only a minimum-age requirement kept her out of the 2014 Winter Olympics as she began rattling off a string of podium finishes at competitions around the world. The media dubbed her an overnight success, a natural-born talent.
That did not sound right to her coach.
"It took a decade of very hard work," Bower says. "She's committed to doing the nasty stuff that no one likes to do, improving the things she's not good at."
If anything came naturally, it was Kim's ability to draw fans.
Born to a generation that subsists on social media, she regularly posted photographs of her puppy and her latest hair color, which morphed into shades of purple, green and blue.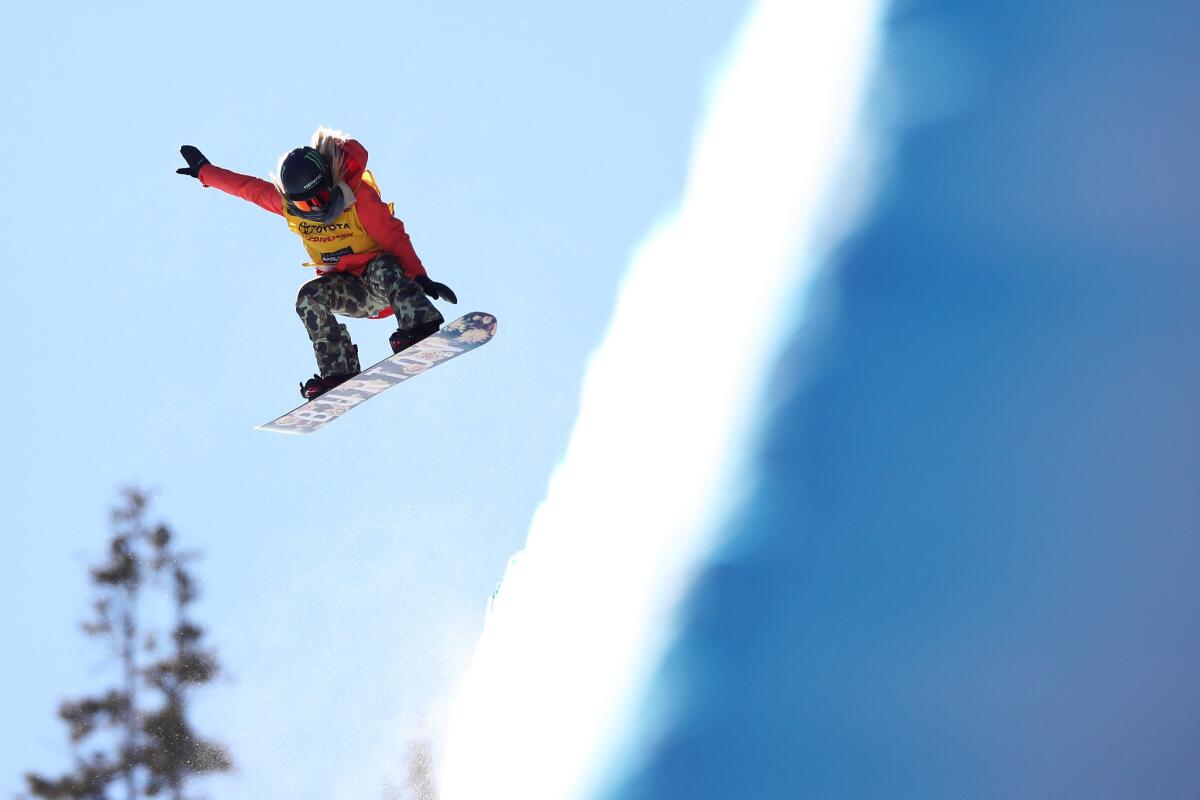 That letter from a prisoner? She answered it.
"I'm always trying to respond to my Instagram direct messages, even if they're a little weird," she says. "I'll have a Q&A on Snapchat and talk to everyone."
In this very public life, no subject is off-limits. At a recent media event organized by the U.S. Olympic Committee, she free-associated through a range of personal topics.
On the first time her father met her mother: "He was like, you're actually really cool. I'm gonna wife you up."
Growing up Korean American: "What do they call it? Yeah, banana. Asian on the outside, white on the inside."
Earning an "average" SAT score: "If someone's kid got that score, their [parents] are probably like, 'Oh, you're taking it again.' But my parents were so happy."
As the second-born from an immigrant family — she has an older sister — Kim faced skepticism from relatives early on. She says: "You know, a Korean's ideal thing is to be a lawyer, a doctor." Now the only one who harbors any doubts might be Kim herself.
As the Winter Games draw near, scheduled to begin in Pyeongchang on Feb. 9, she wonders about how her life might change.
On the recent goodwill tour of South Korea, as she met with a group of schoolchildren, photographers crowded around. It was her first paparazzi moment.
"I straight-up ran away," she says. "I was so scared."
It took a few minutes to calm down, at which point Kim reconsidered.
If things go as expected next month, she will face a new level of celebrity. She might even enjoy it.
"Like Kim Kardashian," she says, turning to show her profile. "Yeah, this is my good side."
Follow @LAtimesWharton on Twitter
Get the latest on L.A.'s teams in the daily Sports Report newsletter.
You may occasionally receive promotional content from the Los Angeles Times.