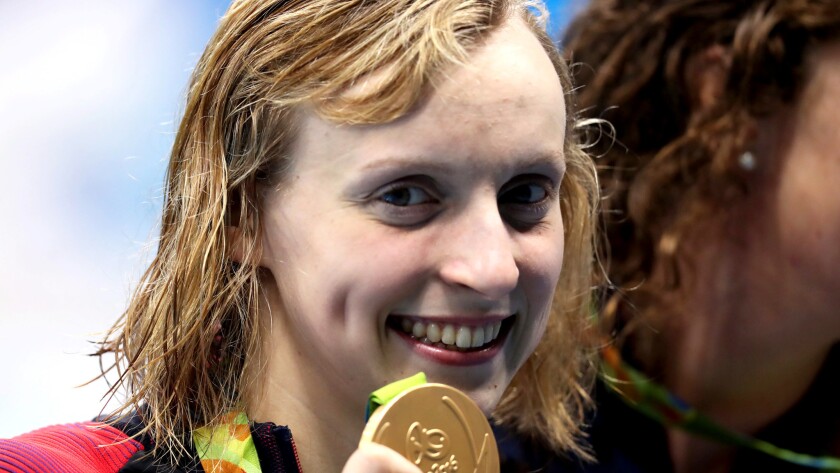 Reporting from Rio de Janeiro —
The youngest member of the U.S. Olympic swimming team paused in a stuffy hallway this week at the Olympic Aquatics Stadium minutes after winning another gold medal.
Katie Ledecky had just gutted out 200 meters of freestyle that hurt her entire body. She considers this fun. The 19-year-old resisted the urge to vomit during the final meters and accelerated to the wall less than a second off the world record in her weakest individual event.
Ledecky was asked whether she represented the future of American swimming.
"I'm kind of the present, too," she said.
As Michael Phelps, the most decorated Olympian of all time, completes the final week of his gold-plated career before retirement and one-time teenage sensation Missy Franklin struggles in the pool, Ledecky has become the world's most dominant swimmer. She won four medals — three gold — during the first six days of competition at the Olympic Aquatics Stadium thanks to a methodical blend of speed, endurance and an almost supernatural ability to remain calm.
The final of Ledecky's best event, the 800-meter freestyle, is Friday. She won the event four years ago during the London Olympics at age 15 as a relative unknown outside of swimming circles. Now she holds the 12 fastest times in history and is usually so far ahead of the seven other swimmers that the real race is with the clock. No other swimmer is within seven seconds of her record.
She is doing things no one in the world has seen before.
Missy Franklin, teammate of Katie Ledecky
"For Katie, even with the immense pressure that's been placed upon her since London, it doesn't faze her," said Janet Evans, who won four Olympic gold medals as a star distance swimmer in the 1980s and 1990s. "She comes out there, swims her races, she does her thing, she comes out with a smile."
The fourth gold medal would make Ledecky the first woman to sweep the 200, 400 and 800 freestyle races in the same Olympics since Debbie Meyer at Mexico City in 1968. But Ledecky doesn't simply hoard medals. She makes history look routine. In the 400 freestyle final this week, for example, she had almost five seconds to celebrate breaking her world record before second-place finisher Jazmin Carlin of Britain arrived.
The wait is a typical occurrence — and what made the tight finish in the 200 freestyle so unique for Ledecky. She rarely encounters a situation where another swimmer is pushing her. The standard when she races is so high that the near-miss of a world record can lead to questions about what went wrong.
Ledecky, who delayed enrolling at Stanford until this fall to focus on training for the Olympics, also holds the world record in the 1,500-meter freestyle. The event isn't contested for women at the Games.
"She is doing things no one in the world has seen before," Franklin said.
Competitors gush about her as "one of a kind" and "extraordinary" and "unbelievable." Sweden's Sarah Sjostrom figured placing second in the 200 freestyle was as good as winning a gold medal because of Ledecky's involvement and dubbed her "Queen of the Freestyle." She shows little interest in the platitudes, however, with a personality that's as unassuming as she is fast.
"If we emptied the place out there and kept the media away and kept everyone else away and told her she was going to swim a fast race, I think she'd embrace that, too," said Bruce Gemmell, Ledecky's coach at the Washington-area Nation's Capital Swim Club and an assistant on the U.S. Olympic team.
Ledecky took up the sport at age 6 during a summer program at the Palisades Swim and Tennis Club in Cabin John, Md. Four years later, she started swimming 20,000 to 25,000 yards a week and competed in the Junior Olympics.
Even after the Olympic gold medal in 2012, Ledecky continued to swim high school dual meets for Stone Ridge School of the Sacred Heart in a Washington suburb until her graduation in 2015.
Outside of the pool you could mistake Ledecky for an ordinary teenager. In a viral pre-Olympic video of U.S. swimmers driving around while singing karaoke, she fretted about the responsibility of transporting four other Olympians. She stands an unremarkable 5 feet 11, admits that swimming in the Olympics for the second time feels surreal and shrugs off the world-beating success as the product of goal-setting and hard work. She hasn't noticed any extra attention in the athletes' village. Her words are usually nonchalant, matter of fact, unaffected. They exude normalcy.
"If you spotted her walking down the street, you couldn't tell who she is," said Jon Urbanchek, whose coaching career spanned almost 50 years and included helping prepare Ledecky and the U.S. team for the London Olympics. "She doesn't have swimming written all over her."
During U.S. training camp in Atlanta last month, Ledecky and a few teammates visited a mall. Two women asked Ledecky to take their picture — without her. They had no idea who she was, without the instant recognition and swarm of autograph seekers that Phelps or Franklin can attract.
Even in front of the television cameras and microphones that now greet her after each race, Ledecky manages the onslaught of attention without noticeable effect. She seems immune to pressure, even as the pile of records and medals grows.
"She likes to swim fast," Gemmell said, reducing the phenomenon to the most basic element. "She likes to race. She enjoys it. She enjoys getting up at 4 a.m. to practice. It's the whole package."
And there's more to come — in the present and beyond.
nathan.fenno@latimes.com
Twitter: @nathanfenno
---