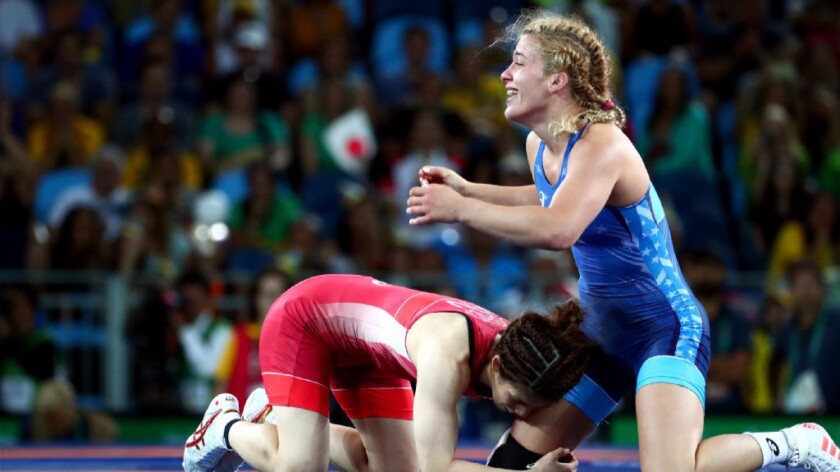 Reporting from Rio de Janeiro —
Helen Maroulis first felt last year that she could beat legendary wrestler and three-time Olympic champion Saori Yoshida of Japan. She wrote about the possibilities in her journal but self-belief can be fleeting.
The path to becoming the first U.S. women's wrestler to win an Olympic gold medal was hardly smooth. After beating Yoshida, 4-1, in the gold-medal match Thursday in the 53kg (117 pounds) freestyle weight class, Maroulis cried on the mat. She cried on the podium and cried as she sang the national anthem and revealed how truly out of sorts she felt before the Olympics.
"A couple of weeks ago, I was like, 'I'm just going to book a plane to Iceland because I think I'm about to be like the biggest failure at the Olympics,'" she said. "I don't even know if I'll make weight. I'm doing all the right things and I'm not seeing results."
Concerns about failure didn't materialize at Carioca Arena for the 24-year-old from Rockville, Md., who has been living and training in Huntington Beach since 2015.
"To finally have that Olympic gold medal means so much," U.S. women's national coach Terry Steiner said. "It's like breaking that barrier. It's like breaking that four-minute mile. You needed someone to step forward and claim that and that's what Helen did tonight."
Said Maroulis: "Honestly, it's incredible. It's an incredible feeling. It definitely hasn't sunk in yet."
Yoshida has been the face of the sport internationally with 13 world championship titles. The raucous crowd at the arena chanted her surname during the title match and the noise grew louder as the tension increased.
She scored the first point and Maroulis stormed back with a takedown to lead 2-1. Yoshida would not score another point, falling behind 4-1 when Maroulis registered another takedown with less than a minute remaining.
Yoshida was devastated by the loss, frozen in disbelief on the mat, still crying more than 30 minutes later during interviews with Japanese reporters.
The magnitude of the victory hit Maroulis hard on the podium during the anthem.
FULL COVERAGE: 2016 Summer Games »
"I looked at that flag — the American flag represents our country and stands for so much, so much meaning, so much value behind it," she said. "The flag is raised for a lot of different things. Today it was small … maybe small in comparison to the country.
"It [the anthem] was being played and I have this gold medal. But then I'm also thinking there are people, Americans, in other countries, at war. And the flag is there. ... When the anthem plays, how can you not cry?"
Comparisons between this historic victory and U.S. wrestler Rulon Gardner's epic victory over Alexander Karelin in the 2000 Sydney Olympics were invoked.
"I don't know if it's different at all," Steiner said. "I think it's a lot of the same. Beat an unbelievably great champion tonight."
Maroulis and her roommate Elena Pirozhkova, who lost in the bronze-medal match, have trained in Orange County under the guidance of Valentin Kalika. After Maroulis defeated Sofia Mattsson of Sweden earlier in the day, Kalika said that all their training was targeted to defeat Yoshida.
Yoshida has been the single-minded focus for Maroulis.
"I knew I was going to have to wrestle her," she said. "I watched film. I watched interviews. I translated stuff. I wanted to see how she thought. I wanted to see how she strategized. I wanted to see how their coaches strategized."
The U.S. women's team approached Thursday as a legitimate opportunity to win three medals. But Adeline Gray suffered a surprising 4-1 loss to Vasilisa Marzaliuk of Belarus in the quarterfinals of the 75-kg (165 pounds) weight class.
"This is going to be something that takes a while to sink in," Gray said. "I thought I wasn't going to be taking my shoes off and now I'm in sandals. It's definitely a different feeling. I haven't had a loss in a long time, so I don't know what it's supposed to feel like."
Gray, who said she was unsure about her future in wrestling, admitted to making a costly mistake in her match.
"I overlooked that girl," she said. "You can't overlook somebody who is a multi-medalist. … I beat her nine out of 10 times and today she got the better of me."
Follow Lisa Dillman on Twitter @reallisa
---