Gold-medal winner Chloe Kim, a daughter of Korean immigrants, is a star in two cultures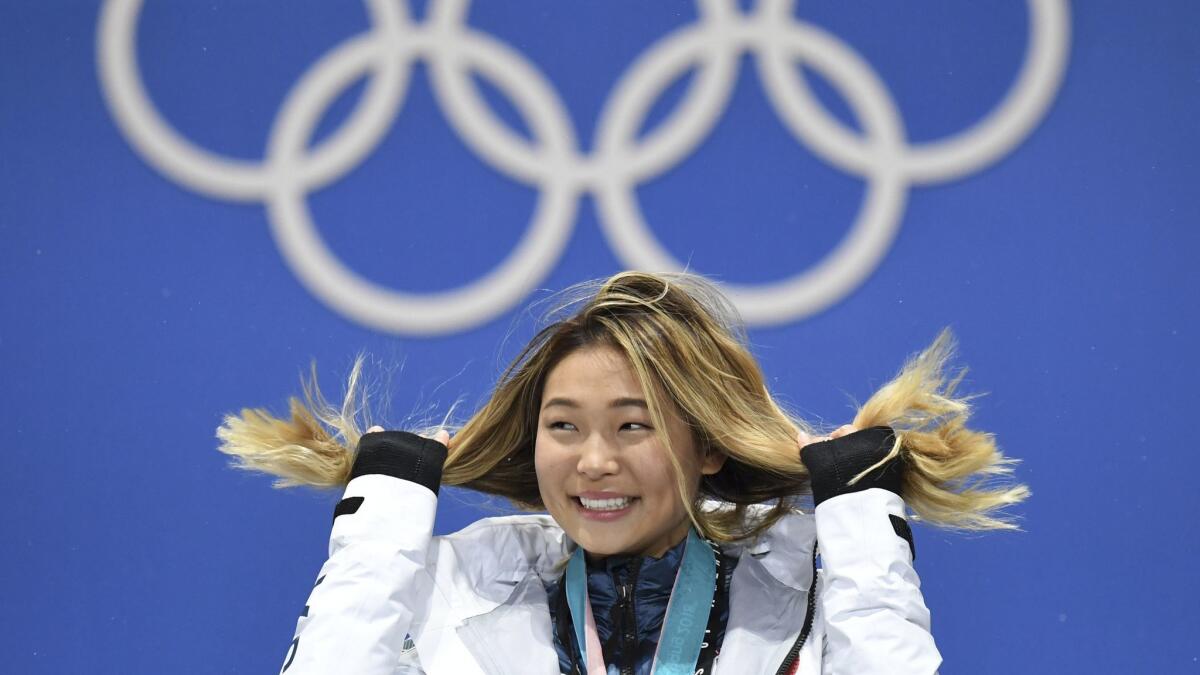 Reporting from PYEONGCHANG, South Korea —
Shortly after winning gold in the Olympic halfpipe, Chloe Kim was ushered into a tent at the bottom of the hill to face a clutch of international reporters.
The 5-foot-3 Southern California snowboarder had delivered a stunning performance, doing tricks no other woman in her sport could do, but that wasn't the only reason she has become the breakout star of the 2018 Winter Games.
When a reporter asked a question in Korean, the 17-year-old quickly waved off the interpreter, saying: "I've got that."
Kim is a first-generation Korean American, the daughter of immigrants who settled in the greater Los Angeles area. She speaks both languages and, throughout her life, has made visits to family in this country.
That helps explain why her face has been splashed across local newspapers and television this week.
"It's so cool being here," she said. "Competing in my first Olympics in the country where my parents came from is insane."
This aspect of her Olympic experience has not only boosted her celebrity, it seems to have touched her in a personal way that extends beyond sport, perhaps helping her to reconcile a childhood spent straddling two cultures.
Kim said: "I definitely, when I was younger, struggled a little to understand my identity and who I wanted to be."
Not all the attention here has focused on her, not in a part of the world that has a reputation for producing, among other things, top-notch short-track speedskaters.
It was a big deal when Lim Hyo-jun earned the host nation's first gold medal in a 1,500-meter race last Saturday. But Kim quickly stole the spotlight with a historic performance at Phoenix Snow Park three days later.
In capturing gold, she became the first woman in Olympic history to land consecutive 1080s — two triple rotations. Her near-perfect score of 98.25 outdistanced silver medalist Liu Jiayu of China by almost 10 points.
"I feel like I got to represent both the U.S. and Korea today," she said.
The feeling, apparently, was mutual.
"The media has given her very glowing coverage because they see her as one of their own," said Peter Kim, a New Jersey native who works as an assistant English professor at Kookmin University in Seoul.
In particular, it seems that people here have responded to reports that her father, trained as an engineer, gave up his career to focus on Chloe and her snowboarding.
"It reflects the sacrifices made by many Koreans and Asians in general," Peter Kim said.
Looking back on her childhood, Chloe Kim recalls clicking instantly with certain parts of her heritage.
Her visits to South Korea were filled with aunts and cousins. Her grandmother, she said, is "the cutest little old lady I've ever seen in my life … and she's also really sassy.… She'll, like, have her cane and whack you."
There were big family meals with steaming bowls of soup and bulgogi, a popular style of marinated beef or pork.
"If I want a specific food, they're like, 'OK, we got you,' and they'll take me to the hip spot where all the cool kids go," she said. "I feel like I have another life."
That life didn't always jibe with the one she had back in the U.S.
Her father started her snowboarding at 4 and, when she showed a natural instinct for the sport, he began entering her in contests at age 6.
No one else in the immediate family was so athletic. Some relatives expressed skepticism about all the time she devoted to her sport.
"My aunt wasn't a big fan of it," she said. "You know, a Korean's ideal thing is to be a lawyer, a doctor."
If growing up Korean American sometimes left her feeling torn, her outlook may have changed in the time leading up to the Winter Games.
The U.S. State Department enlisted Kim for a goodwill tour during which she attended an embassy event, spoke to a university class and snowboarded with young South Koreans.
The trip provided a first taste of fame as kids waited at the bottom of the hill, eager to ride back up with her on the chairlift. Photographers, it seemed, were everywhere.
The more-recent time spent in Korea eased some of the pressure she felt coming into the Games.
"I think having my family to be there throughout the whole process was helpful," she said. "I surrounded myself with such nice people that it definitely made it much easier for me."
At a pre-Games news conference in Pyeongchang, she answered question after question about her dual heritage. She was asked about Korean beliefs and the number four being considered unlucky by some.
"Four is actually my lucky number," she said. "So hopefully that's not true."
On Tuesday, her parents were at the snow park to watch the competition. So was her grandmother.
Photographers clamored around them afterward. Media later showed images of her father drinking a beer in celebration.
His daughter wasn't the only star in the family.
Jong Jin Kim joked to her: "Chloe, I'm a celebrity now. I need a bodyguard."
Times staff writer Dylan Hernandez contributed to this story.
Follow @LAtimesWharton on Twitter
Get the latest on L.A.'s teams in the daily Sports Report newsletter.
You may occasionally receive promotional content from the Los Angeles Times.