Shaun White's journey to the Olympics was almost halted by a gruesome injury
Reporting from Pyeongchang, South Korea —
The first hit was bad enough.
Shaun White was snowboarding in New Zealand when he took off a millisecond early on a double cork 1440 and came down hard, smacking the lip of the halfpipe at an awkward angle.
But that wasn't the worst part.
After the initial impact, his board dug in and whipped him forward, face-first, into the icy surface. Blood ran across the snow. A helicopter was summoned.
"All of a sudden," he says, "I was in the hospital."
It took 62 stitches to close a jagged gash across his forehead and mend the tip of his tongue. It would take something more to repair his confidence.
The previous few years had not gone well for the most successful snowboarder in history, the superstar with the flaming red hair who, for better or worse, had dragged his renegade sport into the mainstream and earned millions upon millions of dollars in the process.
After dominating the halfpipe for the better part of a decade, winning back-to-back Olympic gold in Torino and Vancouver, White had come up short at the 2014 Winter Games in Sochi.
People quietly wondered if a brazen new generation of riders had passed him by. After his training crash in October, the whispers grew louder.
Lying in a hospital bed, the 31-year-old had doubts of his own.
"It really threw me for a loop," he recalls. "I was, like, do I really want to do this?"
::
The past few months have seen a remarkable string of performances in men's halfpipe.
Top dogs such as Scotty James of Australia and Ayumu Hirano of Japan have one-upped each other with new tricks or new combinations in one contest after another.
Which makes it all the more startling that White, barely four months removed from his gruesome crash, ranks among the favorites at the 2018 Winter Olympics.
"I feel more like I know who I am," he says. "And I know my riding."
His words slur the slightest bit because of a few stitches remaining in his tongue. That doesn't stop him from answering a flurry of questions from the reporters who crowd around.
They want to know about his final run — a perfect 100 — at the recent Toyota U.S. Grand Prix in Colorado. Tears filled his eyes that day.
"It was, obviously, one of the highlights of my career," he says.
White needed the 100 to edge James, who had put together a dazzling run of his own moments earlier. At the X Games a week later, with White laid up by a cold, James and Hirano traded haymakers before the Japanese rider prevailed.
So the stage is set for a showdown on the sport's biggest, brightest stage.
Cold, dry weather should make for a perfectly shaped halfpipe, icy and fast, in Pyeongchang. There will be pressure to go bigger and better, to outdo the next guy.
And that might just favor a rider known for generating big air, an athlete who has scores of X Games medals and is eager to regain his touch for coming through in the clutch.
"Shaun likes to have his back against the wall," says Todd Richards, a former top snowboarder who now serves as an NBC analyst. "This is his redemption."
::
Looking back, it seems obvious why things went wrong in 2014. The sport had been chasing White for so long, other riders were bound to catch up, and staying hungry was a problem.
"Win after winning after winning," he calls it.
Maybe the need for something new, a spark, prompted an ambitious plan heading into Sochi as White decided to enter both the halfpipe and the new slopestyle event.
"The same things that got me motivated weren't really working anymore," he says.
But any thoughts of a double gold in Sochi ended quickly. A treacherous slopestyle course led to multiple riders crashing in practice, and White withdrew after tweaking his wrist in a fall.
"The potential risk of injury is a bit too much for me to gamble my other Olympics goals on," he said then.
Conditions at the halfpipe weren't much better, with walls that needed adjusting and then a sugary, bumpy base. Richards says that, with White's speed, it was "like having a bullet train take a dirt road."
Some riders had runs that could be adapted; White did not. He finished fourth.
"It was one of the most frustrating things for me," he said afterward. "If I land my run and I'm beat, I'm OK with that. But I definitely didn't get that chance."
Sochi was an eye-opener. After a lifetime in the sport, call it burnout or simply growing older. Back home, White took some time to think about his life and what he really wanted.
Nothing was above examination, maybe not even the sport that had been the center of his life since boyhood.
Trying to describe this struggle to the reporters, he settles on a comparison.
"It's like if you've ever been in a relationship and someone loves you and you're like, I wish I could flip a switch and love you back," he suggests. "You know what I'm saying?"
Then comes a big laugh as he rocks backward.
"It's a bit deep, guys."
In the end, it made the most sense to do things that made him immediately happy. He went on tour with his rock band, Bad Things, and worked on business projects. Also, he says, "I got a dog."
As for snowboarding, his focus returned to his first love — the halfpipe — and he began working with a new coach, J.J. Thomas, who years earlier had beaten him out for the final spot on the 2002 Olympic team.
"He can read me," White says. "He's the one taking my ups and downs and straightening them out."
The work began to pay off last season with a World Cup gold in Mammoth and a silver at Phoenix Snow Park, the venue in Pyeongchang where this week's Olympic contest will be held. White had clawed his way back to the upper echelon and the other riders noticed.
"I have a lot of respect for the guy," James says. "He has been a pioneer in the sport for a long time."
Everything seemed to be moving in the right direction as the Winter Games drew near. Then came the training session in New Zealand.
::
Snowboarders know their sport can be dangerous.
Over the years, the halfpipe has grown steadily to the point where the walls now stand 22 feet high. As riders become stronger and more skilled, perhaps more audacious, they twist and flip an additional 20 or more feet in the air.
So a "deck check," when a rider hits the rim of the pipe instead of landing on the downslope, can be like tumbling out a fourth-story window.
"There are falls that rattle you physically and falls that rattle you mentally," Richards says. "The fall that Shaun took? I mean, there are a lot of people who would have said 'I'm done with this.' "
But walking away wasn't that easy.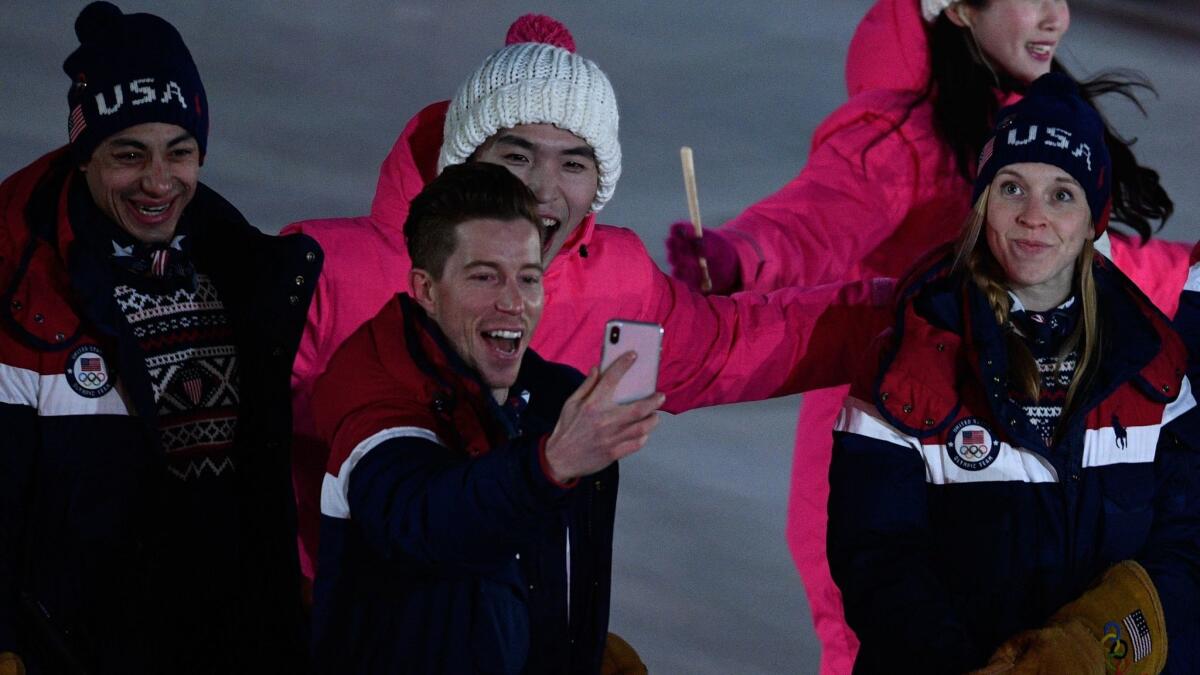 Nowhere else could White find the satisfaction of mastering a trick. Nowhere else could he take what he had learned and transform it into the adrenaline rush of gold.
So those initial doubts in the hospital soon dissipated.
"I set my goals and worked on my runs," he says.
At the U.S. Grand Prix, when James landed a switch backside double cork 1260 — perhaps the sport's most technical trick — it would take something extraordinary to win. Standing at the starting gate, White changed on the fly.
His impromptu run included a Double McTwist 1260 and a frontside double cork 1440. Reaching the base of the hill, he thrust his arms in the air, then grabbed his helmet as if he could not believe what had happened.
The score might have raised a few eyebrows — James wasn't happy — but that didn't matter.
"I feel stronger than I've ever felt," White says.
Something about his demeanor seems different now, easier, more assured.
There is still the weight of expectation, still a slight fear of failure, especially as he approaches what could be the toughest halfpipe competition in Olympic history.
But there is also certitude, as if he has landed exactly where he needs to be.
"That's the simplest answer," he says. "It just feels right."
Follow @LAtimesWharton on Twitter
Get the latest on L.A.'s teams in the daily Sports Report newsletter.
You may occasionally receive promotional content from the Los Angeles Times.