Column: UCLA's Rosen and USC's Darnold never lived up to hype, but seem armed for future in NFL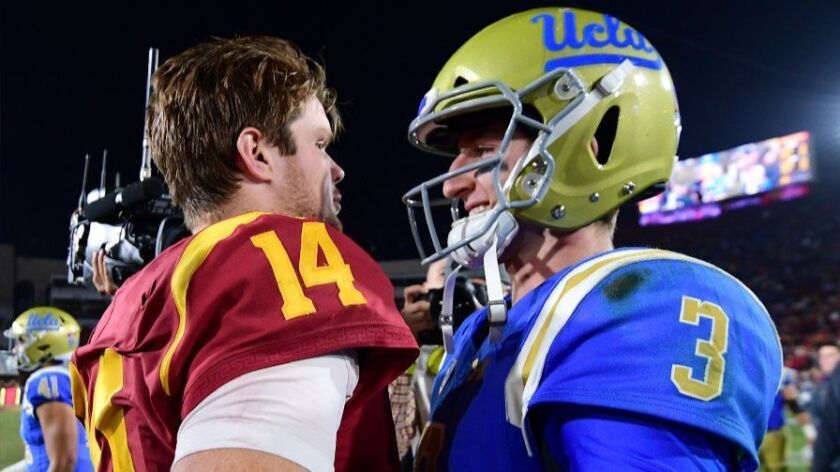 So, within minutes of each other Wednesday afternoon, this town's two precocious college quarterbacks finally delivered the doubly dramatic moment that has been anticipated since they arrived.
They both left.
Josh Rosen exited first in a gracious and grateful letter posted to Twitter.
"And now, as a proud UCLA Bruin, I am officially declaring for the 2018 NFL draft," he wrote.
Twenty-two minutes later, Sam Darnold exited in a lovely and classy Instagram video.
"Hey Trojan fans, this is Sam Darnold," he said. "After talking to my immediate family, very close friends, and many people who have helped me throughout my life, I have made the decision to declare for the 2018 NFL draft."
Neither announcement was a surprise. Though both men had the eligibility to stick around for at least another season, both had no choice but to go.
They probably will be among the top five players selected in the upcoming draft, guaranteeing them as much as $20 million each. They couldn't risk losing that money to an injury next season. They could no longer afford to play for free.
But while they will leave with everyone's admiration and best wishes, they also will leave amid emptiness and disappointment.
The two most hyped college quarterbacks in this city's recent history never quite lived up to the hype.
They are leaving before cementing a legacy. They are walking away from unfinished business. They are a cautionary tale about not buying the buzz of most of today's college quarterback prodigies.
They're still kids. They're still learning. Yet, just when they finally start to figure it out, because of the NFL's desperation for arms, they're gone.
Coming out of local high schools, Darnold was a savior, Rosen was "Chosen," and what happened? They were both great, occasionally brilliant, but neither made enough of a lasting impact to retire a jersey or hang a plaque.
Darnold never became Matt Leinart. Rosen never became Cade McNown.
Darnold and Rosen were once touted as Heisman Trophy candidates — especially in this space — but neither was seriously considered. Both were supposed to lead their programs into national title contention, but neither team was in serious contention for the College Football Playoff final four.
Between them, in their five combined seasons, they produced maybe two truly memorable victories — Darnold led the Trojans over Penn State in last year's Rose Bowl and Rosen led a 34-point comeback against Texas A&M in this season's opener.
Both had stretches of stardom, but in the end both fell short of the Hollywood expectations heaped upon their young shoulders.
Darnold was an incredible 20-4 as a starter, never lost at home, and won a Pac-12 Conference title and a Rose Bowl. But his career ended last week with three turnovers that led directly to the Trojans' 24-7 loss to Ohio State in the Cotton Bowl.
While his NFL stock remained high, his college days ended with a sense that he truly could have used another season of football education.
Rosen was often injured and wound up only 17-13 as a starter. He played in only one postseason game, losing to Nebraska 37-29 in the 2015 Foster Farms Bowl.
Both kids struggled through the understandable pains of growing up on a national stage.
Darnold had not even played a full autumn when he became a preseason darling last summer, touted by the national media as potentially the greatest football player on the planet. After watching him throw for 453 yards and five touchdowns against Penn State, how could anybody argue? Yet, Darnold is such an understated leader, there was a feeling he sagged a bit under the burden of the bright lights. It didn't help that he was learning a mostly new receiving corps and still, remember, playing only his second season of college football.
Rosen passed for 351 yards and three touchdowns in his first game, against Virginia three years ago, and rode the hype wave until sacked by reality. His UCLA teams were ultimately not very good. His offensive lines were not fully protective. He struggled through injuries while dodging off-field controversies caused by his tweets — remember the hot tub in the dorm room? — and interviews that smacked of youthful arrogance. It didn't help when his former coach, Jim Mora, admitted he asked Rosen whether he wanted to be Tom Brady or Johnny Manziel.
Rosen is a good kid who just needed to grow up. Darnold is a good kid who just needed a little more football. They didn't finish the job here, but they are class acts who hopefully will finish it elsewhere.
Meanwhile, did you hear about the freshmen who could take their place? These kids are supposed to be amazing!
J.T. Daniels at USC! Dorian Thompson-Robinson at UCLA!
And so it begins again.
Get more of Bill Plaschke's work and follow him on Twitter @BillPlaschke
---
Get the latest on L.A.'s teams in the daily Sports Report newsletter.
You may occasionally receive promotional content from the Los Angeles Times.