Former Rams great Isiah 'Butch' Robertson dies in car crash near Dallas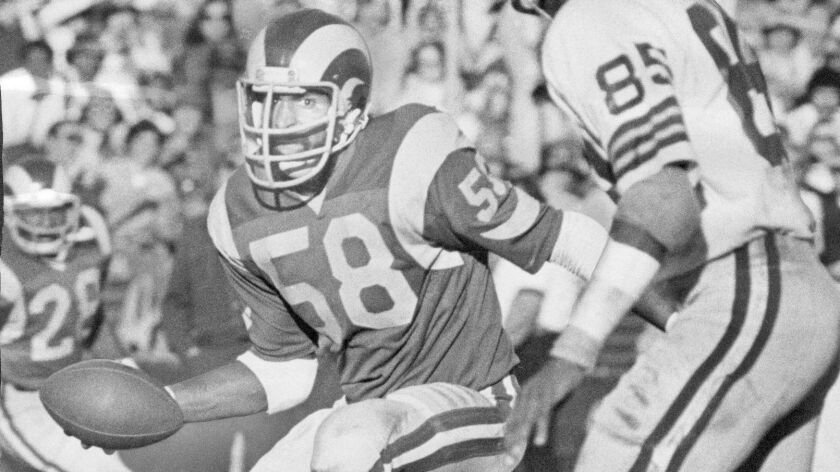 Isiah "Butch" Robertson, a free-spirited and hard-hitting All-Pro linebacker who helped the Rams win six straight NFC West titles from 1973 to 1978, died in a three-car crash southeast of Dallas on Thursday night, a Texas Department of Public Safety spokesman confirmed. He was 69.
According to a preliminary crash investigation, Robertson, of Garland, Texas, was driving a 2001 Lincoln limousine north on Texas Highway 198 in the rain at an unsafe speed around a curve. The vehicle went off the roadway and into a side skid, coming to rest partly on the roadway facing west.
At the same time, the driver of a 2003 Ford Ranger, Aron Keith Green, 37, of Ben Wheeler, Texas, was traveling north and struck the limousine, pushing it into the southbound lane of traffic, where it struck a 2018 Hyundai Sonata driven by Shauna Leann Marshall, 21, of Scurry, Texas.
Robertson, a guest speaker at the Grand Prairie High School football banquet earlier Thursday evening, was transported to UT Health-Athens, where he died. Green was treated and released from a hospital. Marshall was not injured.
The crash remains under investigation, said Lonny Haschel, staff lieutenant for the Texas Department of Public Safety.
"We are deeply saddened by the loss of one of our legends, Isiah Robertson," the Rams said in a statement. "He will be remembered not only for the great player he was helping our team achieve multiple division championships in the '70s, but also by the work he did helping others through the House of Isaiah he founded in Texas. Our thoughts are with his family, his friends and his teammates during this difficult time."
The 6-foot-3, 225-pound Robertson, who attended Southern University from 1967 to 1970 and was inducted into the Black College Football Hall of Fame in 2017, was selected 10th overall by the Rams in the 1971 draft. He had size, speed and athleticism and no shortage of confidence.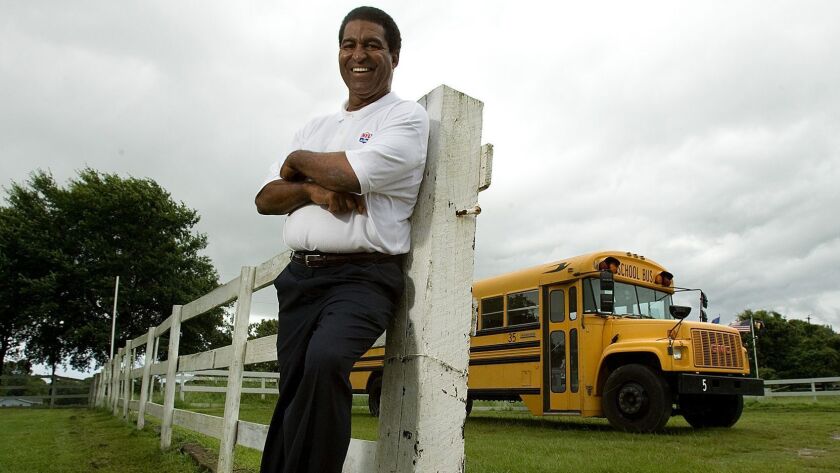 "He was little bit braggadocious," said Tom Mack, a Hall of Fame offensive lineman for the Rams from 1966 to 1978. "He showed up and announced that he was the black Dick Butkus and he was here to save us. That's the way Butch was. He was very much an outward, talkative guy. He was a wonderful guy. Because he was always very positive, always upbeat, you ended up liking him."
Robertson played in 111 games for the Rams, recording 25 interceptions and 15 fumble recoveries, and 57 games for the Buffalo Bills from 1979 to 1982. He was a six-time Pro-Bowl selection and a first-team All-Pro pick in 1973 and 1976.
"He was a tremendous player," former Rams safety Nolan Cromwell said. "He was as fast and as quick as a lot of defensive backs. He was that gifted of an athlete."
Robertson told The Times in 2007 that he dabbled in drugs during his final season with the Rams and developed an addiction to crack cocaine after his NFL career that cost him his family, his business, his cars and the 14 homes he owned.
A near-fatal beating at the hands of a drug dealer in Long Beach in the mid-1980s provided a "wake-up call." Robertson embarked on a three-year rehabilitation program and said he had been sober and drug-free since 1988.
In 1989, Robertson founded the House of Isaiah, a nonprofit, faith-based, long-term residential drug and alcohol recovery center for men, in Mabank, Texas, about an hour's drive east of Dallas.
"On a 10-point scale, I'm a 12 as far as happiness," Robertson told The Times in 2007. "I am doing God's will, I'm at peace, and I've been forgiven. I have a plan, and I'm helping people in my life every single day."
Times staff writer Gary Klein contributed to this report.
Follow Mike DiGiovanna on Twitter @MikeDiGiovanna
---
Get the latest on L.A.'s teams in the daily Sports Report newsletter.
You may occasionally receive promotional content from the Los Angeles Times.