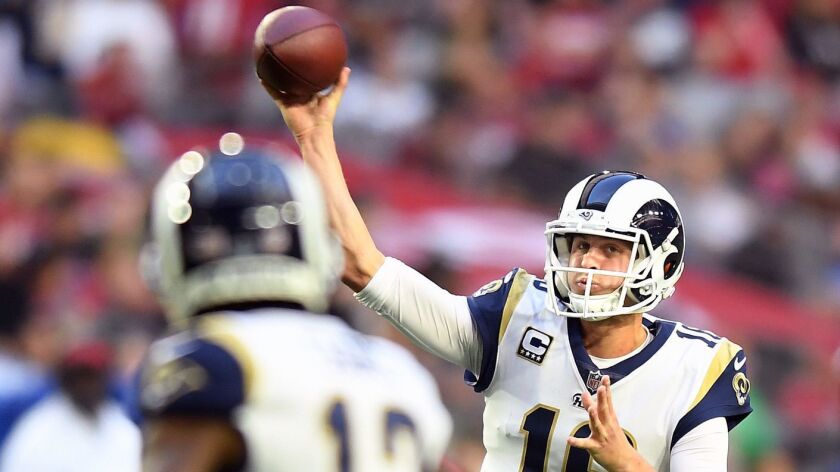 During the fourth quarter of Sunday's victory over the Arizona Cardinals, Rams quarterback Jared Goff faked a handoff, rolled to his right and then lofted a perfect pass to receiver Robert Woods for a touchdown.
Nothing stood out as particularly remarkable about the play. Goff executed dozens like it during the first 11 games of the season.
Not, however, in the previous three.
"It didn't feel different than 90% of the season," Goff said Wednesday as he reflected on his performance in the 31-9 victory. "It felt different maybe than the couple weeks prior.
"It felt like who we are, and it felt like what we normally do."
After a few days off for Christmas, a sense of normalcy returned to the Rams' training facility this week as the NFC West champions began preparing for Sunday's regular-season finale against the San Francisco 49ers.
If the Rams win at the Coliseum, they will clinch the No. 2 in the NFC and a bye through the wild-card round of the playoffs.
On Wednesday, the air of confidence that permeated the locker room throughout most of the season was in full effect after the Rams bounced back from losses to the Chicago Bears and Philadelphia Eagles.
Players are well aware of what's at stake.
"We're treating this week like a playoff game," Goff said.
Goff was voted to the Pro Bowl last week, but he spent much of it answering questions about his recent performance, which harkened to his rocky rookie season in 2016 rather than the resume he has built under second-year coach Sean McVay.
Goff then went out and completed 19 of 24 passes for 216 yards and a touchdown against the Cardinals. He also ran for a touchdown.
McVay is looking for more of the same from Goff as the Rams try to finish unbeaten in the division.
"You don't ever want a guy to be a robot, but I think be a great distributor of the football, command the run game and make some plays," McVay said. "That's exactly what he did [against the Cardinals], and we expect him to do the same," against the 49ers.
Goff has completed 65% of his passes for 4,489 yards and 28 touchdowns, with 12 interceptions. He needs 341 yards passing to tie the Rams' season record set in 2001 in St. Louis by Hall of Famer Kurt Warner.
"It'd be cool," Goff said of breaking the record. "More importantly, getting the win. I could throw for 600 [yards] and lose and I wouldn't be too happy about it."
Goff never publicly displayed frustration or anger during his three-game minislump, which included a division-clinching victory on the road against the Detroit Lions. His countenance did not change after a loss at Chicago, and another at the Coliseum against the Eagles.
Against the Bears, the league leaders in takeaways, Goff completed only 20 of 44 passes and had four intercepted in a 15-9 loss.
"He struggled versus Chicago — so has everyone on the planet this year," 49ers coach Kyle Shanahan said during a teleconference, adding, "When you play at a high level for a while like the Rams have, like Goff has for the last two years, it just shows they changed the standard.
"People expect to see that every week, and that doesn't always happen."
Goff continued to struggle against the Eagles, and he went into the Arizona game without running back Todd Gurley, who was held out for precautionary reasons because of a left knee issue. But Goff played with confidence and a "quieted mind," receiver Brandin Cooks said.
"I guess a sense a of urgency was there throughout practice," Cooks said, "but as far as going into that game, he was that same even-keeled Jared."
Running back C.J. Anderson stepped in for Gurley and rushed for 167 yards and a touchdown in 20 carries. His effort helped open the play-action passing scheme that Goff has thrived in under McVay.
"He's a Pro Bowl quarterback — that speaks for itself," center John Sullivan said. "Just as an offense, we got back into more of a rhythm. We got back on track."
That enabled Goff to make the plays he made early in the season.
The touchdown pass to Woods might have marked a turning point.
"Protection, rhythm, receivers getting open," Woods said. "The timing was perfect."
Etc.
Gurley (knee) did not participate in a walkthrough Wednesday, but McVay said a decision on his status for Sunday's game probably would not come down to a pregame workout in the "the last hour and a half" as it did last week at Arizona. "I would imagine that we'll know before Sunday," McVay said. "I think we'll have a better indicator on how he's feeling." Earlier Wednesday, Shanahan jokingly offered his opinion. "I think he should definitely rest up for the playoffs and wait till he gets there," the 49ers coach said, chuckling. … Safety Lamarcus Joyner (ankle) and linebacker Matt Longacre (illness) did not participate in the walkthroughs. Running back Justin Davis was limited.
Follow Gary Klein on Twitter @latimesklein
---