Rams prepare to face Dallas Cowboys as they open NFL playoffs at home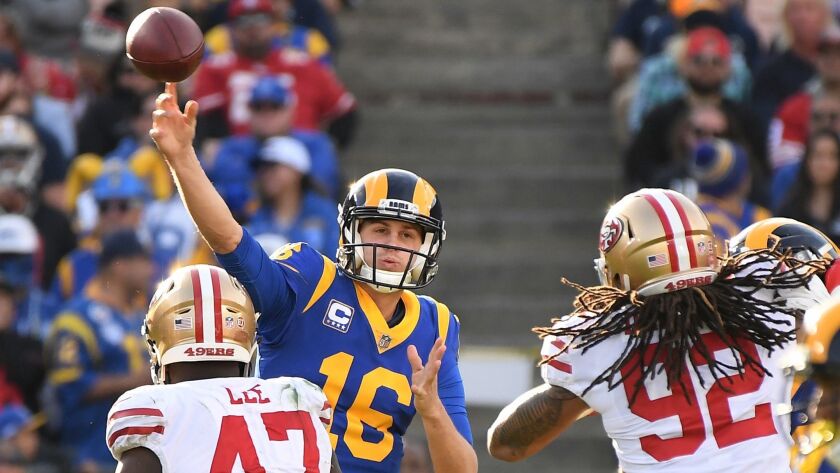 A text-message chain with players on Sean McVay's phone was active Sunday after the Rams learned their opening playoff opponent.
The fourth-seeded Dallas Cowboys are coming to the Coliseum on Saturday to play the second-seeded Rams, a scenario that was not decided until Sunday afternoon, when the sixth-seeded Philadelphia Eagles upset the third-seeded Chicago Bears in an NFC wild-card game.
"We were all excited to just figure out who were playing," McVay said during a teleconference, adding, "There was a bunch of guys that texted, 'Let's go. Let's get this rolling.'"
The NFC West-champion Rams finished 13-3 and earned a bye through the wild-card round. The NFC East-champion Cowboys (11-6) defeated the fifth-seeded Seattle Seahawks, 24-22, on Saturday. That victory, coupled with the Bears' loss, left the Cowboys as the highest-seeded remaining team.
McVay said he was in his office in Thousand Oaks studying film and watching the Bears-Eagles game while anxiously waiting to find out the Rams' opponent.
"I feel like I'm more nervous watching games as a fan than I am when we're involved in them," he said.
When a late Bears field-goal attempt bounced off an upright, the Bears lost, 16-15. And the Cowboys were making plans to head west.
McVay praised a Cowboys team that features quarterback Dak Prescott, NFL rushing leader Ezekiel Elliott and one of the league's best defenses.
"These guys have been playing really good football throughout the year," McVay said. "They're battle-tested and it's going to be a really tough challenge."
The Rams did not play the Cowboys this season but defeated them, 35-30, in Week 4 of 2017. Todd Gurley had 215 yards from scrimmage and Jared Goff passed for 255 yards and two touchdowns.
McVay said his staff had done preliminary preparation for the Cowboys.
"Our coaches have done a great job kind of getting some groundwork laid," he said.
Gurley, who sat out the final two regular-season games because of knee soreness, participated in a "walk-through/jog-through" Sunday and is expected to practice this week and play against the Cowboys, McVay said. Safety Lamarcus Joyner, sidelined for the season finale because of an ankle injury, also is expected to be ready.
Earlier Sunday, before they knew their opponent, Rams players pondered the possibilities. Defensive lineman Michael Brockers said the Cowboys were "a whole new team" that looked "awesome" against the Seahawks, a team the Rams beat twice this season.
The Rams are in the playoffs for the second year in a row, but are in search of their first postseason victory under McVay. Last season, in their first playoff appearance since 2004, the Rams lost to Atlanta, 26-13, in a wild-card game at the Coliseum.
"Last year can definitely serve us well, especially for some of our younger players," McVay said. "I know for me, kind of the same deal being in the first year in that role last year. Hopefully, that experience will be able to benefit us."
Etc.
McVay said quarterbacks coach Zac Taylor and passing-game coordinator Shane Waldron completed interviews for head coach positions. Taylor interviewed with Arizona, Cincinnati and Denver, Waldron with the Bengals. "They both felt good about the rapport and the dialogue that they were able to have in those interviews," McVay said. "I know it was a great experience for them and I would be shocked if they didn't come off really well. … Now they're ready to go and they're fully focused on getting us ready for the Cowboys." … Dallas will be without receiver Allen Hurns, who had surgery for a broken left ankle suffered Saturday.
Follow Gary Klein on Twitter @latimesklein
---
Get the latest on L.A.'s teams in the daily Sports Report newsletter.
You may occasionally receive promotional content from the Los Angeles Times.