C.J. Anderson steps in for Todd Gurley and helps Rams get back on track in win over Cardinals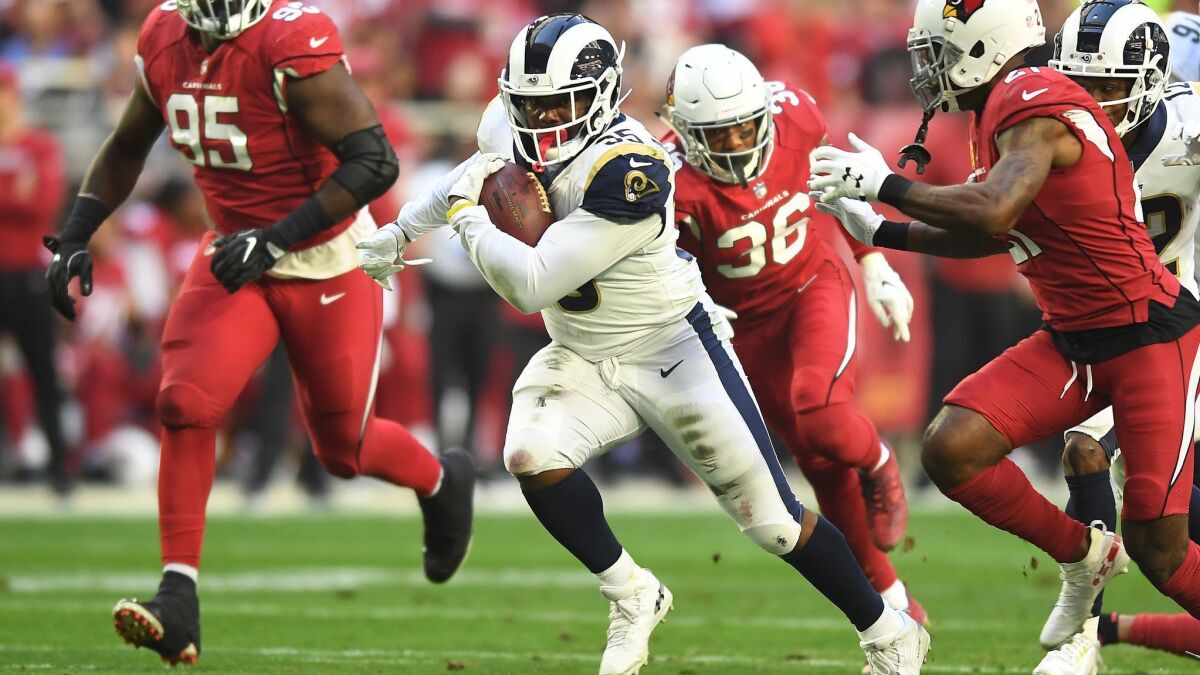 Reporting from glendale, ariz. —
No Todd Gurley? No problem.
At least not this week. With their star running back sidelined, veteran C.J. Anderson stepped in Sunday and helped carry the Rams to a 31-9 victory over the Arizona Cardinals at State Farm Stadium.
Anderson, signed last week, rushed for 167 yards and a touchdown as the Rams bounced back from consecutive defeats and improved to 12-3.
No big deal, according to Anderson, a 1,000-yard rusher last season for Denver.
"If you watch the tape," Anderson said, "that was nothing different than my game. From what I've done plenty of times."
Anderson's 20-carry effort enabled the Rams to rebound from losses at Chicago and to Philadelphia, and helped keep alive their push for the No. 2 seed in the NFC playoffs.
New Orleans earned the No. 1 seed with a victory Sunday over Pittsburgh, but the Rams can clinch and a bye through the wild-card round with a victory in next week's regular-season finale against San Francisco or a Chicago loss at Minnesota.
Sunday, after two weeks of questions about their playoff readiness, the Rams were just happy to get back to their winning ways, even if the victory came against a 3-12 opponent.
"It's just great to see our team handle a little bit of a rough patch like we expected to," coach Sean McVay said.
Or, as cornerback Aqib Talib described it, "Everybody kind of got a little bit of that momentum back."
No one more than quarterback Jared Goff. The third-year pro last week was voted to the Pro Bowl, but he had been in a three-game slump since accounting for five touchdowns in a victory over Kansas City.
On Sunday he completed 19 of 24 passes for 216 yards and a touchdown. He also rushed for a touchdown as the Rams amassed 461 yards.
Goff lost a fumble that led to Arizona's opening score, but that came on a play in which Anderson accidentally ran into right tackle Rob Havenstein, giving the Cardinals a clear shot at Goff.
Otherwise, Goff looked more like the player who generated early MVP buzz.
"Felt like we got back in rhythm," Goff said. "I got back in a rhythm."
Said receiver Robert Woods, who ran for a touchdown and caught a touchdown pass: "Just getting that confidence and playing like ourselves again."
The Rams' rebound was not completely unexpected against the struggling Cardinals, but there were still questions going into the game because of Gurley's uncertain status.
The NFL touchdowns leader did not practice after he played through a left knee injury last weekend. McVay said Gurley's availability would not be determined until he went through a pregame workout.
Sunday, after Gurley performed drills under the supervision of the team's trainer and strength coach, he huddled with medical personnel and coaches and then was ruled out for precautionary reasons.
Because he did not play, Gurley was not made available to the media. McVay said Gurley wanted to play, but the Rams were not going to risk his availability for the playoffs.
"It was all based on the original plan, and he wasn't doing quite as good as thought based on" how Gurley felt Saturday, McVay said. "And then, coming in [Sunday], it was a little different than we anticipated."
Anderson, a sixth-year pro, said last week he would be ready if called upon to start, even though he had not carried the ball since November, when he played for Carolina.
He delivered with his first 100-yard game since Dec. 14, 2017. He finished one yard shy of tying his career best of 168 yards, set in 2014.
"We love Todd and everything he can do," Goff said, "but C.J. will be a good complement."
Rams tackle Aaron Donald sacked Cardinals quarterback Josh Rosen three times, giving him a league-leading 19.5, to lead a defense that had little problem handling the NFL's worst offense.
"It was a game we needed — a bounce-back game," Donald said. "We're back on track, and hopefully we keep it up."
The Rams led 21-9 on touchdown runs by Woods, Goff and Anderson. They increased the lead with a third-quarter field goal and put the score out of reach when Goff connected with Woods for a 39-yard touchdown about midway through the fourth quarter.
Now it's on to the season finale … with a solid performance to build on.
"Our biggest thing was just not proving to the world that we can win games," defensive lineman Michael Brockers said, "but really proving to ourselves that we can get back to what we do and what we do well."
Follow Gary Klein on Twitter @latimesklein
Get the latest on L.A.'s teams in the daily Sports Report newsletter.
You may occasionally receive promotional content from the Los Angeles Times.