Rams face challenge in Dallas Cowboys' 1-2 punch of Dak Prescott and Ezekiel Elliott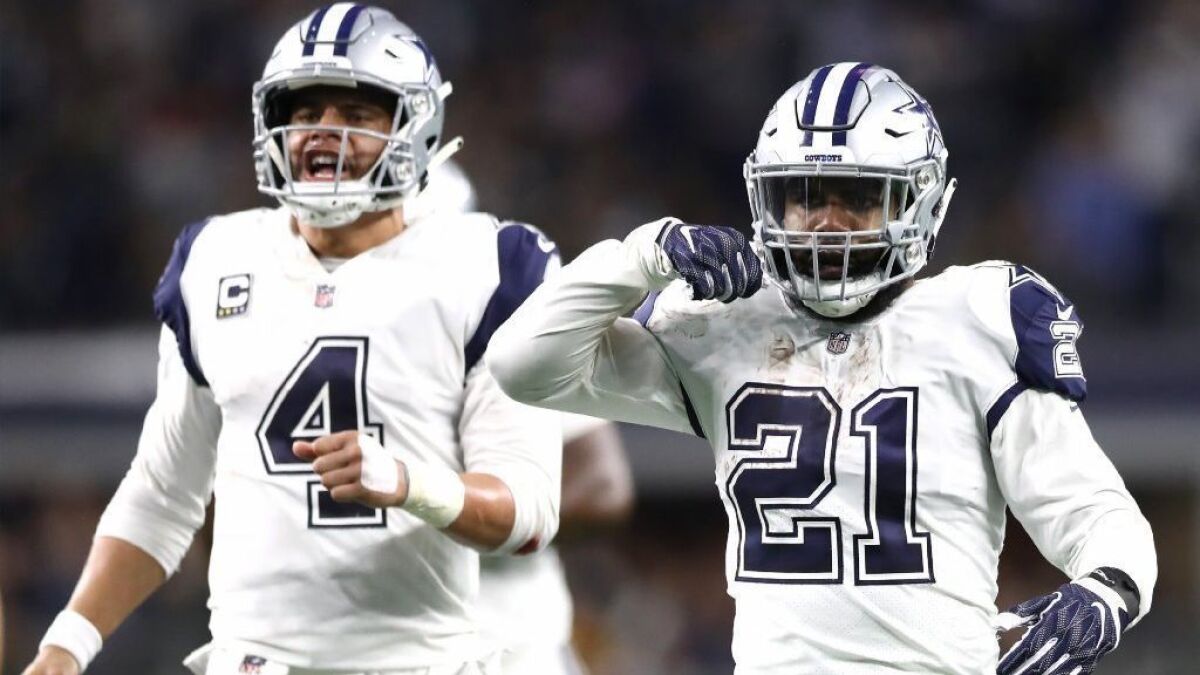 Before the Rams acquired them during the second half of the season, running back C.J. Anderson and edge rusher Dante Fowler played against the Dallas Cowboys.
Anderson rushed for 35 yards for the Carolina Panthers in a 16-8 season-opening victory.
"They're fast," Anderson said of the Cowboys defense, which finished the regular season ranked seventh in the NFL. "And they're a lot better now."
Fowler made one tackle in the Jacksonville Jaguars' 40-7 loss at Dallas in Week 6. It was the Cowboys' highest-scoring game of the season.
"They have a pretty good offense," Fowler said, noting the duo of quarterback Dak Prescott and running back Ezekiel Elliott. "You can't sleep on them."
Rams coach Sean McVay and his staff might query Anderson and Fowler as part of the preparation for Saturday's divisional-round playoff game against the Cowboys at the Coliseum.
The game marks the revival of what was one of the NFL's best postseason rivalries of the 1970s and '80s. The Rams and Cowboys played eight times in the playoffs, splitting the wins and losses evenly.
The last time they played in the postseason, on Jan. 4, 1986, Hall of Fame running back Eric Dickerson rushed for 248 yards and two long touchdowns in the Rams' 20-0 divisional-round victory at Anaheim Stadium.
Saturday's winner advances to the NFC championship game to face either the New Orleans Saints or the defending Super Bowl champion Philadelphia Eagles, who play Sunday at New Orleans.
The Rams last played the Cowboys in Week 4 of the 2017 season. Quarterback Jared Goff passed for 255 yards and two touchdowns, Todd Gurley rushed for 121 yards and scored on a 53-yard pass play, and Greg Zuerlein kicked a team-record seven field goals in a 35-30 victory at AT&T Stadium at Arlington, Texas.
"They've obviously got a lot of things that they've done differently," McVay said of the Cowboys.
However, Cowboys coach Jason Garrett still has the same 1-2 punch on offense. Prescott and Elliott helped lead their team to a 24-22 victory over the Seattle Seahawks in a wild-card game last Saturday.
"You're talking about two elite competitors that are at their best in those crunch-time moments," McVay said. "Their production speaks for itself and you could see their teammates believe in them."
Prescott made his pro debut against the Rams in 2016, when he starred in place of injured Tony Romo in a preseason opener at the Coliseum. The Rams' first game in Southern California in more than two decades was played before a crowd of nearly 90,000.
This season, Prescott passed for 22 touchdowns, with eight interceptions, and also rushed for six touchdowns as the Cowboys finished 10-6 and won the NFC East.
Against the Seahawks, Prescott completed 22 of 33 passes for 226 yards and a touchdown. He also rushed for the game-winning touchdown after making the key play of the game, a 16-yard run on third and 14 from the Seahawks' 17-yard line.
"An incredible competitor," McVay said, adding, "What a gutsy effort."
Elliott rushed for a league-best 1,434 yards and also led the Cowboys with 77 receptions. He ran for 137 yards in 26 carries against the Seahawks.
Gurley, who scored a league-best 21 touchdowns, sat out the last two regular-season games because of a knee injury and finished third behind Elliott and New York Giants rookie Saquon Barkley in yards rushing.
"He's similar to Todd — one of the most complete backs in the league," McVay said of Elliott, adding, "He's got the ability to go through you or go around you with speed."
The Cowboys' late-October trade for receiver Amari Cooper improved the passing attack, which also includes Michael Gallup and Cole Beasley. Cooper had 53 catches, six for touchdowns, in nine games and added seven for 106 yards against Seattle.
"Amari Cooper has definitely given them a spark," McVay said. "He's wired to separate."
Tavon Austin, in his first season with Dallas after being traded by the Rams, has been used as a receiver, rusher and punt returner.
"Tavon has definitely got the ability to beat you in a variety of ways," McVay said.
The Cowboys defense, under coordinator Rod Marinelli, gave up only 329 yards a game — 94.6 yards rushing — and 20.6 points a game, sixth fewest in the league.
The Cowboys parted with players and added others since last season, but "there's some carryover," Rams offensive tackle Rob Havenstein said.
Demarcus Lawrence, a Pro Bowl end for the second consecutive season, has 10½ sacks. The line also includes Tyrone Crawford, Maliek Collins and former USC player Antwaun Woods. Rookie linebacker Leighton Vander Esch is the top tackler and has two interceptions. Linebacker Jaylon Smith and cornerback Byron Jones also are standouts.
"You earn every single yard against great defenses like this," McVay said.
Follow Gary Klein on Twitter @latimesklein
Get the latest on L.A.'s teams in the daily Sports Report newsletter.
You may occasionally receive promotional content from the Los Angeles Times.