Defensive lineman Quinton Coples is among 14 players cut by the Rams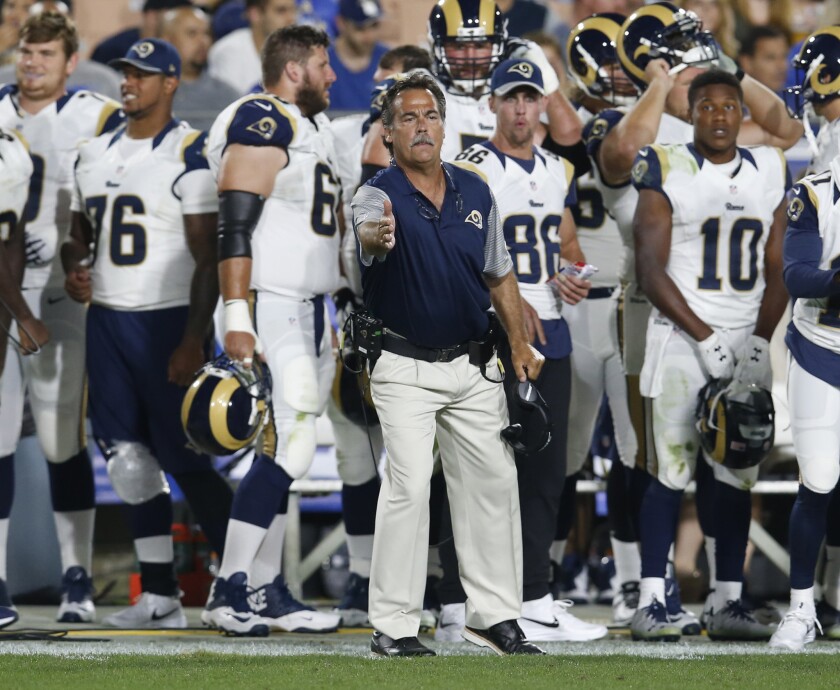 Tuesday afternoon is the deadline to trim NFL rosters from 90 to 75 players.
Rams Coach Jeff Fisher and his staff got most of their work done Monday, waiving 13 players and terminating the contract of defensive lineman Quinton Coples.
"We're about 90% there," Fisher said after Monday's workout at UC Irvine.
The Rams released quarterback Dylan Thompson, receivers Marquez North and David Richards, tight ends Benson Browne and Jake Stoneburner, running back Zach Laskey, center Brian Folkerts, offensive lineman Jordan Swindle, defensive lineman Zach Colvin, linebacker Darreon Herring, safety Michael Caputo, kicker Taylor Bertolet and long snapper Jeff Overbaugh.
The Rams will make another cut to 53 players after Thursday night's final exhibition against the Minnesota Vikings at Minneapolis. Few, if any, starters are expected to play, but the game will serve as the final proving ground for players on the bubble.
Coples was the most high-profile player among Monday's cuts.
A first-round draft pick by the New York Jets in 2012, he has 16½ career sacks and was signed as a free agent during the off-season to provide depth.
Coples, 26, was initially brought in to play defensive end. He was moved to tackle a few weeks ago and forced two fumbles and had a sack in an exhibition against the Kansas City Chiefs.
Coples played against the Denver Broncos on Saturday but did not have a tackle.
Fisher said the 6-foot-6, 290-pound Coples did a "good job" and that he appreciated his attitude and willingness to change positions.
"Out of fairness to a player like 'Q,' I didn't see him making the team and that's exactly what I told him,'' Fisher said. "I wanted to give him a chance and give him an opportunity to get out there early to see if he could find work. If not, we're going to keep the door open for him."
The defensive line includes starting ends Robert Quinn and William Hayes, tackles Aaron Donald and Michael Brockers, ends Eugene Sims and Matt Longacre, tackles Cam Smith and Dominique Easley, end/tackle Ethan Westbrooks and undrafted free-agent end Ian Seau.
"We still have some tough decisions to make up on the defensive line," Fisher said, adding, "the final roster comes down to . . . what's going on, sometimes, at other positions, as well.
"Do you have the luxury to carry 10 or nine defensive linemen and then fewer at another position? Those are things that we're kind of massaging right now."
Havenstein returns
Rob Havenstein, who started 13 games at right tackle as a rookie last season, practiced for the first time during training camp.
Havenstein has been rehabilitating a foot injury.
"It gets pretty lonely over there watching," Havenstein said, nodding toward the sideline.
Havenstein said he remained active in meetings and worked diligently in the weight room.
Fisher said he had not ruled out Havenstein playing on Thursday, but that seems unlikely with the Sept. 12 season opener looming.
Havenstein said he felt rusty Monday.
"There are some technique things I need to clean up, having not played since a long time ago," Havenstein said. "Especially taking pass sets, I was thinking to myself, 'This is a bad position to be in.' But it just kind of comes with shaking off the rust."
Kaepernick reaction
Receiver Tavon Austin declined to comment about San Francisco 49ers quarterback Colin Kaepernick's decision not to stand for the national anthem.
In 2014, before a game against the Oakland Raiders, Austin was among five Rams players who did a "hands up, don't shoot" pose in support of demonstrators in Ferguson, Mo.
Asked if that type of action was something he would do again, Austin said there was "a time and place for everything."
"At the time I wasn't looking at it as a negative thing — just trying to be a positive," he said. "Just trying to bring everybody up.
"But that was in the past. . . . I definitely won't do it again, just because [of] time and place."
Quick hits
Receiver Bradley Marquez, who suffered an ankle injury in the first exhibition against the Dallas Cowboys, returned to practice. Receiver Nelson Spruce (knee) remains sidelined. . . . The Rams practice Tuesday and will have a walk-through Wednesday before departing for Minneapolis.
gary.klein@latimes.com
---
Get the latest on L.A.'s teams in the daily Sports Report newsletter.
You may occasionally receive promotional content from the Los Angeles Times.