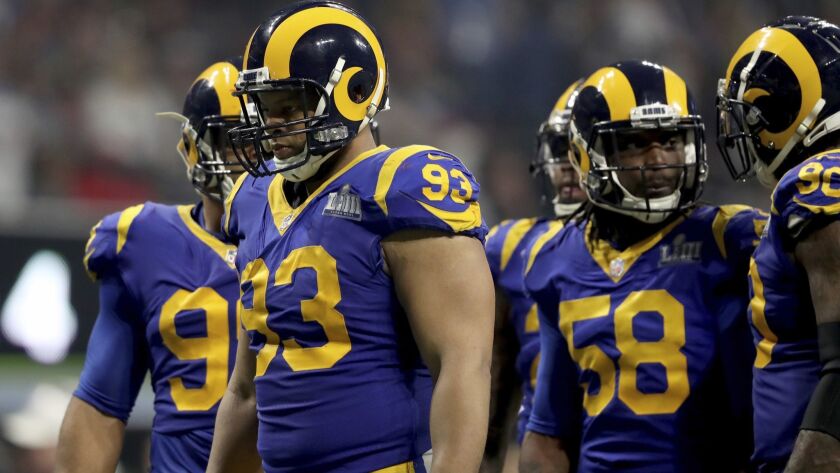 At this time last year, the Rams were in the quiet before the storm.
A few days before the start of the NFL scouting combine, the Rams traded for cornerback Marcus Peters, starting a flurry of deals and signings that helped build a team that advanced to the Super Bowl.
After losing to the New England Patriots, 13-3, in Super Bowl LIII — and with the combine approaching in a few weeks — the Rams do not figure to stand pat.
Quarterback Jared Goff, running back Todd Gurley and defensive tackle Aaron Donald are young core pieces that general manager Les Snead and coach Sean McVay will continue to build around. But the franchise is making internal decisions about their pending free agents and others.
The NFL salary cap is reportedly projected to be $187 million to $191.1 million. The Rams have about $30 million in cap space, according to overthecap.com.
Here is a look at the Rams' key situations:
Ndamukong Suh, defensive lineman
Suh played last season on a one-year, $14-million contract that included $1 million in incentives tied to postseason team performance. Not coincidentally, Suh played his two best games of the season in the playoffs.
Immediately after the Super Bowl defeat, Suh was noncommittal about the future.
Sign up for our daily sports newsletter »
"Haven't even thought about that, so it's not even my decision," he said. "I had a great experience here. Obviously, got to play in a Super Bowl, which was one of my goals, playing at a high level and playing with great teammates."
The Rams are not expected to consider using the franchise tag on Suh. In 2018, the franchise tag for a defensive tackle was about $14 million and about $17 million for defensive ends.
So Suh, 32, will test the market before possible discussions with the Rams.
"It's a business, and he's going to handle his business," Donald said. "We'll see what happens."
Dante Fowler, linebacker
Fowler, acquired at the trade deadline, made several big plays during the season and the playoffs, and he stayed clear of incidents that characterized his time with the Jacksonville Jaguars.
The Rams would probably like to evaluate the 24-year-old Fowler over the course of a full year before making a long-term commitment. But in 2018 the franchise tag for a linebacker was nearly $15 million, which might be too steep for an extended test drive.
"I love the coaching staff," Fowler said after the Super Bowl. "Coach Sean McVay, everything that he is as a coach. It was very special that he gave me this opportunity."
Lamarcus Joyner, safety
Joyner, who earned nearly $11.3 million last season, is set to hit a free-agent market that was depressed for safeties in 2018.
Joyner was the team's third-leading tackler and intercepted one pass in 2018.
Earl Thomas, who suffered a season-ending knee injury in the final year of his contract with the Seattle Seahawks, is among other free-agent safeties that will be available.
C.J. Anderson, running back
Anderson showed NFL teams that he remains a productive asset with his performance for the Rams in the final two regular-season games and the playoffs. He rushed for 811 yards and six touchdowns in five games.
Anderson said he would like to return.
"Of course," he said. "I mean it's a business though."
Anderson — and the Rams — will make decisions after he tests the market.
Running back Malcolm Brown, who is coming off a season-ending clavicle injury, will be a restricted free agent. Justin Davis and John Kelly are other Rams running backs.
Rodger Saffold, offensive lineman
The market for top free-agent guards last year was rich, so Saffold could draw enough interest and money to make him put off taking a home-team discount from the only NFL franchise for which he has played.
Saffold, 30, carried a salary-camp number of nearly $8 million last season.
"I don't think it's any surprise that people know I want to be back," Saffold said, adding, "I need to make sure that it's something fair for me."
John Sullivan, center
While left tackle Andrew Whitworth, 37, mulls whether to return — with a salary-cap number of about $16.5 million — the Rams have an option on the 33-year-old Sullivan.
If the Rams exercise the option, Sullivan would have a cap number of $6.25 million, according to overthecap.com. The Rams could let Sullivan test the market and then negotiate a new deal at a lower price.
Rookie tackle Joseph Noteboom and rookie center Brian Allen took numerous practice reps and played briefly in place of Whitworth and Sullivan last season.
Sean Mannion, quarterback
Mannion, a third-round draft pick in 2015, had a salary-cap number of slightly more than $1 million last season in the final year of his rookie contract.
Mannion knows McVay's system and gets along well with Goff, but he has not played significant regular-season snaps with starters under McVay.
A return is not out of the question, but Mannion will test the market while the Rams consider drafting or signing a developmental quarterback.
Mark Barron, linebacker
Defensive lineman Michael Brockers has a larger salary-cap number at $11 million, but it is Barron at about $9.7 million who could be on the fringe because of his physical condition.
Barron sat out offseason workouts, training camp and the first four games because of an Achilles issues.
Barron agreed to restructure his contract before last season. He might be called upon to do the same in 2019 to remain with the team.
Marcus Peters, cornerback
Fellow cornerback Aqib Talib's salary drops from $11 million to $8 million in 2019, and Peters is due to earn about $9.1 million on his fifth-year option.
Peters struggled during parts of the season but performed better in the playoffs and the Super Bowl.
The Rams gave receiver Brandin Cooks a massive extension before he played a down for them on his fifth-year option.
The Rams could extend Peters at some point, or they could let him play out the 2019 season and either put the franchise tag on him in 2020 or let him leave as a free agent — getting a probable third-round compensation pick in return.
Follow Gary Klein on Twitter @latimesklein
---