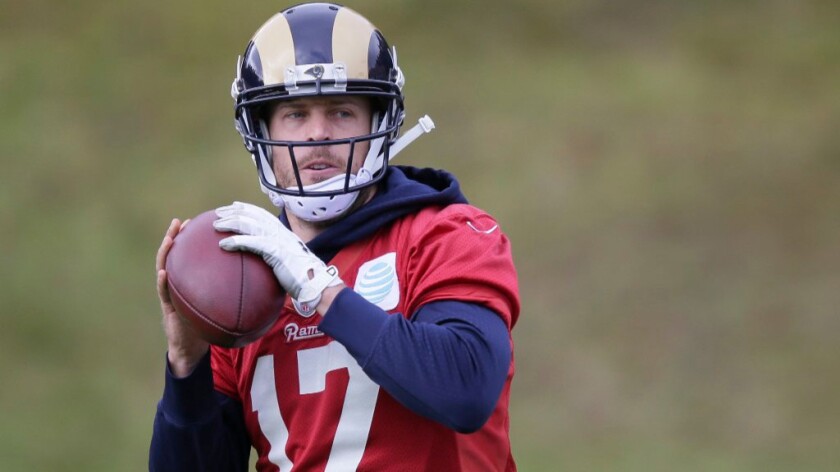 Reporting from LONDON —
The sightseeing, resort stay and preparation are over. After 10 days on the road, the Rams on Sunday finally will do what they traveled all this way for:
Try and beat the New York Giants.
The Rams' first appearance here since 2012 carries more weight than a typical NFL International Series game.
It's not just that it will be first non-rugby sports event at 107-year-old Twickenham Stadium.
A Rams victory ends a two-game losing streak and almost certainly keeps quarterback Case Keenum as the starter.
A loss …
The Rams would be returning to Southern California with a 3-4 record going into a bye week. That offers a natural demarcation point to reassess, reboot and perhaps prepare No. 1 draft pick Jared Goff to play.
But the Rams' immediate attention is not so much on a person throwing passes. It's on the people catching them for the Giants.
Specifically, receiver Odell Beckham Jr.
The emotional third-year pro from Louisiana State broke out last week in a victory over the Baltimore Ravens, catching eight passes for 222 yards and two touchdowns, including one that covered 75 yards.
"He's got a chance to go down as one of the all-time best," Rams Coach Jeff Fisher said, adding: "He takes a slant and goes 70 yards. ...There's not a whole lot of guys right now playing the game that can do that."
Said cornerback E.J. Gaines: "He can take it deep and take the screen to the house, you know, pretty much do it all."
Veteran quarterback Eli Manning, a two-time Super Bowl winner, also has other talented targets.
Victor Cruz is an experienced sixth-year pro with 285 career catches, 25 for touchdowns.
Rookie Sterling Shepard makes it a formidable trio that will be working against a Rams secondary playing without injured cornerback Trumaine Johnson.
"He's a rookie but he plays like a vet out there," Gaines said of Shepard, "and Eli Manning definitely likes to find him."
The Rams failed to get much of a pass rush in losses against Buffalo and Detroit.
The return of end Robert Quinn from a shoulder injury should help alleviate some of the double teams tackle Aaron Donald was forced to absorb in his absence.
The Rams offense, stagnant and mired at the bottom of the NFL rankings for the first five weeks, showed signs of life last week in a loss at Detroit.
Keenum had a record-setting day, completing 19 consecutive passes at one point, and accounting for four touchdowns. However, he once again fell short of delivering a game-tying or game-winning fourth-quarter drive.
Running back Todd Gurley also remains in search of a defining performance.
Gurley, with no run longer than 16 yards, has been noticeably frustrated after games. But perhaps the English respite soothed him some.
This week, a British reporter prefaced a question by noting that Gurley did not have any long runs this season. Then he asked Gurley what's been missing from his game.
"You just said it: Long runs," Gurley said, laughing. "But whatever, man. We're 3-3."
Fisher and offensive coordinator Rob Boras have been saying for weeks that they were working to find ways to spring Gurley, who is averaging only 2.9 yards per carry.
"It's coming," Fisher said. "There's going to be that busted-open run. "
Sunday would be a good time.
The Rams began this trip Oct. 14 when they departed Southern California for Detroit. They left immediately after their 31-28 defeat by the Lions and set up a temporary home at a sprawling and leafy high-end resort and spa about an hour outside London.
That is a similar plan the Rams employed four years ago when they arrived the Monday before the game to acclimate to the time change.
It seemed to pay off when they jumped to a quick lead against the New England Patriots at Wembley Stadium.
"We thought we were doing the right things," Fisher said.
The Rams wound up losing, 45-7.
This trip has already been longer for the Rams.
Flying home with a third consecutive loss would make it interminable.
Follow Gary Klein on Twitter @LATimesklein
---