Success at arms length for Rams' Jared Goff, Cowboys' Dak Prescott in their NFC playoff game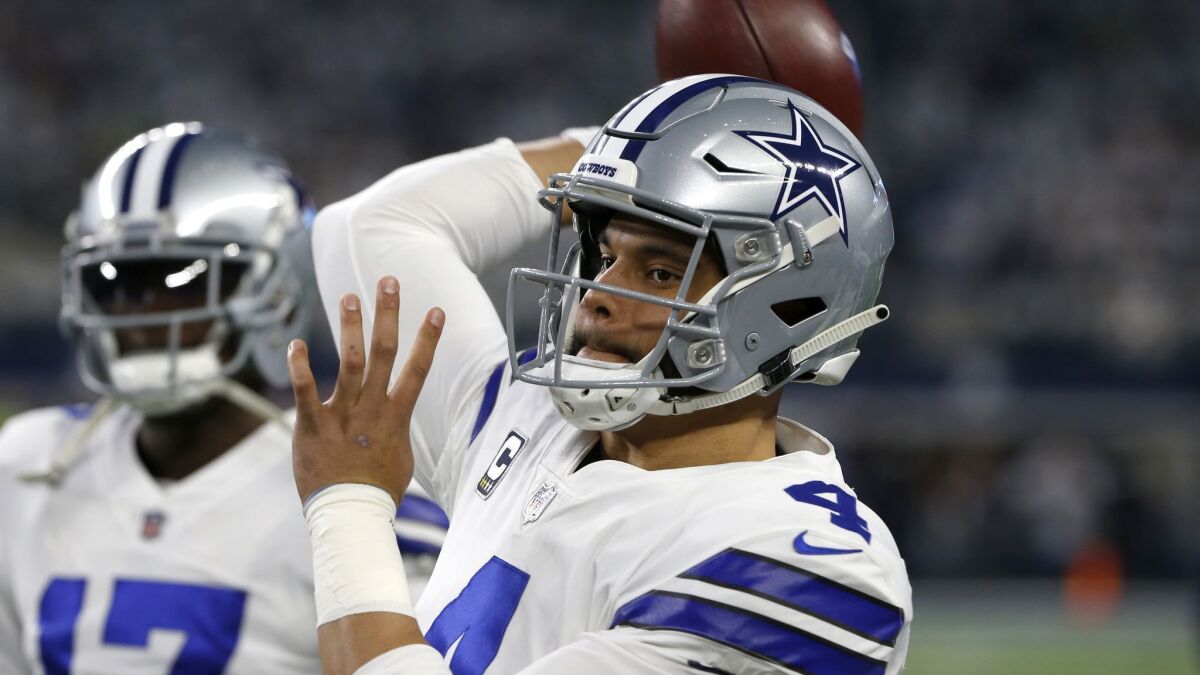 During a Hall of Fame career that spanned 12 NFL seasons, Troy Aikman won three Super Bowls as the quarterback for the Dallas Cowboys. He amassed an 11-5 record in the playoffs.
So Aikman is eager to see how Rams quarterback Jared Goff and Cowboys quarterback Dak Prescott perform Saturday when they square off in an NFC divisional playoff game at the Coliseum.
Prescott, a fourth-round pick in the 2016 draft, won his first playoff game last week, when he led the Cowboys to a wild-card victory over the Seattle Seahawks.
Goff, the No. 1 pick in 2016, struggled in last season's wild-card defeat to the Atlanta Falcons, his only postseason game.
"He's certainly got great ability," Aikman, a Fox sports analyst for Saturday's game, said of Goff in a telephone interview, "and now this is where he makes his mark.
"This is how you become a household name or leave a legacy, is what happens in January."
Goff knows how quarterbacks are measured. Winning is important. Winning postseason games more so.
"Guys that win in the playoffs, and win late in the playoffs and do good things in December and January, are usually the ones that are remembered," he said.
The start of Aikman's career was memorable for entirely different reasons: The No. 1 pick in the 1989 draft went 0-11 as a rookie for team that finished 1-15 under first-year coach Jimmy Johnson.
With future Hall of Fame receiver Michael Irvin in the fold, the Cowboys then drafted future Hall of Fame running back Emmitt Smith and added other weapons, such as free agent tight end Jay Novacek. Johnson hired Norv Turner as offensive coordinator, and the Cowboys built up the defense en route to Super Bowl wins under Johnson in 1992 and 1993, and another under Barry Switzer in 1995.
Goff also struggled as a rookie, going 0-7 as a starter under former coach Jeff Fisher's staff.
The Rams then hired offense-minded coach Sean McVay in 2017, and with star running back Todd Gurley in the fold, they signed receiver Robert Woods and tackle Andrew Whitworth, drafted tight end Gerald Everett and receivers Cooper Kupp and Josh Reynolds and traded for receiver Sammy Watkins. When Watkins left as a free agent after last season, they traded for receiver Brandin Cooks, who was more productive during the Rams' 13-3 season.
Prescott enjoyed immediate success as a rookie in 2016, supplanting injured Tony Romo as the starter. The Cowboys lost a divisional-round playoff game against the Green Bay Packers, and then missed the playoffs last season.
As the Rams have done for Goff, the Cowboys have surrounded Prescott with talent. In October, they added star receiver Amari Cooper to an offense that already included star running back Ezekiel Elliott, demonstrating a similar organizational commitment to helping a young quarterback succeed, Aikman said.
"You can look at Joe Montana or anyone else," Aikman said, referencing another Hall of Fame quarterback known for postseason success, "and say these guys were fortunate to work with some really great offensive minds, and had some really great players around him."
Goff started fast this season, with performances that put him in the early conversation for league MVP. In a 38-31 victory over the Minnesota Vikings in Week 4 he passed for 465 yards and five touchdowns, finishing with a perfect passer rating.
"I've seen him make throws this year that I would put up against any throws in the history of this game," Aikman said. "Against the Vikings, he had about four in that game alone."
Goff struggled late in the season during a three-game stretch against the Detroit Lions, Chicago Bears and the Philadelphia Eagles. But he appeared to have recaptured his rhythm in victories over the Arizona Cardinals and the San Francisco 49ers.
Now, here come the Cowboys.
"This is going to be a little better test than what he had those last two weeks of the season," Aikman said.
Prescott passed for 22 touchdowns with eight interceptions while leading the Cowboys to a 10-6 record and their second NFC East title in three years.
In the 24-22 wild-card victory over the Seahawks, he passed for 226 yards and a touchdown. His spectacular 16-yard run on a third-and-14 play in the final minutes set up his sneak for what turned into the game-winning touchdown.
"He kind of just wills his way to making plays," McVay said. "You can't say anything but, 'Man, he's a tough competitor.' "
Aikman has watched Prescott develop as a player and leader.
"He's shown the ability, late in games, to be able to make plays to win, whether that's bringing the team from behind or making the play to seal a win," Aikman said. "There's a real confidence with this group that if they're in it late, that he's going to find a way to pull it off.
As the Rams prepare to face the Dallas Cowboys in an NFL divisional playoff game, running back Todd Gurley says he's ready to rumble.
"And that's probably the best quality you can have as a quarterback, is to have a team that really believes that, no matter what, you can find a way to win."
In last season's 26-13 loss to the Falcons, Goff completed 24 of 45 passes for 259 yards and a touchdown. But the Rams did not perform like a team that led the NFL in scoring. Goff said this week that he was "more confident, more comfortable," than he was at the same time a year ago.
"Just continuing to grow, mature," he said.
He faces his biggest test to date Saturday. The winner advances to play the New Orleans Saints or the Eagles in the NFC championship game for a chance to advance to the Super Bowl.
"You're drafted in the first round to go win a world championship," Aikman said. "It's not win passing titles. It's not to make Pro Bowls.
"It's go win a world championship."
Follow Gary Klein on Twitter @latimesklein
Get the latest on L.A.'s teams in the daily Sports Report newsletter.
You may occasionally receive promotional content from the Los Angeles Times.