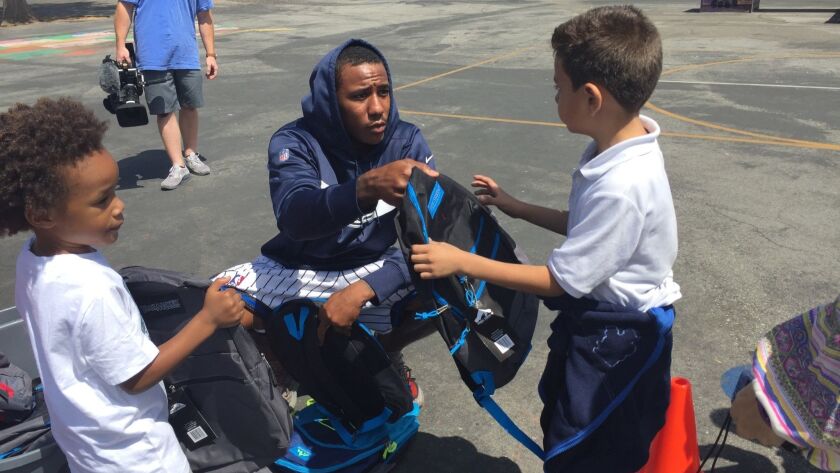 Wednesday was a day off for the Rams, so Marcus Peters took a break from studying the Oakland Raiders in preparation for Monday's season opener.
But the new cornerback, acquired from the Kansas City Chiefs in an offseason trade, remained focused on the importance of preparation and learning.
Peters donated and distributed more than 300 backpacks full of school supplies to students at Century Park Elementary School in Inglewood.
"It's something that's necessary," Peters said after handing out the backpacks, interacting with students and faculty, and posing for photos. "Just doing my part."
Pat Dawkins, the school's interim principal, watched as Peters encouraged and joked with students.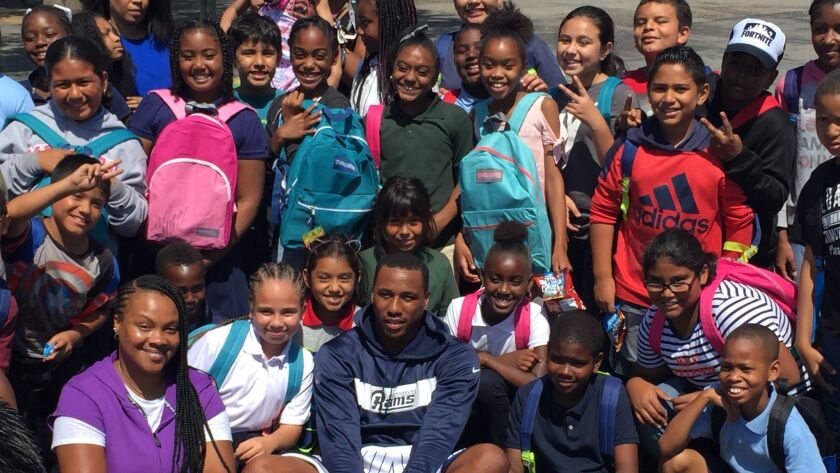 "This is such a good learning experience," she said. "They will remember this, and give back to someone else when they're in position to do so."
As the students returned to class, Peters helped break down and store tables, gathered extra backpacks into plastic tubs, carried them to the parking lot and loaded them into an SUV.
"We call it putting your feet into the street," Peters said. "So actually, just touching the pavement and feeling exactly what's needed. I don't need nobody to come out here and do a job that I can come get done myself.
"It's a family atmosphere, and I get support from the Rams and we do exactly what we need to be doing. It takes a village to raise a child and it takes a village to make strides to where we all want to go in the world…. Everybody needs education, so you take care of basic needs."
Rams cornerback Nickell Robey-Coleman also spent the day off helping others, distributing backpacks and school supplies through the nonprofit "A Place Called Home."
---