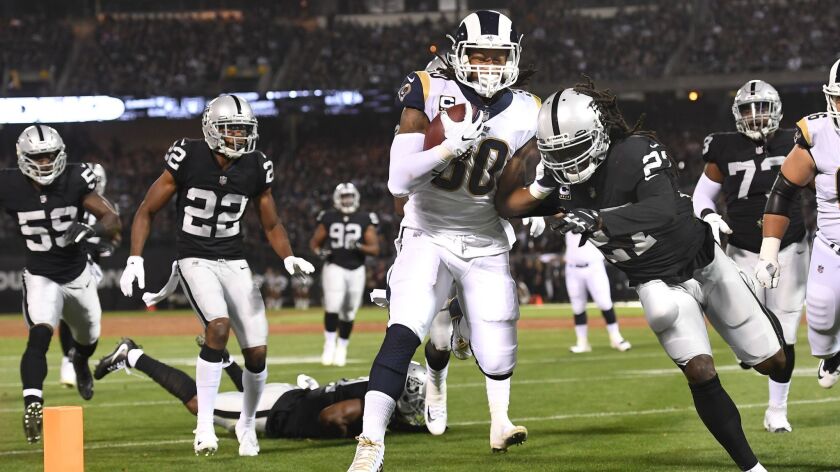 Brandin Cooks took a handoff and dashed off the left side for six yards.
Cooper Kupp took a handoff and ran right for 12 yards. Robert Woods ran left for six.
Across the NFL, defensive coordinators casually watching "Monday Night Football" had to be scratching their heads.
During a season-opening victory over the Oakland Raiders, Rams coach Sean McVay showed he was not going to stand pat with what had been one of the NFL's most productive offenses in 2017.
McVay deployed receivers Cooks, Woods and Kupp not as decoys but as ballcarriers on fly sweeps. He also put running back Todd Gurley in motion, and instructed quarterback Jared Goff to deliver a shovel pass that the reigning NFL offensive player of the year turned into a touchdown.
Those were only a few of the new wrinkles that McVay, the reigning NFL coach of the year, has added for a team that averaged a league-best 29.9 points a game last season.
"It's nothing that's predictable," Gurley said. "You might think you know the play, but one week it can be this, the next week it can be something else.
"It doesn't matter if you know it or not."
McVay might unveil more twists Sunday when the Rams play the Arizona Cardinals in their home opener at the Coliseum. It's the first NFC West matchup for the Rams, the defending division champion.
"Sean will continue to come up with new, fun, cool things," Goff said.
That's good news for Rams fans, but potentially worrisome for opponents who spent the offseason dissecting McVay's scheme and play-calling.
McVay also self-scouted his team after the Rams finished 11-5 and lost to the Atlanta Falcons in a wild-card playoff game.
Gurley had scored a league-leading 19 touchdowns and became a dual-threat back by turning screen passes and wheel routes into long gains.
How could McVay improve on that?
"There were plays last year we practiced all year that we didn't use, but we just know we always have them," Gurley said Thursday. "So, that's what makes him such a great coach. He's always thinking of new ideas.
"I'm pretty sure when we come in [Friday] he's going to have five more plays. So, that's why you love playing with the guy."
McVay has acknowledged that the Rams staff has "stolen" ideas from other teams, including colleges when coaches are reviewing tape of draft prospects.
The Kansas City Chiefs ran a similar shovel-pass play that Gurley scored with against the Raiders, McVay said.
"I can't remember specifically when I saw it for the first time, but there's always when you're just watching the game and you're saying, 'OK, this is a certain scheme. Does it fit within the framework of our offense?' " McVay said.
That framework is evolving as the roster changes.
Last season, McVay deployed receiver Tavon Austin as a decoy on fly sweeps. Austin is no longer on the team, but the Rams added the speedy Cooks.
Deploying Cooks, Woods and Kupp as ballcarriers, with Gurley lined up in the backfield, presents a new look.
"It's definitely a valuable weapon," McVay said, adding, "It might be something that some weeks we like, some weeks we don't."
Kupp caught five passes for 52 yards and a touchdown against the Raiders. He also rushed for 16 yards in two carries. Woods and Cooks each rushed for six yards.
"I don't think we think of it as a special thing," Kupp said. "We all see it that way: How can we do something that maybe some teams think is exotic, but is a staple for us?
"It just seems like another play."
One that helps set up others.
"It's making the defense stretch out horizontally," Woods said. "And when that happens [Gurley] will definitely run right down the middle.
"So we're just trying to stretch the defense. Make them play every blade of grass sideline to sideline and end zone to end zone."
In the opener, McVay also showed a willingness to fully exploit Cooks' and Woods' deep-threat capability.
Goff just missed connecting on several long throws to each receiver, but Cooks drew two pass-interference penalties that accounted for 87 yards and kept alive drives.
"Just keep taking those shots," Woods said.
Another element of the offense has yet to be unveiled: Tight ends as pass-catchers.
Tyler Higbee, Gerald Everett and Johnny Mundt played against the Raiders but none were targeted for passes.
McVay and Goff said it was not by design.
"There were plays that the tight end was an option that just didn't get the ball just based on the coverage, or the look, or whatever it was," Goff said. "I don't think we want to make a habit out of that by any means."
But receivers as ballcarriers could become a staple.
Goff, Gurley and the receivers are confident that McVay will find ways to maximize their talents. And he apparently won't be limited by pregame planning.
"Our coach is very creative," Woods said. "He'll draw up something on the sideline if he likes it."
Follow Gary Klein on Twitter @latimesklein
---