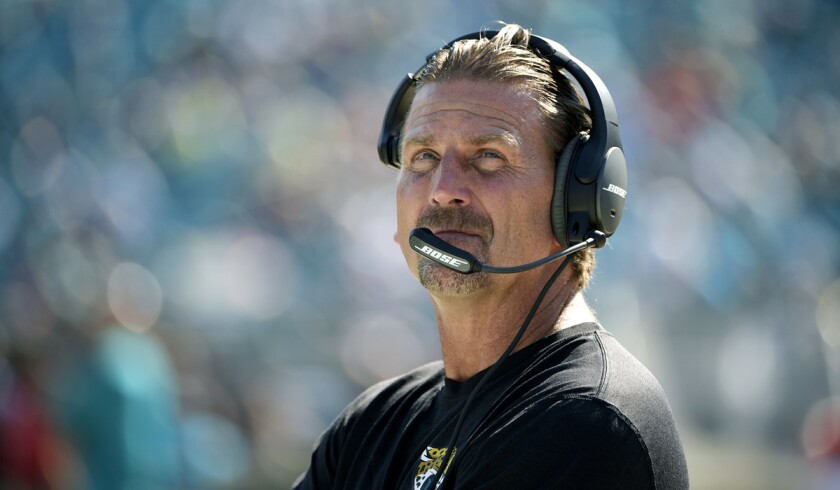 In another move geared toward developing quarterback Jared Goff, the Rams are expected to add former Jacksonville Jaguars offensive coordinator Greg Olson to the staff as quarterbacks coach, a person with knowledge of the situation said Wednesday.
New Rams Coach Sean McVay, who was hired last week, developed a reputation for nurturing quarterbacks during his three seasons as offensive coordinator for the Washington Redskins. McVay and Olson were members of the Tampa Bay Buccaneers staff in 2008.
Goff, the No. 1 pick in the 2016 draft, struggled during many of his seven starts this season and finished without a victory.
Olson, 53, was the Jaguars' offensive coordinator in 2015 but was fired with nine games left this season. He was reportedly set to interview Thursday for the Buffalo Bills' offensive coordinator job.
This will be Olson's second stint with the Rams. He was offensive coordinator in 2006 and 2007. He also has coached in the NFL with the San Francisco 49ers, Chicago Bears, Detroit Lions and Oakland Raiders.
Olson was the Raiders' offensive coordinator during quarterback Derek Carr's rookie season. Early in his career, he coached at Purdue and tutored Drew Brees.
In 2015, the Jaguars ranked 14th in the NFL in scoring, averaging 23.5 points per game. They passed for 35 of their 44 touchdowns.
---