Andrew Whitworth brings protective services to Rams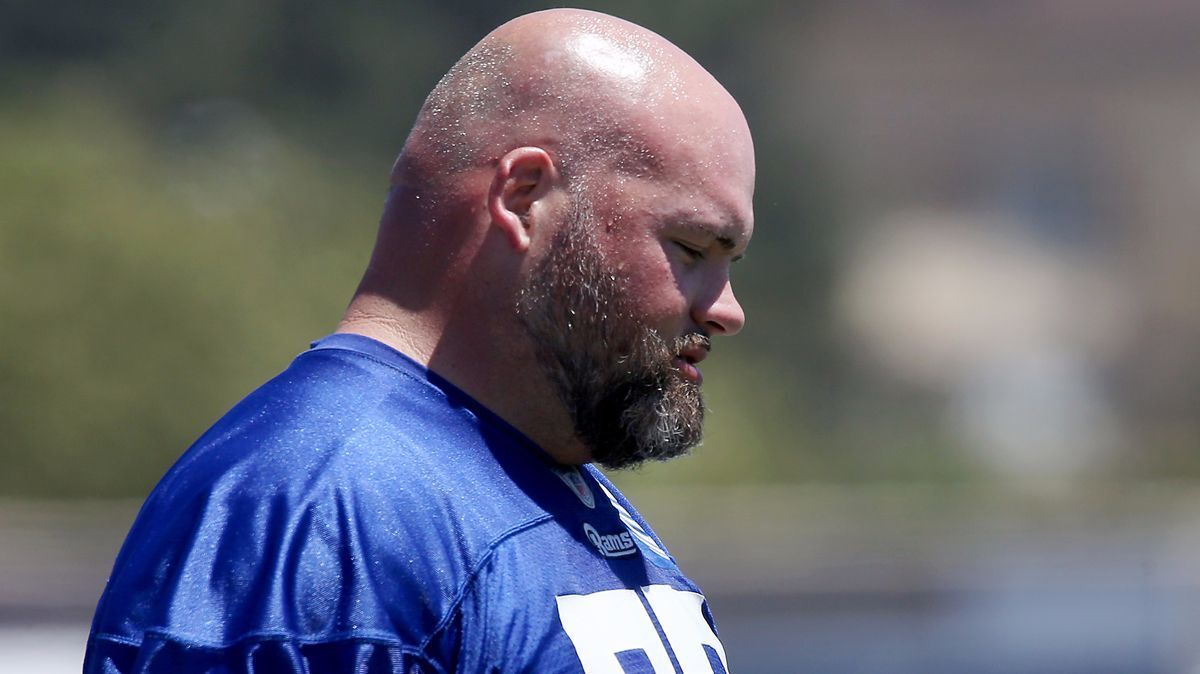 During the last eight of his 11 seasons with the Cincinnati Bengals, Andrew Whitworth played left tackle and protected a couple of very good quarterbacks.
With Whitworth minding their blind side, Carson Palmer and Andy Dalton each led the Bengals to the playoffs.
So it was no surprise in March when the Rams and new coach Sean McVay pursued the three-time Pro Bowl selection, and guaranteed him a handsome sum, to protect quarterback Jared Goff, the top pick in the 2016 draft.
Whitworth already sees traits that Goff shares with his previous high-profile teammates, especially the more "laid back" Palmer.
"It's just getting him to let it out and be confident and be assertive and run the show," Whitworth said of Goff, adding, "We all go as far as the quarterback goes and it's our job to make his job easier."
The Rams signed the 6-foot-7, 333-pound Whitworth to keep Goff upright, provide team leadership and set an example for members of the Rams' embattled offensive line.
Last season, the same group fell apart after performing adequately in 2015.
Running back Todd Gurley, the 2015 offensive rookie of the year, could not escape the backfield without getting hit. Goff was under siege throughout nearly all of his seven starts.
McVay, hired in January, tabbed Aaron Kromer as offensive line coach and huddled with general manager Les Snead. Among their top priorities was finding a left tackle that could set the tone on the field and in the locker room.
They gave Whitworth, 35, a three-year, $36-million contract, with $15 million guaranteed, to replace struggling Greg Robinson and anchor the line.
"Obviously," Goff said at the start of offseason workouts in April, "Whitworth is going to be great for me."
McVay too.
"He's been a great sounding board for me," McVay said last week. "Just watching the way he communicates with his teammates. How receptive he is to coach Kromer's techniques. … His presence has definitely been felt on our offense."
Whitworth joined a position group that includes: Robinson, the No. 2 pick in the 2014 draft; seven-year veteran Rodger Saffold; third-year pros Rob Havenstein and Jamon Brown; and other young players. The Rams signed veteran center John Sullivan a month after acquiring Whitworth.
Leadership, Whitworth said, is "more about you just kind of being who you are" rather than telling someone what to do.
"The bottom line is the best way to lead is to play well," he said a few weeks ago, after the first day of organized team activity workouts.
Whitworth said last week that he was by nature "an encourager" and that he was providing positive reinforcement for his linemates and other players.
The message: "Hey, let's take these steps toward this direction and let's let this be our new standard."
Teammates are listening.
"What he's brought to me is how to be a pro," Brown said.
Brown, a third-round pick from Louisville in the 2015 draft, played guard during his first two NFL seasons. Last week, coaches moved him to right tackle, where he took first-team reps in place of Robinson.
Whitworth has shared his experience and knowledge with all linemen, Brown said.
"He's really an open book," Brown said. "He has a personality that he's here for the unit and team to get better in whatever ways that are needed.
"So the energy that he gives off makes it easier for me and, I'm sure, the other guys to kind of go up and ask different questions. He gives you good feedback, and that allows you to be more confident and gives you the ability to really dive in and use him as a tool."
Whitworth played at Louisiana State and was selected in the second round draft of the 2006 draft. He has played in 168 regular-season NFL games. Asked how long it took him to become comfortable as a pro, he said it was an ongoing process.
"I don't think I'm comfortable now," Whitworth said. "As I say, 'Every tackle's nightmare is third and long.' … I get just as nervous and just as freaked out about games now as I did when I walked in the league.
"I think you just learn that, over time, what happens in the situation, what happens under pressure is what you've practiced and what you've repped."
The Rams will conduct their final four OTA workouts this week. A mandatory minicamp June 13-15 will follow.
Whitworth knows that the Rams' success will be tied to Goff's play — and the performance of the offensive line.
A young quarterback such as Goff must not only find his way but also develop the ability to inspire his protectors, Whitworth said.
"I think sometimes they only think about skill — what can they get out of receivers, what can they get out of this and that," Whitworth said. "And the reality is, man, the better that line plays, the more time they have, the more opportunities they have to do special things."
Follow Gary Klein on Twitter @latimesklein
---
Get the latest on L.A.'s teams in the daily Sports Report newsletter.
You may occasionally receive promotional content from the Los Angeles Times.