Rams Robert Quinn and Tavon Austin continue to help families transitioning from homelessness
Shwonna Cox was shedding tears of gratitude.
A few minutes earlier Tuesday, she and her children had opened the door of an apartment in northeast Los Angeles and were surprised to find Rams players Tavon Austin and Robert Quinn welcoming them to a fully furnished home.
For the second year in a row, the two players worked with the Rams and the nonprofit LA Family Housing to help a family transitioning from homelessness.
Austin and Quinn paid for new beds, a sofa, televisions, a dining room set, wall hangings, kitchen items, furnishings and everything else in the four-bedroom apartment to make Cox and her six children feel at home.
They also purchased gifts that were wrapped and sitting beneath a small tree, ready to be opened.
"I just feel at peace," Cox said through tears, "and thank them for everything."
Cox and her children had struggled with homelessness and had been on the move the last few weeks because of the Southland fires.
LA Family Housing, which works to help families and individuals transition out of homelessness and poverty, had placed Cox and her children in interim housing in the northeast San Fernando Valley. But the Creek Fire forced them to move to a northeast Los Angeles apartment. Less than a day later, another fire forced them to move again.
"It's really been a crazy couple of weeks," said Stephanie Klasky-Gamer, president and chief executive of LA Family Housing. "They were affected by two separate fires in two totally different parts of town.
"When it rains it pours — and I hope they're feeling the outpouring of love."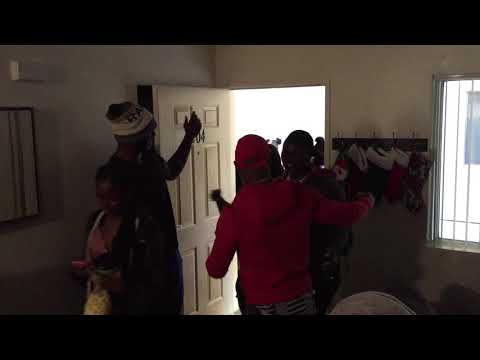 For the second year in a row, the two players worked with the Rams and the non-profit LA Family Housing to help a family transitioning from homelessness.
Nearly two dozen LA Family Housing volunteers and Rams employees spent Tuesday afternoon doing everything from assembling furniture, hanging shower curtains and wrapping gifts as they prepared the apartment for the family's return from an excursion to the zoo.
After Cox and her children arrived, Austin and Quinn smiled broadly as they watched the family go from room to room, the kids — ages 2 to 15 — excitedly claiming bedrooms.
Before the surprise reveal, the players said they were just trying to help others.
"When you're blessed as tremendously as we are as athletes, and what we get paid to do and all that, and you have an opportunity to give back and bless people that have come up through some hard times, you give back and try to make their lives a little bit easier," Quinn said. "Like I always say, if together we as a people work together, we can bring heaven on earth. So this is just my start of trying to put heaven here. "
Said Austin: "I always want to do something to help a person. You can't help everybody in the world but at least you can get to one, and that's where my heart has always been, so that's what is to me. I just feel good they have a place to rest their head and call a place home."
Molly Higgins, the Rams' vice president of community affairs and engagement, said Quinn and Austin approached the Rams separately last year expressing a desire to help families in need.
The Rams partnered with United Way, which connected the team and LA Family Housing. The players paid to furnish an apartment for a mother and her children in Sun Valley.
"We checked in on them and they are doing outstanding," Higgins said. "It really was kind of that fresh start, that new beginning, and they were able to really turn their life around."
More than 40 Rams players and their families are involved in charitable holiday initiatives independently and through the team, Higgins said.
"It's a tremendous testament to the character of our locker room and the guys that we have," she said.
After taking a photo with the Quinn and Austin and her children, Cox expressed optimism about the future.
She is working for a firm that provides security services for USC's housing and dorms.
The constant moving the last few weeks, she said, had made her feel "very displaced." Then she opened the apartment door.
And found home.
"I want to make this permanent," she said, "and I want take every step to make this permanent, and my kids stable, and we have a good future."
Twitter: @latimesklein
Get the latest on L.A.'s teams in the daily Sports Report newsletter.
You may occasionally receive promotional content from the Los Angeles Times.