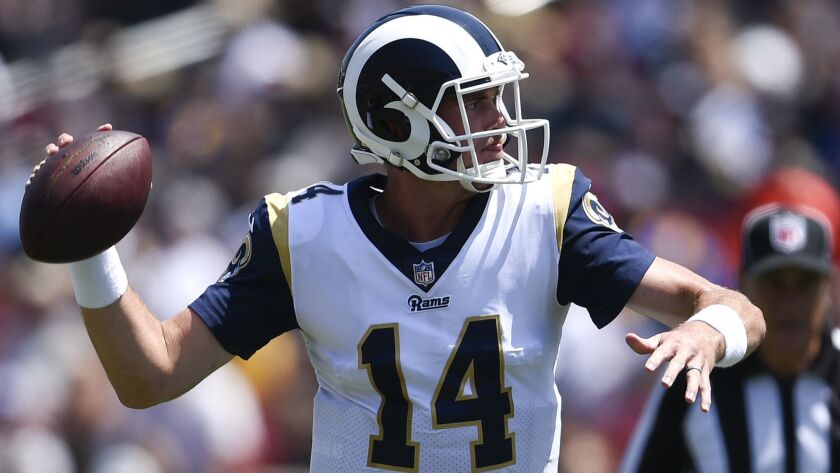 Improved efficiency was among Sean Mannion's goals going into Saturday's game against the Oakland Raiders.
The Rams' backup quarterback played poorly in the preseason opener against the Baltimore Ravens and was eager to demonstrate that he can not only be viable backup for starter Jared Goff, but a productive game manager for any NFL team.
Mannion bounced back by completing 10 of 16 passes for 84 yards, including a 47-yard strike to receiver KhaDarel Hodge in the Rams' 19-15 victory in front of an estimated 55,000 at the Coliseum.
Mannion played the first half and led three scoring drives, one that ended with a touchdown run by rookie running back John Kelly. His completion percentage would have been better had three passes not been dropped.
It was an encouraging effort for Mannion after completing only three of 13 passes for 16 yards, with an interception, in the Rams' 33-7 loss to the Ravens.
"I didn't think there were any balls that I forced or any balls that I had open and missed," said Mannion, who is in the final year of his contract.
Coach Sean McVay cited Mannion's 17-yard completion to receiver Mike Thomas and his long pass to Hodge as highlight plays for Mannion.
"To go 10 for 16 definitely was an improvement, and those two plays were two of the better plays that he made," McVay said.
Unsung playmaker
Hodge, an undrafted free agent from Prairie View A&M, made a key play for the second game in a row.
Against the Ravens, he caught an eight-yard touchdown pass.
On Saturday, he ran a route down the sideline in front of the Rams bench and leaped to make a spectacular catch that set up a field goal.
"I'd seen the ball in the air, and at that point it's just having the fundamentals," Hodge said. "I didn't get ahead of myself and made a big play."
In a receiver corps that includes Robert Woods, Brandin Cooks, Cooper Kupp, Pharoh Cooper, Josh Reynolds and Thomas, Hodge is a longshot to make the roster.
But he is making the most of his opportunities.
"I've been in these situations before, where I've had to come from the bottom and stuff," he said. "So, this is nothing new to me."
Rushing on
With Justin Davis sidelined because of a hamstring injury, Kelly carried the load after Malcolm Brown played three series.
Kelly had 56 yards in 18 carries and scored on a two-yard run in the first quarter to put the Rams ahead 7-0.
Kelly fumbled on the play but recovered the ball in the end zone.
"I was counting stats," he said, jokingly. "I was trying to pad the stats."
Kelly and teammates celebrated in the end zone.
"I told them we were going to roll the dice," Kelly said, "so it was a gambling thing and we literally did because I almost didn't get it in there.
"But, that doesn't even matter anymore because we got the seven points."
Stepping up
Rookie defensive lineman Justin Lawler had another productive performance.
The seventh-round draft pick from Southern Methodist had a sack and forced a fumble that helped set up Kelly's touchdown.
Lawler had three tackles against the Ravens.
Linemen Ethan Westbrooks, John Franklin-Myers and Marcus Martin also had sacks.
Etc.
Greg Zuerlein, sidelined the last three games of the 2017 season because of back surgery, missed wide right on a 48-yard field-goal attempt but converted from 42 and 28 yards. Sam Ficken kicked field goals from 35 and 32 yards. … Rookie offensive lineman Joseph Noteboom started at left tackle and also played right tackle and right guard. … Raiders running back Chris Warren III had 110 yards and a touchdown in 18 carries.
Follow Gary Klein on Twitter @latimesklein
---