Chiefs coach Andy Reid and Rams' Marcus Peters refuse to be cornered on why defensive back was traded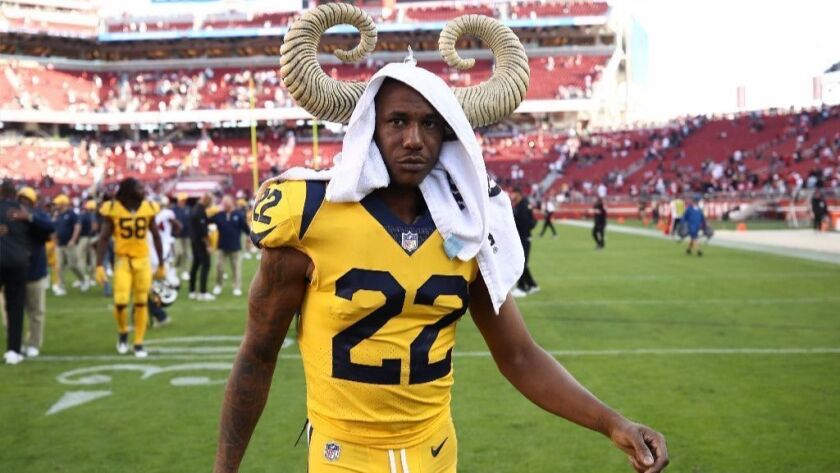 Reporting from colorado springs, colo. —
Neither party was eager to revisit the way the relationship ended.
Asked Thursday why his team traded two-time Pro Bowl cornerback Marcus Peters to the Rams, Kansas City Chiefs coach Andy Reid tried a misdirection play. Peters avoided specifics and indicated that he had moved on.
On Monday night, Peters gets an opportunity to play against his former team for the first time when the high-flying Chiefs visit the Coliseum for a matchup of teams with 9-1 records.
"It's just another football team," Peters said.
Perhaps, but it puts Peters in the spotlight against Reid and one of the NFL's most dynamic offenses.
Peters, the 18th pick in the 2015 draft, emerged as one of the league's top playmakers during three seasons with the Chiefs.
He intercepted 19 passes — more than any NFL player during that time — and caused five fumbles.
But Peters' time with the Chiefs was turbulent. He was suspended for a game last season after throwing a penalty flag into the stands. He also reportedly shouted at assistants and directed an expletive at a fan.
Reid said that Peters was "a great player" and that the Chiefs know "firsthand" how good he can be.
But when asked why the Chiefs traded Peters, Reid declined to offer specifics.
"I'm not going to get into all that," he said. "That was a decision that was made here and so, and it happened, and he's doing a heck of a job."
Since joining the Rams, Peters has either deflected questions or given brief answers about his time with the Chiefs.
His mostly stuck with that game plan Thursday when asked about the trade.
"I can't do nothing about it," he said of a deal that sent two draft picks to the Chiefs. "I didn't ask for it, you know. So I appreciate everything the Kansas City Chiefs did for me and my family. They gave me the opportunity to play in this league.
"Now I'm just loving and enjoying being an L.A. Ram."
Peters began the season by returning an interception for a touchdown against the Oakland Raiders. But he suffered a calf injury in Week 3 against the Chargers and has struggled to consistently display his previous form for a defense that also has been without injured cornerback Aqib Talib.
In Week 9 at New Orleans, Peters was beaten on several plays, including a long touchdown late in the fourth quarter by receiver Michael Thomas, who caught 12 passes for 211 yards.
After the game, Saints coach Sean Payton said that his team got the matchup it wanted for the final touchdown. A few days later, when asked about Payton's comments, Peters said he encouraged the coach to "keep talkin'" and that the Rams would see the Saints "soon," presumably in the playoffs.
"And then we going to have a good little, nice little bowl of gumbo together," Peters said.
Rams coach Sean McVay heard Peters' comments. He said Thursday that when players react to opposing coaches or players "it's a fine line" and that Peters knows the limit.
"You want to allow people to be themselves," McVay said, "and as long as it doesn't take away from the team … and it's all in good nature, I think we're OK with that."
Peters rebounded with a better performance in the Rams' Week 10 victory over the Seattle Seahawks.
Now, here come the Chiefs, who feature quarterback Patrick Mahomes and an offense that rivals the Rams' in dynamic playmakers. Peters said he was looking forward to seeing former teammates and would not have to keep his emotions in check.
"It's just football," he said.
McVay, however, acknowledged Peters' history with the Chiefs and said there would be "dialogue" about it in the run-up to the game.
"You don't ignore the fact that this is his former team," McVay said, "and that naturally comes with some other feelings just based on the history and the relationships you have."
Favorable decision
McVay and several players said they had been excited about the opportunity to play in Mexico City but were happy that the league and players' union put players' safety at the forefront when deciding that the field conditions at Azteca Stadium were not up to standard.
The change to the Coliseum, and the Rams' decision to continue to remain in Colorado Springs, made for more turns in a season that has been full of them.
"Been a little bit wild, for sure," quarterback Jared Goff said. "But … there's a lot more people dealing with a lot worse."
The decision to remain in Colorado Springs, and to continue to train at altitude, was not difficult, McVay said.
"We looked at it as another chance to get away before the bye week and kind of continue to connect as a team where there's not any real distractions," he said.
The Rams are scheduled to practice Friday and Saturday at the Air Force Academy.
New England Patriots coach Bill Belichick was "very helpful" with information about how the Patriots handled training in Colorado Springs last season before their victory over the Raiders in Mexico City, McVay said.
"Anybody like a Bill Belichick, if they're able to give you a perspective," he said, "it'd be silly not to be able to listen and then try to apply it if it fits for us."
Follow Gary Klein on Twitter @latimesklein
---
Get the latest on L.A.'s teams in the daily Sports Report newsletter.
You may occasionally receive promotional content from the Los Angeles Times.