Rams star running back Todd Gurley will not play Sunday against the 49ers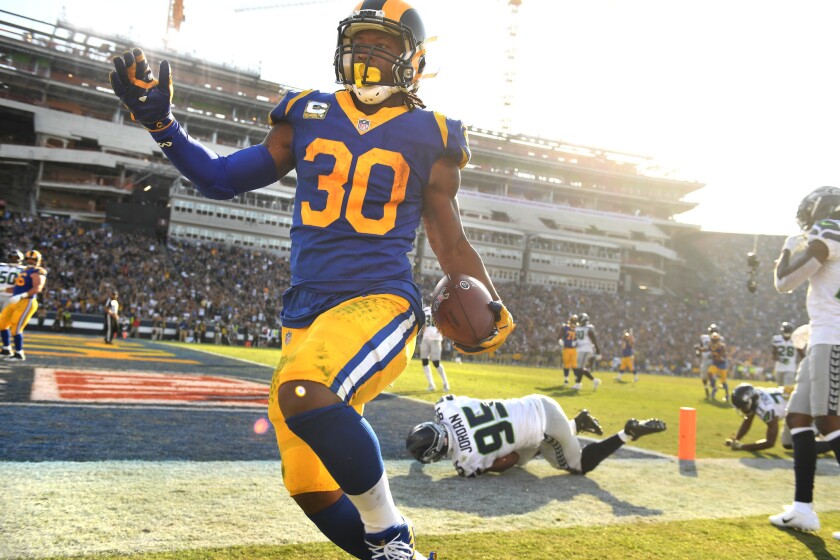 This time, the decision did not come down to the results of a pregame workout.
On Friday, Rams coach Sean McVay announced that star running back Todd Gurley would not play in Sunday's regular-season finale against the San Francisco 49ers, meaning the NFL touchdowns leader will be sidelined for two games in a row because of left knee soreness.
If the Rams defeat the 49ers at the Coliseum, they will earn the No. 2 seed in the NFC playoffs, which comes with a bye through the wild-card round.
C.J. Anderson will start again in place of Gurley, who was declared out of the game against the Arizona Cardinals only 90 minutes before kickoff.
Will Gurley be available for the playoffs?
"There isn't any reason for us to press the panic button or think that he won't be available," McVay said. "But it is important for us to get him back to full speed and to the health that he feels like he can go compete at, and we're not doing anything to put him at risk and he's not doing anything for the longevity of his career."
Gurley, who signed a $60-million extension before the season, had left knee surgery in 2014 after he suffered a torn anterior cruciate ligament while playing in college at Georgia. He said Thursday that he experienced knee pain after the season opener against the Oakland Raiders, but that his body bounced back quickly.
He played through an unspecified knee issue against the Philadelphia Eagles on Dec. 16, but has not practiced or played since.
"Some days you wake up feeling pain. Some days you wake up feeling much better," Gurley said Thursday. "So, it's just one of those day-by-day things.
"I'm just going to have to see when Sunday gets here."
But McVay did not wait to make the call after consulting with Gurley and team medical personnel.
"I don't get the sense that [Gurley's] concerned, but we want to be smart about this," McVay said. "If it's feeling like something where he's not going to be able to be the Todd Gurley that we're accustomed to seeing, just based on the way that that thing is feeling, the smart thing for him — No. 1 — and for our football team, is to be able to rest him and get him back as quickly as possible whenever that is that our next game after the Niners will be."
Anderson, a sixth-year pro, said Friday that he was happy to receive two days' notice, rather than an hour and a half, to "get your mind right," for a starting opportunity.
The short notice for the Cardinals game did not seem to affect Anderson: He rushed for 167 yards and a touchdown in 20 carries and led the Rams to a 31-9 victory.
That performance came only five days after the Rams signed him to provide depth.
Anderson said he was "a lot more comfortable" going into his second start.
"Last week, it felt like I was behind, " he said. "I was trying to learn the system, on top of studying the Arizona Cardinals."
McVay anticipates another solid performance.
"He's had a really good week of preparation," McVay said. "Just being in week two now where there's a lot more comfort just with the verbiage, some of the different things."
Etc.
Safety Lamarcus Joyner (ankle) also was ruled out for the game, McVay said. Blake Countess and Marqui Christian will play in his spot. Defensive lineman Ethan Westbrooks (illness) did not practice and is listed as questionable. Running back Justin Davis (shoulder) practiced but he also is listed as questionable.
Twitter: @latimesklein
---
Get the latest on L.A.'s teams in the daily Sports Report newsletter.
You may occasionally receive promotional content from the Los Angeles Times.