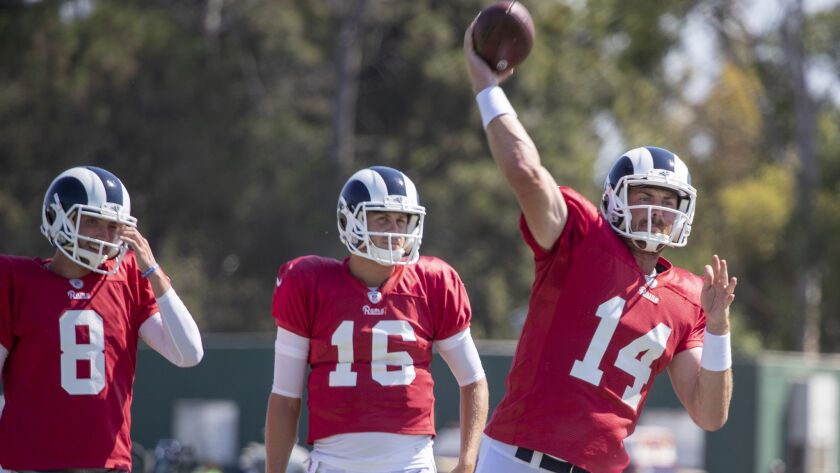 The preparation, the approach and the attitude would be the same had he played great in the Rams' first preseason game.
That quarterback Sean Mannion struggled mightily against the Baltimore Ravens did not change his outlook or routine as he got ready for Saturday's start against the Oakland Raiders at the Coliseum.
"Good game or bad game you can't totally alter the way you prepare, the way you study, the way you go from week to week based on your performance," Mannion said. "That has to be steady."
Jared Goff and other starters are expected to sit out again, so Mannion has another opportunity to show coaches and fans that he can be a viable backup if injury or other circumstances befall Goff.
It won't take much to rank as improvement.
Mannion, a fourth-year pro in the final year of his contract, completed only three of 13 passes for 16 yards with an interception against the Ravens. Several passes were deflected at the line of scrimmage. He was sacked twice.
The Rams had only 45 yards and three first downs in the first half.
"Good or bad, you want to look at it, evaluate yourself and see what you did well and see some things that you can do better," he said. "And then just take the coaching points from it and move on."
Brandon Allen played the second half against the Ravens and completed 10 of 15 passes for 73 yards and a touchdown.
But Mannion continued to take second-team reps during practice this week, and he looked sharp Thursday in the Rams' final training-camp workout at UC Irvine.
Coach Sean McVay expects Mannion to be on point against the Raiders.
"You just want to see more sharp, crisp execution, doing a good job recognizing what they're doing and then just being able to play sound football," McVay said.
Veteran's view
Offensive lineman Rodger Saffold, the longest-tenured Rams player, completed his ninth training camp with the team that selected him in the second round of the 2010 draft.
Saffold, the starting left guard, said he was ready to play in the Sept. 10 season opener against the Raiders "right now."
Saffold, 30, has a salary-cap number of nearly $8 million this season in the final year of his contract. He will not let his contract status distract him, he said.
"Everybody knows I love this team and I love to play for this team," he said, "so just put that on the agents and front office people and let them handle it."
Saffold is one of three starting offensive linemen in the final year of their contract. Right tackle Rob Havenstein and right guard Jamon Brown are the others.
Saffold is well aware that the market for interior offensive lineman grew substantially in the last offseason.
"The market has definitely grown but, you know, I'm also older, too," he said. "It's not always greener on the other side. Sometimes it's not about the max deal. It's about what gives you the best fit."
Making a case
Ryan Davis was on his way to Detroit for a workout before NFL teams opened training camp. The Arizona Cardinals also called.
But the linebacker/defensive lineman told his agent he was eager to sign with the Rams, whom he had visited twice.
"I was like, 'OK we got to see if we can make L.A. work,' " said Davis, a six-year NFL veteran. "I knew L.A. wanted me and I knew I had a chance to compete. I know this is a great squad."
Matt Longacre was held out or sidelined for much of training camp because of injuries, giving Davis a chance to make an impression. He started against the Ravens and will play against the Raiders.
"I bring a little extra edge in the pass rush," said Davis, who has 14 career sacks. "They have a lot of young athletic guys here, so I think they brought me in to help any way I can."
Etc.
With cornerback Aqib Talib draped on him, receiver Robert Woods made a spectacular one-handed sideline catch on a pass thrown by Goff. On the next play, with Talib in tight coverage against Brandin Cooks, Goff delivered another outstanding pass. … Quarterback Luis Perez got reps near the end of practice and completed three consecutive impressive passes. "He was balling," McVay. "He did a great job right there, hitting spots, making plays off-schedule."
Follow Gary Klein on Twitter @latimesklein
---