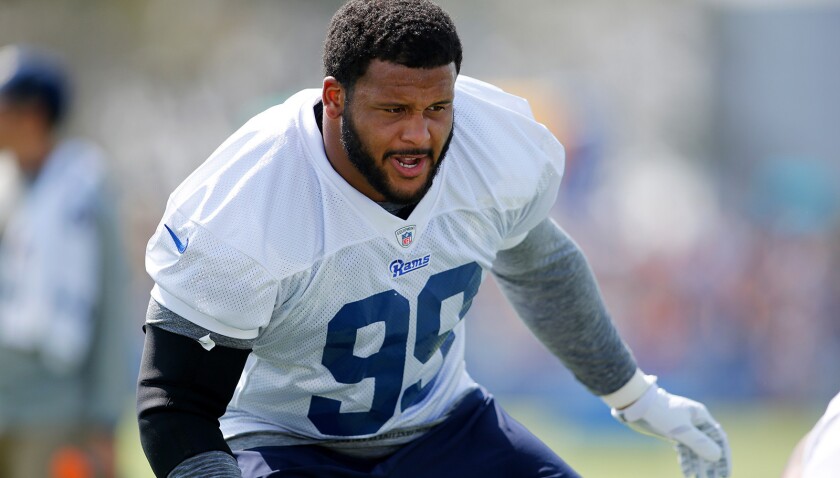 Sean McVay did not need a major distraction going into his first training camp as coach of the Rams.
It happened Friday when star defensive lineman Aaron Donald opted not to report with other veterans because of a contract dispute.
"It wasn't shocking or a surprise," general manager Les Snead said during an afternoon news conference. "You knew there was chance it could occur.
"You also knew and were hopeful that we would work things out sooner, but we didn't."
Snead also said "the goal is still the same: To make Aaron a Ram for a long, long time."
McVay, 31, will oversee Saturday's opening practice — and begin preparing his team for the Sept. 10 opener against the Indianapolis Colts — without one of the NFL's most dominant players.
"We knew this was a potential possibility for us, and we're constantly going through trying to get a solution to this," McVay said, adding, "His resume speaks for itself, but in the NFL, whatever it is, adversity is inevitable and we've got to be ready to handle that as a team and we'll move forward accordingly."
Todd France, one of Donald's agents, did not return a phone or email message Friday.
Donald has two years left on his contract and is seeking to become one of the NFL's highest-paid defensive players. He is scheduled to earn $1.8 million in base salary this season and he carries a cap hit of $3.2 million. The Rams picked up his fifth-year option, putting him on track to make $6.9 million in 2018 (the Rams also could put the franchise tag on him in each of the following three seasons).
Under terms of the collective bargaining agreement, the Rams can fine Donald $40,000 a day for an unexcused absence during training camp.
Snead said he was in contact with Donald's representatives, but he declined to specify whether the sides were close to a deal. He would not discuss a timeline.
This is not the first time Donald has been absent since McVay was hired in January. Donald did not participate in organized team activity workouts in the offseason because of his contract situation. Snead said at the time that the Rams and Donald's representatives were in the "serious" stage of negotiations.
Donald attended a mandatory minicamp in June – avoiding fines of $80,000 — but did not take part in team drills.
McVay said Friday that players such as Dominique Easley and Ethan Westbrooks could help fill the void in Donald's absence.
He said he addressed Donald's situation with the team and that players were handling it.
"I think his teammates respect and understand that the organization and the player, it's about us coming to a solution," McVay said. "But I don't think it's going to affect their ability to perform and do things [Saturday]. While they want him to be out there, they've got a job to do and I think that's their mindset."
As players checked into camp on Friday morning, several said they did not know if Donald would be joining them.
"It would be great to see him here," linebacker Alec Ogletree said. "I don't know what his situation is as far as whether he'll show up or not but you definitely like to have everybody here.
"When you do a team sport you want every member and you know he's a big part of what we do, so it definitely would be great to have him here."
Defensive tackle Michael Brockers, a sixth-year pro, has played alongside Donald since the Rams chose the three-time Pro Bowl selection in the first round of the 2014 draft.
"I'm not sure if he'll be here," Brockers said of Donald. "That's up to him and the Rams getting the contract situation situated. I'm not really focused on that. I'm going to let that be as it is and just focus on getting for camp and getting it started."
Veteran linebacker Robert Quinn said teammates support Donald.
"My college coach told me, he said, 'Make plays, get paid,' " Quinn said, adding, "Aaron has a great heart. He loves playing football, first and foremost.
"He's just going through a tough little situation right now. … The guys have his back and once he finally decides to come out here we'd love to see his face and take it from there."
Notes
Ogletree, entering the final year of his contract, said an extension was "in the works." Ogletree is due to earn about $8.4 million this season, his fifth with the Rams since they drafted him in the first round in 2013. "It will get done eventually, one way or another," he said. "So all I can do is show up here and do what I need to do. I'm still under contract. I'm still here to abide by that so I'm going to keep doing what I need to do to help these guys win."…. Running back Lance Dunbar was placed on the physically unable to perform list. Safeties Maurice Alexander and Lamarcus Joyner and tight end Cory Harkey are on the non-football injury list, but McVay said they should be able to practice.
Follow Gary Klein on Twitter @latimesklein
ALSO
Rams rookie tight end Gerald Everett isn't shy about his expectations
Lesson learned for Rams rookie John Johnson
---